Do you like long-range hunt, game or sport?
If you want to achieve more accuracy in long-range hunting, then this review is for you. Here you can read about rangefinders with long-range under 1000 yards. You can find information about their size, design, weight, optics, price, and other features. I will describe to you 5 different 1000 yd rangefinder, then you can compare it and decide which one suits you the most.
What Do You Need To Know About 1000 Yard Rangefinders?
Advanced Features
The rangefinder can measure a long distance, for example, more than 1000 yards. That feature is the best for hunters, and they use it the most. They can have a system that can calculate the arrow or bullet drop before you shot. Also, they usually have PinSeeker feature which identifies the flag, not the ground. The slope mode can calculate the amount of elevation change on a hole, downhill or uphill. As you see, all these features are the best for experts.
What About Price?
The long-range rangefinders are more expensive than those with a smaller range. Why is that? Because it requires more quality lenses, better accuracy, and these rangefinders often have more options than those with a smaller range. But there is also a wide price range, so you can find affordable rangefinder with the long-range feature.
Where You Can Use the Long-range Rangefinder?
The long-range rangefinders are mostly intended for hunting. Also, it can be used for sport. When you hunting, you need to cover a wide area, so because of that, it's better to have a long-range rangefinder. But it can be used in military purposes or nature observation.
What About Accuracy?
Because of all improved features, long-range rangefinder needs to have good accuracy. It is useless if you can see a far target, but if this product hasn't good accuracy, it's not useful. Usually, all of them have the accuracy of +/-1 yard. Also, they have quality optics and magnification of 6x or even more. These characteristics will provide you a clear and sharp view.
Where You Can Buy Long Range Rangefinder?
You can buy your favorite rangefinder in several places. You can always buy it in specialized stores, on brands official web sites or on sites like Amazon. On Amazon, you can find many different products and different prices. You can compare them and find the best one for you.
5 Best 1000-Yard Rangefinders
Best Cheapest 1000 Yard Rangefinder
Nikon Prostaff 7i Rangefinder
ID Technology
The Nikon long-range rangefinder has very impressive characteristics. It has advanced incline and decline technology which provides you to read a range of horizontal distance, even if the terrain isn't flat. It will calculate the distance even if your target is above or below you. It can measure +/- 89 degrees, which is an almost vertical angle.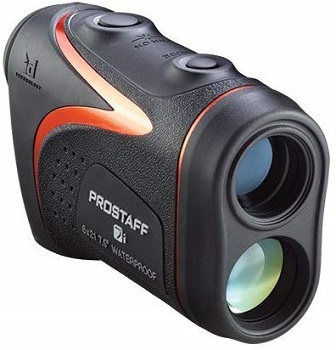 Up to 1300 Yards
This Nikon rangefinder can measure the maximal distance from 8 to 1300 yards. That is its effective range. Its accuracy is also very good, if you measure distance under 1000 yards, rangefinder results will be +/-1 yard accurate. But if you want to know the range over 1000 yards, accuracy is less precise, with a 1-yard increment.
Resistant To Weather Conditions
Because of its purpose, this rangefinder needs to be very durable and resistant. So, this one is waterproof and fog proof. If the weather is bad, you have fog mode which will improve your view. Also, if it's raining or you put it on a wet surface, you don't have to worry, it can handle it. Also, the lithium battery is water-resistant.
Small Dimensions
This 1000 yard rangefinder is very small, as you can see. It has 4.4 x 1.5 x 2.8 inches, so this is a pocket-sized device. Also, it has a small weight, it weighs only 6 ounces. You can easily carry it and use it. It won't distract you or takes extra space.
6x Magnification
If you don't see your target clear, you can magnify it 6x. Also, this rangefinder has two modes. First is the first target priority mode, and it provides you with ranging small objects. Distant target mode allows you to measure the distance of the farthest target among a group of targets.
Features:
range of more than 1300 yards
6 ounces
incline/decline technology
Best Over 1000 Yard Rangefinder
Leica 2000-B Rangefinder
Ballistic Programme
The Leica rangefinder has additional features intended for long-range rangefinders. It collects many data from terrain and from the atmosphere, for example, temperature, ammunition type, barometric pressure, and angle. Also, this rangefinder is bigger than others, it has 7 x 5 x 4 inches, but weighs under 8 ounces.
Up To 1000 Yards
This over 1000 yards long-ranging device can measure much longer distance than 1000 yards. It measures until 2000 yards, and that it's the most long-ranging rangefinder on this list. But it loses its precision on that far distance, so it has the accuracy about +/-1 yard if you measure distance under 500, but if you want to know the range of more than 1500 yards, it has a deviation of +/-2 yard.
Eye-safe IR Laser
It has a front lens diameter of about 1 inch, and it has an eye relief of about 0.6 inches. Also, there is protection for your eye, this Leica rangefinder has an eye-safe IR laser. Also, this lens has magnification. You can magnify your target 7x, so no matter how far your target is, with this long-range rangefinder you can have a sharp view.
Great Resistance
It doesn't have so many options like other rangefinders. For example, it has only one scanning mode. The Leica rangefinder is water resistance, and that means it can handle 30 minutes underwater of the 1-yard depth. Also, it can work well on a temperature range of -20 to +50°C. It is intended for bad weather and difficult conditions.
Control Of Brightness
As I said, the Leica rangefinder over 1000 yards works very well in difficult conditions. So, when it is poorly visible, like twilight, you can still have a clear, sharp picture and fast target identification. The LED display has automatic control of brightness provides you an easy reading range of distance.
Features:
ballistic features
about 2000 yard range
automatic brightness
water resistant
Best 1000 Yard Rangefinder With Angle Compensation
Bushnell Scout DX Rangefinder
Small And Resistant
This long-range rangefinder is very small, compact and has ergonomic. It has 6 x 5 x 3 inches, so that is a pocket-sized item. Also, it weighs only 1 pound. You can put it wherever you want, it probably fits. It is intended for hunting, so it has many protections. For example, it is fully waterproof and fog proof.
Three Modes
You can count on three different modes depends on your requirements. So, there are a bullseye, scan and brush modes. With one push of a button, you can change it. If you choose brush mode, you can zoom your farthest target on the area. With bullseye mode, you can read the distance of your closest target. But if you want continuously scan your target, pick scan mode.
Built-in Inclinometer
This rangefinder over 1000 yards you can use on a bow or on a rifle. It has a max range of up to 1000 yards, and that distance is very enough for your hunt. Also, there are ARC rifle mode, which provides you bullet-drop/holdover in inches, and the ARC bow mode, which shows you actual horizontal distance out to 90 yards. A built-in inclinometer can measure almost any angle of your target.
Extreme, Speed And Precision
The technology of E.S.P. provides you a great measurement in any kind of condition. The clear view provides you ultra-clear multilayered lenses, which has an objective of 0.8 inches diameter lens. Also, there is a great power of magnification. You can magnify your target about 6x. The Bushnell long range rangefinder has an awesome accuracy, its deviation is only +/-0.5 yard.
Features:
up to 1/2 yard accuracy
angle compensation
brush, bullseye and scan mode
Best 1000 Yard Rangefinder For Hunting
Zeiss Carl Optical Monocular
Accurate Laser Technology
This Zeiss monocular uses advanced laser technology, and it provides you the results of measuring distance in just one second. When you release the one-touch button, you can see the exact distance of your target in half of the second. The results are reliable and you can rely on its accuracy. There is a Ballistic Information System for a more precise shot.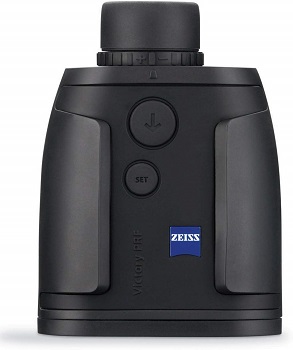 Up To 1200 Yards
It is a long-range rangefinder, so it can measure a range of distance of more than 1200 yards. With this rangefinder, you can measure your target distance even if there is a narrow field and your view is limited. Also, it measures the distance of very small targets, and moving targets.
Dimensions And Price
The 1000 yard rangefinder has a small body, it is 6.8 x 4.9 x 4.1 inches and it weighs only 1.5 pounds. Also, it is dustproof, waterproof and it is protected from falls, shaking and knocks. It has a sturdy, non-slip body, it has rugged armor protects. This quality product isn't acceptable for everyone, because of its high price.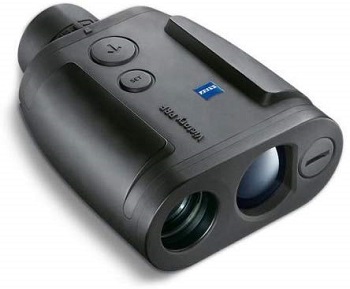 High-quality Optics
With high-quality optics, you are able to see the finest details of your target. It produced a bright, sharp view even on a far distance. Regardless of weather conditions, like fog or twilight, you still can have a great picture. The multilayered coating optics allows you an awesome bright view when it's poorly visible. Also, there is a magnification of 8x, the most of all rangefinders on this list.
Features:
multilayer optics
more than 1200 yards
best for hunting
approximately measure time in 1 second
Best Value 1000 Yard Rangefinder
Leupold RX Laser Rangefinder
Size And Design
The Leupold long-range rangefinder is a very small and compact product. It has 3.1 x 4.2 x 4.8 inches, so you can easily carry it in your pocket or jacket. It is lightweight, about 13 ounces. Also, it has a rubber armor body made from aluminum, which gives it durability. It has easy to read OLED display with high red contrast. You can choose from three available colors: black/gray, orange or mossy oak color. If you buy this rangefinder, you'll get great value for your money.
Max Range Of Up To 1600 Yard
This long-range rangefinder can range up to 1600 yards. Also, if you want to see your target clearly, you can use a magnification of 6x. It has a fast identification of targets and great accuracy. There is a deviation of +/-1 yard on targets to 1600 yards and 1400 yards on trees, so you can rely on its precision.
Bow And Rifle Mode
You can choose from two different modes, there are bow and rifle modes. You can use the ballistic information from your rangefinder, for example, if your target is above or below you, that means it calculates a different angle of your target and gives you the actual horizontal distance. You can have information about wind management, range to target and more.
Scan Mode
Except for angle compensation, there is scan mode. If you want to use this option, you just need to push the button. Then, the scan mode will continue to scan your target and update its range. There is one more interesting feature, the Trophy scale feature. This feature allows you to measure the size of the animal, with that option you can be sure that you watch the right target.
Features:
up to 1600 yards
bow mode and rifle mode
true ballistic range technology
Conclusion: Which Two 1000 Yards Rangefinders Are The Best?
After this research, I think that the best two 1000 yard rangefinders are the Bushnell Scout DX and the Leupold RX rangefinder. The Bushnell has a magnification of 6x, built-in inclinometer, bullseye, brush and scan mode. The Leupold has a max range up to 1600 yards, rubber armor body, display with high red contrast, and uses ballistic technology.
If you want to know more about the best value rangefinder, read this post. But if you are looking for the best archery rangefinder, find interesting information in this review. In this post, you can read more about bow rangefinder.