Are you looking for a really long-range rangefinder?
Then the 2000 yard rangefinder will be the best rangefinder for you. In this review, I describe to you 3 different models of long-range rangefinders, their features, design, maximal range, price, and other characteristics. If you can't decide, read this post, compare these 3 rangefinders and choose the best one.
What Do You Need To Know About 2000 Yard Laser Rangefinders?
For What The Long-range Rangefinders Are?
Because of that really far distance, it is very popular for hunters. They operate on a long distance and on challenging terrain. So, that kind of rangefinder is a bit different than those with smaller range distance. Also, you can always use it for fun and for your hobby.
What Kind Of Features They Have?
They need to have different software to work on that far distance. Also, 2000 yard rangefinder uses improved features, like better optics, high contrast display, great resistance to weather conditions, even on day/night light. But there are some features that don't use other types of rangefinders, for example, ballistic technology.
Ballistic Technology
Many of long-range rangefinders use a ballistic technology. That means that they have a built-in ballistic system which provides you more information. With all these data, you can improve your shot precision. It can measure temperature, wind measurement, air pressure, and angle. All those variables can help you with your shot and precision on that far distance.
What About Accuracy?
When you buying a long-range rangefinder, accuracy is a very important thing. Rangefinder with a max range of 1000 yards and more, has good accuracy of +/-1 yard. But because of that far distance, that accuracy of rangefinder tends to deviate. So, you can have a deviation of +/- 2 yards.
Where You Can Buy That 2000 Yard Rangefinder?
You can make a research on the market, find the best brands, compare the products and find the best one. You can always buy the desired product from the official brand's website. But on the Amazon you can find a lot of similar products, there you can read about their features, find the cheapest, the most expensive, the best value product and many other products with different features.
Best 3 2000 Yard Rangefinder
Best Value 2000 Yards Rangefinder
Leica CRF 2000-B Rangefinder
Eye-safe IR Laser
This long-range rangefinder has a front lens diameter of 1 inch. Also, it has an eye relief of 0.6 inches. It has advanced protection for your eye, so there is an IR laser, which is completely safe for your eye. There is more for improving your view, the Leica has great magnification. You can magnify your target about 7x, so no matter how far your target is, you'll see it clearly.
Max Range
long-range rangefinders measure the distance of up to 1000 yards, but this rangefinder can measure distance until 2000 yards. That is a very far distance, so this rangefinder is great for hunting or observation. But if we talk about accuracy, there are some deviations. It loses its precision on that far distance, so it has a deviation of +/-2 yards.
Ballistic Technology
This awesome long-range rangefinder has more useful features. There is a ballistic program that measures parameters like temperature,  barometric pressure, ammunition type, angle of incline and shows them like individual data. You can use this feature for more precision shots at the farthest distance. Many hunters choose the Leica rangefinder especially because of that.
Awesome Resistance
This 2000 yards rangefinder has great ballistic technology but doesn't have many measuring options. All it has is one scanning mode. But it is very resistant to weather conditions because it is intended for bad weather and challenging terrain. It can handle a temperature range from -20 to +50°C. Also, if this rangefinder falls into the water of 1-yard depth, it will work and after 30 minutes of that accident.
LED Display
As I said, this 2000 yard rangefinder is very resistant to different weather conditions. When it's poorly visible, like twilight, this rangefinder provides you with a clear and sharp view and still can identify your target very fast. Also, the LED display has automation control of brightness, so you can always easily read the range of your target distance.
Features:
automatic control of brightness
waterproof and weatherproof
ballistic program
safe laser for eye
Best Cheap 2000 Yards Rangefinder
Nikon Monarch 2000
Small And Lightweight
This 2000 yard rangefinder has a small size and it is very practical. It has 3.8 x 1.7 x 2.9 inches, and it weighs only 6 ounces. It is very compact and it is easy to carry it and transport it in any case. Also, it has an ergonomic design, made from rugged material, so it isn't slippy in your hand. It is waterproof and has nitrogen gas, which provides protection from fog and temperature shock. For one long-range rangefinder, it has an acceptable price.
Wide Range
Because of its 6 x 21 laser, it can ensure long-range hunting. It can measure the range from 8 to 2000 yards, so it is the best for long-distance hunting. Also, there is its accuracy, it has a margin error of +/-1 yard, so you can rely on its precise. No matter how far your target is, it will respond in approximately 0.3 seconds, with very accurate results.
Two Priority Modes 
You can use two different ranging modes to identify your target. If you choose the first priority mode, you can range small and closest targets. The second ranging mode is the distant mode, which allows you to range the farthest target, or if it's among the similar objects.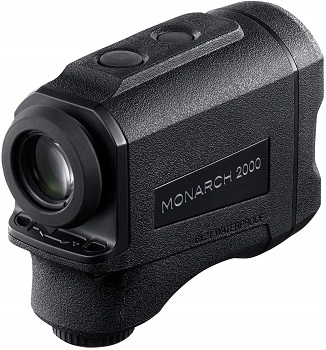 ID Technology
The Nikon 2000 yards rangefinder uses advanced incline/decline technology. So, it will give you the number of actual horizontal distance, no matter where your target is. It can measure +/- 89 degrees of shooting angle, and this is the almost vertical position of the target. Regardless of that incredible angle, its OLED high intense red display will quickly show you the right range of distance.
Features:
up to 2000 yards
+/- 89 degrees
two priority modes
affordable price
Best Long-range Rangefinder
Nikon Monarch 3000
Nikon Design
This great rangefinder has a small size, it has 3.8 x 2.7 x 1.9 inches. Also, it is lightweight, it has about 7 ounces. You can carry it in your pocket or in your jacket, it so small that you won't notice it. It can withstand many different conditions, so it's waterproof and fog proof. It has an ergonomic and compact non-slip body, because of its rugged surface.
Incredible Max Range
The Nikon Monarch rangefinder has an awesome maximal range. It can measure the distance from 8 to amazing 3000 yards. That is the best long-range rangefinder on this list. Also, it has a very fast focus system, it needs approximately 0.3 seconds to catch and identify your target.
Reduces Vibration
When rangefinder finds your target, it can really fast stabilize the view of it. With that technology, you can clearly see your target, and prepare yourself for the shot. Also, when you watch your target, you can't hold your hand still for a long time, because of that, this rangefinder reduces the vibration of the picture for approximately 1/5.
Angle Compensation
This technology is very useful for bow and rifle hunting because hunters operate on uneven terrain. This long-range rangefinder ensures actual horizontal distance, no matter if it's your target above or below you. It can measure almost vertical position, so there is a possibility of measuring +/- 89 degrees.
First Or Distant Priority Mode
You can choose from two different modes, depends on the position of your target. So, there are first priority mode and distant priority mode. If you use first priority mode you are able to measure small and the closest target. If your target is in a group of similar objects or very far from you, try out distant priority mode.
Features:
incline/decline technology
first/distant priority mode
range of up to 3000 yards
Conclusion: Which 2000 Yard Rangefinder Is The Best?
There are not many rangefinders which can measure over 2000 yards, it requires advanced technology, so in my opinion, the best 2000 yards rangefinder is the Leica 2000-B rangefinder. The Leica can measure long-range distance, it has an eye-safe laser, inclinometer, ballistic program and awesome resistance from weather and water.
But if you want to read more about the best value rangefinder, check out this post. In this review, you can read about the best archery rangefinder. If you are interested in hunting, you will find useful information in this post about the best rangefinder for bow hunting.