Do you play golf and are currently searching for a rangefinder to improve your golfing skills?
Read my article and get all the necessary information!
This article will deal with the Bushnell Golf Rangefinders, their characteristics, and features. You can compare the models and decide which one you like the most.
Most Important Brand Information And Their Offer
Bushnell Golf Company And Its Characteristics
Bushnell Golf is a leading high-performance sports optics company for more than half of a century. They offer various sports optics products that help you enjoy open-air activities such as golf, spectator sports, hunting, fishing or birding. If you prefer to stay inside, their products can also be used to get a closer view of indoor activities such as plays or concerts.
Purchase of Bushnell Golf Products
Speaking of prices, in comparison to other brands, their products can be a bit pricey since they guarantee high-quality products. If you are interested in buying some Bushnell Golf products you can do so on their official website. Another option I would recommend is Amazon which offers various advantages.
Bushnell Golf Product Warranty
If the product warranty is one of your main concerns, do not worry because all their products are covered by it. All Laser Rangefinders have a two-year limited warranty and all GPS Rangefinders have a one-year limited warranty. However, consumer-caused damages aren't covered by warranties, including any kind of interference of non-authorized repairmen.
The Company's Reputation
The company prides itself on strong retailer partnerships and outstanding customer service. They represent the biggest market for every sports optics category. Also, their products were more than just one-time champions in receiving multiple performances and design awards.
Advantages Of The Bushnell Golf App
Bushnell Golf products can even be paired with the Bushnell GPS App which is available for both Android and Apple users. The App intensifies the golfer's experience by allowing him all sorts of advantages such as access to professionally mapped golf courses, keeping track of his scores or even analysis of his swing speed and tempo.
Top 5 Bushnell Golf Rangefinder Reviews
Bushnell Tour V4 JOLT Golf Laser Rangefinder
Product appearance and dimensions
The dimensions of this Rangefinder are 1.57 x 4 x 3.11 inches and it weighs 6.6 ounces. The size and weight make it easier to handle because requires only one hand to operate. It even comes with a case you can attach to a golf bag which can be quite convenient.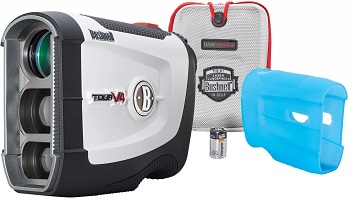 Specifications And Technological Features
The display of the device is LCD. It has a 3-Volt Lithium power source and it is not waterproof. Bluetooth is not provided but it does have a slope switch. Jolt technology allows the golfer to receive a short vibration to confirm the laser's lock on a flag.
Accuracy And Problems With It
The accuracy of the device is at a high level. However, it does have some issues with uphill pin placements since it requires to be on a stable surface to find the top. Customers have reported problems with the jolt measurements when there are trees in the background. The ranging accuracy it provides is one yard. The range goes from 5 to 1,000 yards.
Is The Product Covered By Warranty?
Limited Lifetime Warranty covers the majority of Bushnell products. Unfortunately, this is not the case with Bushnell Tour V4 Jolt Golf Laser Rangefinder. Covered by a two-year Limited Warranty, this product will be repaired or replaced if the postage prepaid returned. As may be expected, this warranty does not cover products damaged by improper handling.
Information About Optics And Service
This product allows a 5x magnification through a 21mm objective lens. The exit pupil is 4,8mm and the extra-long eye relief is 21mm. The field of view allows you to see is 368ft@1000 yards. Although Bushnell Golf prides itself on great customer service, the number of costumers has described their service disappointing as they did not reply to their emails.
Features:
smaller and lighter rangefinder easy to handle with one hand only
fast performance device with high-quality accuracy
jolt technology with short vibrating pulses for tactile confirmation
provides a 368@1000 yards field of view
Bushnell Pro x2 Golf Laser Rangefinder
About The Device
The innovative Bushnell Golf Pro x2 Rangefinder has a fully armored metal housing. Weight is 8 ounces and dimensions are 1.5 x 4 x 3 inches. The power source is 3-Volt Lithium and the device has an IPX7 certificate meaning it is fully waterproof. It has a dual-display technology and has no built-in accessory mount.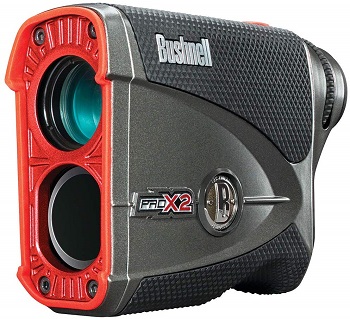 Optical characteristics
The field of view covered by Golf Pro x2 Rangefinder is 393ft@1000 yards. Range it covers goes from 5 to 1300 yards and its ranging accuracy is 1/2 yard. The optical coatings are fully multi-coated. The size of the exit pupil is 3.5mm and the extra-long eye relief is 16mm. It even allows you a 6X magnification.
 Special New Feature
Golfers get a new feature to play with on this device. They get to switch between two types of display just by pressing a button. The bright red vivid display is used for less bright times of the day. The other one is a sharp black display which is quite handy when it's bright outside.
2 in 1: Jolt Technology Plus Slope Compensation
The Bushnell Golf Pro x2 Rangefinder has jolt technology. It is a Bushnell Golf rangefinder with slope. The slope compensation calculates the degree of the slope. Accordingly, it does an adjustment of yardage which makes it easier for users since it can be turned on and off with a press on the switch.
Warranty Issues And Advantages
All Bushnell Golf Rangefinder are warranted and so is the Golf Pro x2. It is guaranteed to be free of any malfunction. However, if there is some problem with the device in two-years-time from the purchase of it, the warranty covers it. This works only if it has not been touched by a non-Bushnell authorized technician.
Features:
Jolt technology paired with Slope compensation
IPX7 Fully Waterproof Certificate
covering the range from 5 to 1300yards with a 1/2 accuracy
Bushnell Neo Ion 2 Golf GPS Watch
Golf o'Clock
Bushnell Neo Ion 2 Golf GPS watch gives golfers a whole new experience of playing by displaying distances on their wrist. Its dimensions are 0.4 x 3.1 x 5.6 inches and it weighs 1.76 ounces. There are two colors available for this watch: black/blue and silver/green version.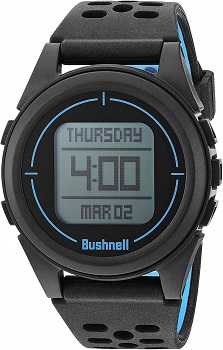 Battery Life
Long battery life allows users playing up to 3 rounds before having to recharge the watch. It uses 1 CR2 battery which can last up to 12 hours if the device is in Golf mode. Charging goes through a USB cable which is included in the package. However, there have been reports that the battery dies earlier than previously stated.
Is There More To It?
The Bushnell Ion 2 Golf GPS watch has additional apps such as fitness step counter to track your progress and shot distance calculator as well as the round odometer. This watch can show 4 hazard distances per hole which can help you with planning your shots. It is pre-equipped with 36,000 courses which update wirelessly via Bluetooth for free. Auto course recognition and auto hole advance are also supported.
Display And Design
Front, center and back distances of greens can be easily calculated and portrayed on a very easy to read display. The device comes with a comfortable reversible band to wear it by your preference. It is designed to be water-resistant but not waterproof.
Can You Get A Refund?
Bushnell Neo Ion 2 Golf GPS watch comes with a two-year warranty for all defected devices. This can come useful since most customers have problems with the charger which seems to break easily. Also, there have been reports about GPS locating not working and devices breaking down only a few months after purchase.
Features:
questionable battery life
water resistant
has up to 32,000 preloaded courses
has Bluetooth for wireless course updates
Bushnell Tour V4 Shift (Slope) Golf Laser Rangefinder
Basic Design Information
Bushnell Tour V4 Shift (Slope) is a 4 x 1.57 x 3.11 inches Laser Rangefinder which weighs 5.6 ounces. It does not have any certificate for water resistance. The display is an LCD and the power source is 3-Volt Lithium. It does not have Bluetooth, but it supports Slope Switch.
Lenses And Range
A 20mm objective lens diameter, 4,8mm exit pupil and 21mm extra long eye relief allow it to cover ranges from 5-1000 yards. Its ranging accuracy is 1 yard. The field of view is 267ft@1000 yards. The range to a flag is 400 yards. The device has a multicoated glass coating.
Additional Technological Improvements
The fast focus system adjusts the optic focus to make sure you can see clearly and the target is accurate. Jolt Technology provides vibrating pulses when locking onto a flag. Slope-Switch technology allows you to turn on and off the Slope function.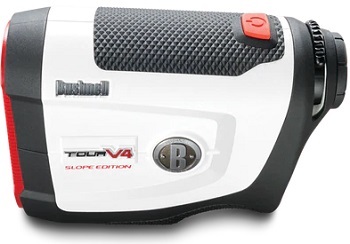 Special Edition Patriot Pack
Bushnell Tour V4 Shift (Slope) comes within a so-called Patriot Pack. Patriot Pack is a special edition of products that are sold to help raise money for the Folds of Honor Foundation. That means that a part of the income made on these products is donated to the foundation.
Problems And Issues
One of the problems users encounter while dealing with this product is the lighting. While being in a light deficient area the device has problems with reading the distance. Also, there are few reports with accuracy issues and GPS tracking while trees or similar obstacles are in the way.
Features:
Jolt Technology combined with Shift-Slope technology
fast focus system
special edition patriot pack
Bushnell Bundle | 2018 Hybrid
A Hybrid Innovation In The World
Bushnell Bundle is the first hybrid of a Laser Rangefinder and GPS combo. LCD offers laser and GPS distances. The device's weight is 6.1 ounces and its dimensions are 4.2 x 3 x 3 inches. It has a fully-coated glass coating. The structure is not waterproof.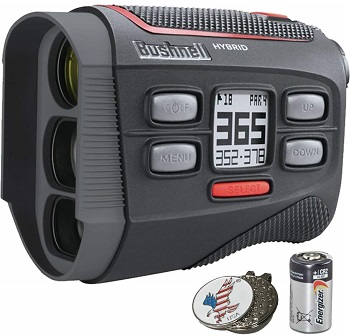 Jolt Technology Expert
Fully equipped with jolt technology, it helps users to hit the flag easier. Bushnell bundle is another device which has a preloaded base of more than 36,000 courses which are available in 30 countries. These are also available for updates wirelessly via Bluetooth. All courses are recognized automatically to make it easier for players to enjoy their experience.
Bushnell Golf App
Bushnell Golf App is supported by this device. By using this app, golfers can see full views of their surroundings and overshoots of their 3D hole ground plan. This applies to GPS distances as well. They can track their scores and see the statistics.
Designed For Stability
Stabi-grip technology gives a special experience while viewing flags on the courses. It provides a stable and comfortable clasp of the device to rapidly acquire a view of the target. Precise distance calculations help determine your proficiency and technique.
Optics And Warranty
Allowing magnification up to 5x the device also has the range of 400 yards with a ranging accuracy of +/- 1 yard. It does not have a slope switch. Its objective lens diameter is 20mm and the exit pupil is 4mm calculated. The 2-year warranty does not cover water damage so if it gets wet it will not be replaced.
Features:
equipped with jolt technology
does not have slope switch
not waterproof
Bushnell Golf App supported
Conclusion: Should You Buy Bushnell Golf Rangefinders?
Bushnell Pro x2 Golf Laser Rangefinder gives you additional precision with the jolt and slope switch technologies. Hybrid Bushnell Bundle's special stabi-grip design paired with jolt technology provides a stable and precise usage of the device. Both products are designed to better the golfer's experience and help him track his statistics.
If you are interested in this topic and want to learn more about it, read this article about rangefinders. In case you are looking for the best quality to price ratio, read this review filled with affordable rangefinders.  Also, read this article about the best golf rangefinders there are on the market if you wish to find out which one it is.