Are you looking for the best rangefinder binocular combo?
Then you should read this review to get an insight into the topic.
I will describe the benefits of using a binocular and rangefinder combo and give the best 5 models. You can compare the models, their characteristics and purposes and decide which is the best option.
Things To Know About Rangefinder Binoculars Combo
How Are They Different From Regular Binoculars?
Binoculars are used to view something that is far away from you. Rangefinders are used to give you the exact distance to something. Binoculars with rangefinder built in will give the maximum information about the target you are observing without any effort.
Are Binoculars Better Than Monoculars?
Binocular devices give you the advantage of looking at distant objects with both your eyes. This provides maximum comfort and relief. If you use a monocular device, you will use only one of your eyes. This can cause straining and become tiresome.
What Are They Used For?
Binocular rangefinder combo can be used for hunting. If you want a hunting rangefinder binocular you should pay attention to its durability and range coverage. Also, they can be used for golfing or terrestrial or marine nature observation.
Which Features Should They Have?
It would be preferable that the device you are using is waterproof and protected from any possible disturbances. Slope compensation should be a part of it to give you the exact distance measurements including the angles. Also, if you are looking for a marine rangefinder binocular, it should have an in-built compass to help you orientate.
Where To Buy Them?
If you want to buy such a product and get the best deal, you should visit Amazon.com. The site offers a wide range of products. The prices can go as low as 170$ and as high as 3000$. It all depends on the product's use and the features it has.
Best 5 Rangefinder And Binoculars Combos
Best Hunting Rangefinder Binoculars Combo
Vortex Fury HD 10×42 Rangefinder Binoculars
Allows A 10x Magnification
Vortex 10×42 Fury HD laser rangefinder binoculars have the following dimensions: 5.75 x 5 inches and their weight is 31.8 ounces. These Vortex rangefinder binoculars have a 10x magnification through a 42 mm objective lens diameter. They are waterproof and made to withstand even the toughest conditions since their use is for hunting.
Suitable For Users With Eyeglasses
Vortex Fury laser rangefinder binocular has high-quality optics and is suitable for eyeglass wearers. It allows adjustment of the eyepieces and diopters. This makes it perfect and completely customizable. The design is compact and made from rubber which protects the device from outer disturbances.
What It Comes With?
The interpupillary distance is from 58 to 72 mm. It has a 16 mm eye relief and the exit pupil's size is 4.2 mm. The power source it uses is a single CR2 battery. Vortex Fury laser rangefinder binocular's package includes a CR2 battery, objective lens covers, a case, and rain safeguard.
Protected From Dust And Fog
The closest distance it can focus on is 18.5 feet. Vortex Optics Fury HD 10×42 laser rangefinder covers a linear field of view of 321.6 feet per 1000 yards. The angular field of view is 6.1 degrees. This rangefinder is durable as it has a roof prism. It is protected from dust and fog so you can be carefree while hunting in different conditions.
Compensates Angles While Ranging
HCD mode is supported and it compensates angles while ranging, so you get the right distance measurements. You can activate the continual distance reading mode if you want to save some time. Also, it has LOS mode for the actual line of sight range. The measurement units can be in yards or meters.
Features:
has a rubber armor design
waterproof, fog-proof and protected from dust
has the angle compensation mode
Best Marine Rangefinder Binoculars Combo
Bushnell Binocular w/Compass, 7×50
Has A 50mm Objective Lens Diameter
Bushnell rangefinder binocular combo has a 7x magnification through a 50 mm objective lens diameter. They are used for bird or nature watching, as well as hunting. These Bushnell rangefinder binoculars are waterproof and can float in water. That is why they are the perfect marine binoculars with the rangefinder.
Comfortable And Firm Grip
The prism system type is Porro BaK-4 which makes clear and bright images. The device is also resistant to fog and can withstand all kinds of weather conditions. It is covered with a rubber armor that allows a firm but the comfortable grip of the device. Also, these Bushnell rangefinder binoculars can be adapted to a tripod for more stability.
It Absorbs Extra Brightness
The optics are high quality since the lenses are fully multicoated. The field of view is 350/1000 yards and the exit pupil size is 7.1 mm. The 18 mm eye relief and foldable eyecups make it suitable for eyeglass wearers. The objective lenses are UV-coated which gives additional brightness to the image.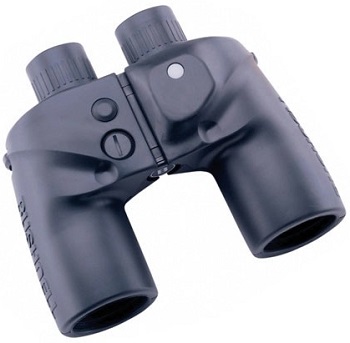 Made To Endure The Toughest Conditions
Thanks to its nitrogen-purged and hermetically sealed housing, these binoculars with compass and rangefinder can endure almost every environment. As previously said, they are waterproof, fog-proof and floatable. Bushnell rangefinder binoculars can even be put into ice or saltwater and will work perfectly afterward.
Has An In-Built Compass
These 37 ounces binoculars have an in-built compass which gives you more precision when observing or hunting. The compass illuminates when in use. Users are pleased with the device as it is very durable and high-quality. However, some have a problem with the device's weight as it can get a bit heavier than needed.
Features:
allow a 7x magnification
can be adapted to a tripod
have fully multicoated lenses
are waterproof and fog-proof
can float in water
Best Expensive Rangefinder Binoculars Combo
Leica 10×42 Geovid Edition 2019 Rangefinder Binoculars Combo
A Magnesium Nitrogen-Filled Housing
Leica Geovid 10×42 rangefinder binocular has the following dimensions: 4.9 x 7 x 2.8 inches. Its weight including the battery is 34.5 ounces. The measurement units can be displayed in meters or yards. It allows a 10x magnification. Its objective lens diameter is 42 mm and the housing is nitrogen-filled magnesium.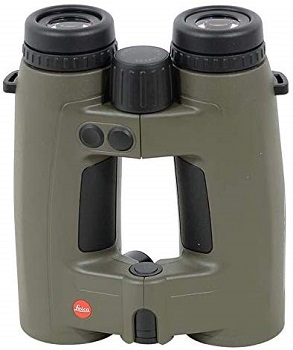 The Diopter Can Be Adjusted
The size of the exit pupil is 4.2 mm. It covers a 113.3/1000 yards field of view. The closest distance it can focus on is approximately 16.5 feet. Leica rangefinder binocular has an adjustable diopter for +/- 4 diopters. It covers a range from 10 to 3000 yards approximately.
Adjustable Display Brightness Settings
The equivalent horizontal range is from 10 to 1200 yards. These Leica rangefinder binoculars are +/- 0.5 yards accurate at distances 10 – 200 yds. At 200 – 400 yds it is +/- 1 yard accurate and +/- 0.5% beyond 400 yds. The display type is LED with four characters. The brightness changes according to the light you are in.
Eyecups Can Be Detached
The eyecups can be adjusted as they are detachable with 4 click-stops. The focus system consists of internal focusing with a center barrel. Leica rangefinder binocular uses a Perger Porro prism system. The lenses are covered with HDC multicoating and AquaDura lens coating. It can go down to 16.5 feet underwater.
Has An Eye-Safe Laser
The laser type is eye-safe EN and FDA Class 1 laser. Leica binoculars 10×42 with rangefinder use ABC ballistics and its measurements can be displayed in holdover, equivalent horizontal range, and a number of clicks. The ballistic program calculates variables such as temperature, air pressure and angle to give you the most accurate measures.
Features:
has a nitrogen-filled housing
the display is LED with 4 characters
uses a ballistic program
Best Military Rangefinder Binoculars Combo
Uscamel 10×50 Military HD Rangefinder Binoculars
Military Rangefinder Made For Observation
Uscamel 10×50 Military waterproof HD binoculars with rangefinder compass have the following dimensions: 7.4 x 3.2 x 5.8 inches. The device is a military-grade binocular with rangefinder made for observation. It allows magnification up to 10 times. The size of the objective lens diameter is 50 mm. The field of view is 396 ft/ 1000 yds.
Can Be Used For Other Activities
These military binoculars with rangefinder can also be used for hunting, tourism or other outdoor activities. It uses a Porro prism system with BaK-4 glass. The lenses are fully multi-coated so the image it displays is very bright and sharp. The device comes with a built-in compass which intensifies the accuracy.
Absorbs A Lot Of Light
The eyepieces can be adjusted which is convenient for users who wear glasses. The 50 mm objective lens diameter absorbs a lot of light and makes the image vivid and bright. The exit pupil's size is 6.8 mm while the size of the eye relief is 22 mm.
Has An In-Built Compass
Besides the compass, the device has a built-in calculator too. This way you can calculate sizes and distances while getting all the orientation data. The features can be disabled as they have a turn off button. You can also adjust the diopter to your preference.
Protected From Outside Conditions
Uscamel 10×50 has a rubber armor that protects it from outside conditions and provides a safe and comfortable grip. The design is made to last and withstand all disturbances. Also, the device is waterproof, so you do not have to worry if it gets wet.
Features:
allows a 10x magnification
has a 50 mm objective lens diameter
the diopter can be adjusted
it is waterproof
has a rubber armor
Best Long-Range Rangefinder Binoculars Combo
Nikon Laserforce Rangefinder Binocular
Has Adjustable Brightness Settings
Nikon Laserforce rangefinder has the following dimensions: 9.8 x 7 x 4.8 inches. It uses a CR2 battery as a power source. The display brightness can be adjusted as it has 4 different settings. This is a long-range rangefinder as its covered range is 10-1900 yards.
Covers A Long Range
This laser rangefinder binocular covers a 1900 yards range for reflective targets, 1100 yards for deer, and 1400 yards for tree range. It has an automatic battery saving mode which turns it off when it is not used for 8 seconds or more. It has a reflective mirror coating which reflects the excess brightness and makes the image clearer.
Incline Decline Technology Supported
Laserforce supports ID technology which calculates inclines and declines on the way to the target. The measurements are portrayed on the display. The angular distance this rangefinder can measure is +/- 89°. It can make a single measurement or do it continuously for 8 seconds.
Has A Strong Metal Housing
If you wear eyeglasses it helps to know that the rubber eyecups can be adjusted. The device's housing is made from metal which makes it quite strong and compact. It can withstand all kinds of weather or other conditions.
Water And Fog Resistant
Its lenses have lens caps that keep them clean and protected. Laserforce rangefinder is waterproof and resistant to fog. This is thanks to its structure which is filled with nitrogen to make it more compact. It allows a tripod to be installed to make it steadier while using.
Features:
has a long-range: 10 – 1900 yards
has an automatic battery saving mode
it is waterproof and fog-proof
Conclusion: Which Rangefinder Binoculars Combo Is The Best Choice?
If you are looking for a hunting rangefinder, Vortex Fury HD 10×42 is the right choice. The device has fog and dust protection, so it will serve you well in all conditions. Nikon Laserforce Rangefinder Binocular is the best long-range rangefinder there is. It is a durable and reliable device that will give you a precise and sharp image.
If you were interested in this topic, read this article about yardage finders and learn more. In case you are looking for a golf distance finder, read this review about the best golf distance finders. If you want to know more about Rangefinders, click here and read all about rangefinder binoculars.