You like to play golf, but you hate measure distance to the flag?
Then you are in the right place because you need to read this review about golf rangefinder. I this post, I will describe to you the best 5 golf rangefinder on the market. There you can find information about its design, price, function and other features. Maybe this post helps you to find the best golf distance finder.
What Do You Need To Know Before Buying Golf Rangefinder?
Why Is Good To Have Golf Rangefinder?
This laser rangefinder measures pretty accurately the distance between the player and the golf ball, or between the flag and the golf ball. So, this device can help you to properly measure the distance, and there is no subjective assessment. You can be sure that everything is regular.
Two Different Type Of Golf Rangefinders
You can choose from two different models of rangefinders on the market. There are laser and GPS rangefinder. When we talk about laser rangefinder, all you need to do is push the button on a rangefinder, and it will emit the light beam. When the beam hits the point, it will return to the device and shows the result to the display.
In the GPS category, there are two options, one is handheld and the other is wearables. GPS rangefinder needs less time to measure the distance. Also, they required mapped terrain.
What Is The Price Of Golf Rangefinders?
That depends on many features. For example, do you want to buy GPS or laser rangefinder? There are other characteristics which can increase the price, like the speed of the processor, slope technology, range, accurate and many other. Some average price is more than $200, but that varies.
How To Use Golf Rangefinder?
First, you need to find a place where you are able to see the base of the flagstick. It is great if you can be close to the golf ball as possible. Then look through rangefinder and your distance to the point is number where the top of stick falls.
5 Best Golf Rangefinder Reviews
Best Golf Yardage Finder
Nikon Coolshot Golf Rangefinder
Nikon Design
This golf rangefinder has a small size, so it's very compact and practical. Its dimensions are 4.8 x 6.6 x 3.4 inches and weigh only 6.1 ounces. So, it's lightweight and ergonomic. This best golf yardage finder is waterproof, rainproof and fog proof, there is nitrogen which eliminates all distractions. You can find it in a nice white color.
8 Second Measurement
When you push the button, the golf rangefinder will constantly measure range for 8 seconds. This feature is very useful when you want to find the measurement of, for example, very small objects. Regardless of your distance, this golf yardage finder will display your results in 0.3 seconds. It has a measurement range of 1200 yards.
Slope And Stabilizing Technology
If you play golf on some downhill or uphill terrain, you will need that slope technology. But you can't use this feature on tournament play. That technology measures, except for distance, and elevation. So, it calculates what downhill or uphill position means of yards. The stabilizing technology stabilizing laser from unequal conditions.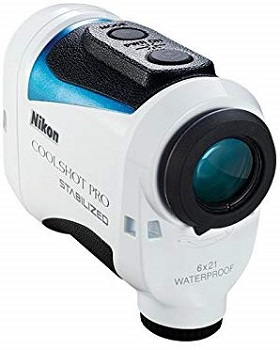 Locked On Technology
Sometimes you can't be sure which distance your golf yardage finder measures. But if you turn on the locked on technology, it will help you to avoid a measure between a golf ball and the tree. Then you can be sure that rangefinder displays you the right number.
OLED Display
You can set up this OLED display with auto or with manual brightness. If it is red, then it is the automatic mode on and it will provide you clear visibility in any weather conditions. Also, this best golf rangefinder has an integral monocular with a wide field of view and rear diopter for fast focus.
Features:
stabilizing technology
locked on technology
slope technology
water resistant
Best Golf Laser Rangefinder
Pro Golf Nexus Golf Laser Rangefinder
Pro Golf Nexus Dimensions
It weighs only 2.08 ounces, and its dimensions are 6 x 2 x 3.5 inches, so it's very small, compact and practical in your hand. If you want to use it on competition, you don't have to worry, this golf laser rangefinder is legal for the tournament and it can measure within one yard.
One Of The Best Golf laser rangefinder
It can measure the distance to the 1/10 of the yard. It has a distance capacity of 400 yards, so your target can't be out of range with this laser golf rangefinder. Also, you can change its setting and you can measure distance in meters or in yards.
None-slope Feature
This golf laser rangefinder is legal in the competitions, so there isn't a slope feature. When you focus on your target, it will use Pulse Vibration Technology. So, when the target is identified, it will send a slight vibration, so you'll know that the distance is ready. This Pro Nexus golf rangefinder needs less than a second to lock onto your target.
6x Zoom
With this top golf laser rangefinder, you can have an awesome view of your target, no matter how far it is. You can scan your target with that 6x magnification, which will give you a very clear view of your target, regardless of your position. Also, it has advanced lock function which eliminates all background objects.
Features:
magnification of 6x
allowed on tournaments
the capacity of 400 yards
Best Budget Golf Rangefinder
TecTecTec VPRO500 Golf Rangefinder
450 Yard Range
This best golf rangefinder for the money you can use in tournaments, because it doesn't have non-slope technology. It is compact in your hand because of its dimensions of 1.6 x 2.8 x 4.1 inches. This golf rangefinder is a bit heavier, it weighs about 6.6 ounces. It has accuracy at 300 yards and its max range is more than 1000 yards.
Accurate Within 1 Yard
The TecTecTec cheap rangefinder has a large lens that provides you a clear view, so you can easily measure the distance. Its accuracy on 300 yards is +/- 0.3 yard, so it isn't the best in precision. But it has a multilayered optic that is easy to read.
Three Scanning Modes
It measures distance very quickly, so you don't have to wait longer than a few seconds. There is one more great feature, it has three different modes, so you can adjust it to any kind of outside conditions. Also, it has advanced pin sensors that provide you measurement with even overlap targets.
All Included
If you decide to buy this cheap golf rangefinder, you will not regret. Except for the low price, you will get in your package: carrying pouch, wrist strap, battery, cleaning cloth from microfibre, quick start guide so you can easily set it up, warranty and customer support without limits.
Budget-friendly Price
This best budget golf rangefinder has a strong and durable body, which is waterproof and dustproof. Its price is acceptable for everyone, so you can find it on the market at a great price. This is the best golf rangefinder under $200, and with these features, it is a very good price.
Features:
low price
different modes
legal in tournaments
waterproof
Best Golf Rangefinder With Slope
Precision Pro Golf NX7
Slope Function
The Slope technology provides you to measure distance, even on uneven terrain. So, you can play golf on an uphill or downhill surface and measure the distance with this precision NX7 Pro rangefinder. But, if you want to participate in the competition, you just need to turn off this function.
Free Battery Forever
If you decide to buy this best NX7 Pro slope rangefinder, you can ensure the free battery from this company. All you need to do after you get your rangefinder is to register it, and when your unit's battery is low, send an email with battery request. For a few days, it will come to your address.
Lightweight And Portable
This NX7 pro slope rangefinder has 8 x 4 x 6 inches, so this is some average size. Also, it is lightweight, it has 8.8 ounces. It has some weather conditions protection, for example, it is water-resistant and fog-resistant. So, you can put it on a wet surface, it will work without any difficulties.
Vibration Technology
This kind of feature is very useful. When you identify your target, this golf rangefinder with a slope will vibrate, and you will know that it measured the distance, so you can read the accurate number on a display. It is very fast in measurement, so you don't need to wait for more than a second.
Yard Range
Yard capacity of this Precision pro NX7 rangefinder with slope is about 400 yards. That is really far distance. Also, it displays 1/10 yard measurement and its accuracy is +/-1 yard. If you need it, you can use the zoom of 6x, which provides a clear view.
Features:
max yardage of 400 yards
slope and non-slope
free battery replacement
Best Value Golf Rangefinder
Bushnell Tour v4 Jolt Golf Laser Rangefinder
Legal For Competition
If you want to use this Bushnell golf rangefinder in your tournament, you can do it. It has a slope function, and it is forbidden, but you can easily switch it off. This rangefinder is made from a remarkable company and it has a high price for a very long time. Now, you can buy it at a lower price, and because of all the great features, it is the best value golf rangefinder which you can find.
Great Yard Range
It has the range to a flag about 450 yards, which is impressive. Also, it has a range of more than 1000 yards, so you can see an object around 700 yards, but its practical range is about 350 yards. Its accuracy is about one yard. Because of all these features, this golf rangefinder is the best value rangefinder.
Awesome Zoom
This Bushnell golf rangefinder has a magnification of 5x, so you don't have to worry about your distance from the flag and from your golf ball. With that zoom, you can easily see your results. Its focus system is very fast, it doesn't take more than a few seconds.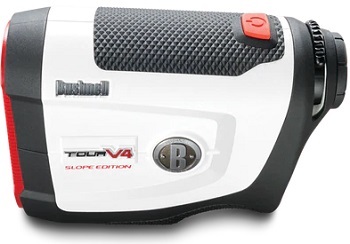 Pinseeker Technology
This technology is very useful because it isolated the other objects from the flag. When this best value rangefinder notices other objects, it will display an icon with the flag, it reads the distance of your closest object. Then It will vibrate and show you the distance.
Features:
the best value for money
slope function
accurate to one yard
fast focus system
Conclusion: Which Two Golf Rangefinder Models Are The Best?
In my opinion, the best two golf rangefinders are the Precision Pro Golf Nexus and the Bushnell Tour V4. The Nexus has advanced target lock feature, none-slope function, pulse vibration technology, and 400 yards capacity. The Bushnell has 5x magnification, fast focus system, slope function and good price.
If you want to find out more about good rangefinder, read this post. If you are interested in golf GPS rangefinder, read this review. In this review read about the best budget rangefinder.