Are you looking for the best rangefinder for your bow?
Then you need to read this review about the best 5 rangefinders on the market. Here you can find information about bowhunting rangefinders price, characteristics, design, optics, range and even more. After reading, you can compare these 5 models and pick up the best one for you.
What Do You Need To Know About Bowhunting Rangefinders?
What Does Your Rangefinder Need to Have?
On the market, you can find many different rangefinder models. Depending on the amount of money you want to spend, you can find different features. But, some of them are necessary to have. You need to check measurement distance, durability, battery power, modes, optics and more before you buy a rangefinder because those are the most important characteristics
What Rangefinder Is The Best For Bow Hunting?
You can find optical rangefinders, GPS, radar, laser, and other types. But at the moment, rangefinders with laser are the best. A laser rangefinder uses a laser beam to calculate the distance between your position and your target position. Then you can read the result of distance on display. That requires a very short time, and because of that, laser rangefinders are the best for bowhunting.
Handheld And Mounted Design
There is one more difference between these rangefinders. Most of them are handheld rangefinders, so you need to be careful where you put it, and it takes time when you want to use it. But some of them have a mounting option. With that kind of rangefinders, you can easily mount it on your bow or crossbow and hunt without any distractions in your hands.
What About Price?
It depends on features on rangefinders, and on your wishes, you can find a wide price range. If you want to have advanced technology on your rangefinder for bow hunting, then you need to be ready to pay more for it. Also, you can find a very good quality but cheap rangefinders, you just need to research.
Best 5 Bow Hunting Rangefinders
Best Rangefinder Bow Sight
IQ Define Bow Sight With Rangefinder
Right Or Left Handed
This range-finding bow sight is a very small product. It has 4.5 x 3.5 7.2 inches, so it doesn't need any extra spaces. Also, it is lightweight, about 1 pound. There are two types of this rangefinder bow sight, one for left and other for right-handed persons. If you are left-handed, you don't need to worry. You can order bow sight for left-handed people.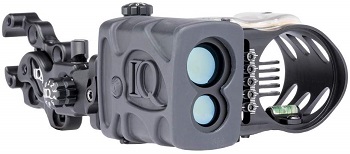 Mount-It
This is one of the rangefinders which you don't have to hold in your hand. This is the best advantage of this product. You can very easily mount it on almost every piece of equipment. So, if you are engaged in the hunt, you can mount in on your rifle, bow or crossbow. You can put it on any spot on your bow.
Built-in Rangefinder
IQ Define Bow Sight has built-in rangefinder inside of its body. So, when you mount it on your bow, you can easily read the range of distance of your target. With this bow rangefinder, you will improve your result, so there are no more missed shots. If you want to activate laser rangefinder you need to push the button trigger.
Up To 99 Yards
With this bow sight with a built-in rangefinder, you can get a distance more than 90 yards. This is less than any other handheld rangefinder. Also, it is very accurate, it has a deviation of +/-1 yard. That provides you accurate results of the distance of your target.
Angle Compensation
This range-finding bow sight has built-in angle compensation, so it can calculate the right distance when your target is uphill or downhill. Also, it has a 2-minute scan mode, and after that, it is in standby mode. You can read results on blue OLED display no matter how outside light is. It has built-in light with four brightness settings.
Specifications:
for right and left-handed
measure incline
mount in on the bow
2-minute scan mode
Best Archery Rangefinder
Nikon Bow Hunting Rangefinder
Laser Technology
This Nikon bow hunting rangefinder has 6 x 21 laser, which provides you long-range hunting. It can measure the range of more than 1800 yards. So, it is best for long-distance hunting. Also, it is very accurate, with a margin error of +/-1 yard. Regardless of your target distance, it will respond in approximately 0.3 seconds, so it has a very fast focus.
Compact And Practical
This rangefinder for archery hunting is small and compact. It has dimensions of 3.8 x 1.7 x 2.9 inches, and it weighs only 6 ounces. It is lightweight and compact, so you can easily carry it or transport it in any case. In your hand it is very ergonomic, also, it is made from rugged materials, so it's non-slip. It is waterproof and has nitrogen gas, so it is resistant to high/low temperatures and foggy weather.
Angle Compensation
The Nikon archer rangefinder has advanced incline/decline technology, which provides the horizontal distance to the target. Also, it can measure distance even if is your target in incredible shooting angles, so it can measure +/- 89 degrees. Regardless of the angle, the OLED display will quickly show you the right distance number.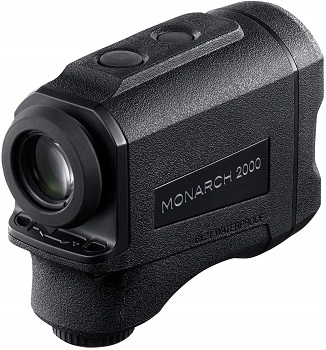 Two Modes
You can choose between two different modes on your best archery rangefinder. There is first priority mode and distant priority mode. You use first priority mode when you need to range a small target which is very close to you. The distant mode is the best for the farthest target or target in groups of similar targets.
Specifications:
first and distant priority
angle compensation
resistant to weather conditions
Best Archery Rangefinder With Angle Compensation
TecTecTec Prowild S Rangefinder
The Quality Lens
One of the most important things on rangefinder for bow hunting is the lens. This bow hunting rangefinder with angle compensation has a very quality lens, it is a premium, ultra-clear multilayered optic which provides an amazing view. In any kind of weather condition, you can easily see your target, and read the results on the OLED display.
Up To 540 Yards
TecTecTec rangefinder for bow hunting has a maximal range of 540 yards. Also, it is very accurate, it can have a margin error of +/-1 yard. That is very precise, but if your target is really far from you you can use a magnification of 6x. With that feature, you won't miss your target.
Durable And Strong
That rangefinder with angle compensation has a very sturdy body made from strong materials. It has a rugged surface, so you don't have to worry if you wear gloves, it isn't slippy. It has adjusted design, practical and compact. Its dimensions are 4 x 2.8 x 1.6 inches and it is lightweight, about 6 ounces. Also, it is water-resistant and dust resistant.
Two Modes
This bow rangefinder has two different options. There is scan continuous mode and slope mode. If you choose scan continuous mode, your rangefinder will range distance of target for a few seconds. With slope mode, you don't have to worry about steep terrain, or if your target is above or below you.
Ready For Hunt
If you decide to buy this bow rangefinder, you will get in your package everything you need; carrying pouch, battery, cleaning cloth from microfiber, strap, the guide for a quick start, warranty and customer support for all time of using this product.
Specifications:
scan and slope mode
6 ounces
quality lens
angle compensation
Best Hunting Rangefinder
Bushnell Scout DX
For Any Weather Condition
This Bushnell rangefinder for bow hunting has much protection because it is intended for the heavy conditions. So, there is waterproof and fog proof protection. You can go hunting even if it's raining, your rangefinder can handle up with that. Also, when it is foggy, you can turn on fog mode and have a great view.
Three Different Modes
You can count on three different modes, which you can use depends on the situation. With just one push of a button, you can switch modes. If you pick brush mode, you can zoom your farthest target on the are. With bullseye mode, you can read the distance of the closest target. But if you want continuously scanning your target, you need to choose a scan mode.
E.S.P. Technology
The Bushnell rangefinder for bow hunting uses really advanced technology. Extreme, Speed And Precision technology improves your rangefinder measurement in any weather or other conditions. 0.8 inches of objective diameter lens provides a clear and sharp view. Also, you can magnify your target 6x.
ARC Rifle Or ARC Bow Mode
You can use this bow rangefinder for either, bow or rifle. It can measure a range distance of up to 1000 yards, and that is enough for every hunt or sport. There is a built-in inclinometer for uneven terrain. So, you can use two different ARC modes. ARC rifle mode provides you bullet-drop/holdover in inches. The ARC bow mode measure actual horizontal distance out to 90 yards.
Specifications:
the technology of E.S.P.
bullseye, brush and scan mode
rifle or bow mode
Best Archery Rangefinder For The Money
Boblov Mounted Rangefinder
Durable Rangefinder
The best archery for the money has a very sturdy body made from strong materials. It has a rugged surface and it's made from aluminum alloy metal. It is adjusted to bad weather and heavy terrain conditions. So, it has waterproof, dustproof and shockproof protection. If you decide to buy it, you can find this bow rangefinder under $200.
Small Bow Rangefinder
Dimensions of this cheap rangefinder for bow hunting are 3.9 x 5.9 x 3.4 inches. As you can see, it very small and practical. Its weight is also small, it has about 10 ounces. The small size and weight are very important for this rangefinder because it is intended for mounting on rifle or bow. But don't worry, when it's on bow, it won't distract you when you hunting.
Mounting Feature
The Boblov products are very respectable, and so it's this one. It comes in camouflage color so it will be invisible when you are in the wood. It has a universal clamp-on design that you can mount on bow, crossbow or on the rifle. It is very easy to mount it on the top of the scope and when you want to activate it, just push the button.
Five Modes
This bow-mounted rangefinder has five different modes, and you can change it very easy, wit one push of a button. So, there is a horizontal mode, fog + horizontal mode, range mode, speed mode, and fog mode. If you want to get the actual horizontal distance of your target, pick horizontal mode.
Speed Of Up To 186 Mph
One of five modes is speed mode. It is intended for moving targets. If you are engaged with the hunt, you will understand how important this mode is. When you turn it on, it can measure your target distance if it moves faster then 185 mph. That is enough for every sport, game or hunt.
Specifications:
camouflage color
clamp-on design
long-range
Conclusion: Which Two Bow Hunting Rangefinders Are The Best?
After all that research, I think that the best two bow rangefinders are the Bushnell Scout DX rangefinder and the Boblov Mounted Rangefinder. The Bushnell has ARC rifle mode and ARC bow, mode, E.S.P. technology, range until 1000 yards and built-in inclinometer. The Boblov has a color OLED display, it is very durable, has five different modes and the most important, you can mount it on your bow, rifle or crossbow.
If you are interested in handheld rangefinders, read this review about them. But if you looking for the best laser rangefinder, you can find information in this post. In this review read more about rangefinder binoculars.