Do you want to find a device that will improve your golf and hunting skills?
Then you need to read this review about combination rangefinders for golf and hunting. Here you can read about 5 different combination rangefinders, about their characteristics, prices, design, range, and more. Then you can compare it and choose which one suits you the most.
What Do You Need To Know About Combination Golf And Hunting Rangefinder?
How Do Rangefinders Work?
You can find many different rangefinders on the market. There are laser, optical, radar, sonar and GPS rangefinders. At the moment, the best is laser rangefinder, but you can check and other types. laser rangefinder works on a very simple principle, so when you push the trigger, it sends a laser beam to your target. Then it bounces off target and calculates the distance between your position and position of your target.
Why Use Rangefinders For Golf?
When you play the golf game, the most boring part of it is measuring the distance. Most of the time, you can't be sure that you or your players measure the right distance from the flag. Because of that, many golf players use rangefinders. With that device, you can measure the distance really fast and very accurate, so you can enjoy more in the game.
What Is The Difference Between Rangefinders For Golf And For Hunting?
First of all, rangefinders for golf measure a smaller range of distance than rangefinder for hunting. Both of them have great accuracy, but rangefinders for hunting have a bigger deviation on the longer distance. The price depends on advanced technology, and mostly the hunting rangefinders need to use that kind of technology. Also, hunting rangefinders use ballistic technology which provides more information.
How To Choose Which Type Of Rangefinder Is Best For You?
You need to consider for what purpose you want to buy a rangefinder. If you are a beginner or you want to use the rangefinder for some game or sport, then you need to think about rangefinder for golf. It has great features, high precision and quality optics. But if you are an expert in hunting, and you want to have advanced features on your rangefinder, think about rangefinder for hunting. It has some features which aren't necessary for playing some games.
Best 5 Rangefinder For Golf And Hunting
Best Value Rangefinder For Golf And Hunting
TecTecTec Prowild Rangefinder
Easy To Read Display
The TecTecTec Rangefinder can be used for both, hunting and playing golf. But you can find it in just one color, and it is a camouflage color, maybe you don't like that color for playing golf. Regardless of that, is good for both, because it has a high-quality premium lens which is ultra-clear and multilayered. That kind of optic provides you a sharp and clear view.
Range Of Up To 540 Yards
This combination rangefinder has a maximal range of up to 540 yards. Because of that, it is better for golf or hunting at a shorter distance. It is very accurate, it has a margin error of +/-1 yard, so you can rely on its precision. But if your target or golf ball is very far from you you can use a magnification of 6x.
Speed, Scan And Hunt Technology
You can pick one of three different modes, depends on your needs. There are scan, speed and hunt modes. If you turn on scan mode, your rangefinder will continuously scan your target distance. If you are hunting and there is a moving target, you can choose speed mode, which can calculate your target distance, even if it's moving. With hunt mode, you'll get more information and clearly view.
Lightweight And Small
This rangefinder for golf and hunting is very small. It has 4 x 2.8 x 1.6 inches, you can carry it in your pocket or in your jacket. Also, it is lightweight. It weighs only 6.5 ounces, so it won't distract your hunting or playing when it is not in use. The strong body, waterproof and dustproof provides you long term use. The best of all it's its price, you can find it for about $200 and it is a good value for your money.
Specifications:
for a hunt and playing golf
three modes
max range of up to 540 yards
affordable price
Best Rangefinder For Golf And Hunting With Slope
Bushnell Pro X2 Golf Laser Rangefinder
Jolt Technology And PinSeeker
The Bushnell Pro X2 rangefinder you can use for hunting on short distances and for golfing. It has advanced technology, Jolt Technology. It provides you more statistical data and precision. Also, PinSeeker and Jolt give the player short pulse vibration. That means that the laser has locked onto your target or flag. Then you can read the right number of distance on display.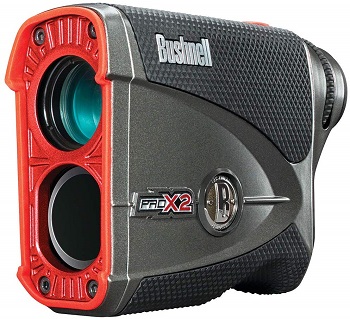 Slope Technology
You can very easily turn on this feature, just push the button. It is very useful for both, hunt or golf. But you need to be careful because most golf tournaments do not allow slope technology. You can use this rangefinder, just turn off this feature. With that feature, you can read the actual distance of uphill or downhill kind of terrain.
Range Of 450 Yards
If you want to hunt with this rangefinder you need to be aware of its max range, and it is more than 450 yards. Mostly, that isn't enough for hunting, but you can try it on a shorter distance. For golfing is very enough, and also, it has a magnification of 6x, so you can have a closer view.
Small And Resistant
This is a very small and lightweight rangefinder for golf and hunting. It has 0.4 x 3.1 x 5.6 inches and weighs only 14 ounces. It is very compact and practical and you can carry it in your pocket, you won't notice it. Also, it is waterproof, so you don't have to worry about raining and wet surfaces. It is very durable and has a body from rubber and from metal, so you can't damage it easily.
Specifications:
slope technology
PinSeeker and Jolt technology
max range of up to 400 yards
Best Cheap Rangefinder For Golf And Hunting
Aofar Hunting Laser Rangefinder
Lightweight And Portable
The Aofar rangefinder for golfing and hunting is practical and compact. Its dimensions are 4.3 x 1.8 x 3.2 inches, so as you can see, it is a small device. Also, it weighs only 14 ounces. It comes in two colors, black and camo. Black color suits good with both, golfing and hunting, but camo is better for hunting, it is almost invisible in wood.
Great Price
It is long term rangefinder because it has many protections. For example, it is a waterproof and dustproof rangefinder. If you use it in a proper way, it can last a very long time. The best about this hunting and golf rangefinder is its price, you can find it under $100, and that is affordable for everyone.
Up To 1000 Yards
This Aofar rangefinder has PinSeeker technology. That means that it has a very fast focus system and can quickly identify the target. You can use it for golfing, but on a longer distance, it achieves the best results between 700 and 1000 yards. That is a very far distance, but with this rangefinder, you'll have a clear view.
Four Modes
The cheapest rangefinder has four modes for measuring in different situations. There is range mode, speed mode, fog mode and scan mode. You can easily choose the mode which suits you the most by one push of a button. If there is bad weather you can choose fog mode for a clear and sharp view. With speed mode, you can follow your fast-moving targets. Scan mode will continuously measure your target distance.
Reliably Accurate
This rangefinder has very good accuracy. Its margin error is plus/minus 1 yard, so you can rely on the accuracy of measuring distance. But if you want to have a closer view on your far target, you can zoom it 6x. With that great magnification, you can't miss the shot.
Specifications:
magnification of 6x
high accuracy
low price
scan, range, fog and speed mode
Best Long-range Rangefinder For Golf And Hunting
Vortex Optics Razor HD 4000
Product Dimensions
The Vortex rangefinder is good for different purposes. You can use it for golfing and for hunting. It is small, practical and compact. It has 4.6 x 6 x 2.7 inches and weighs only 7 ounces. It comes in an elegant black color and has a strong and durable body. Made from rubber armor, so it isn't slippy in your hand. Also, it has waterproof protection.
Multilayer Lenses
It has an HD optical system that provides you an extra clear and sharp picture. The screen is color fidelity, so you can't be in doubt about your target. Also, the 0.9 inches lenses are covered with protection which keeps them safe from damage and breakage.
Four Different Modes
On this rangefinder for golfing and hunting you can choose between 4 modes. There is the normal mode, the first mode, extended laser range mode and last mode. The Normal mode is the most common mode, it gives you the strongest range results and you can use it in many situations. The normal mode is the best for ranging the smallest target, or closest target. The last mode is the best for farthest target, or when your target is between trees and other objects. The ELR mode you can use when your target is at an extended distance.
HCD or LOS
These are also different modes that use depends on the terrain. The horizontal component distance you can use on the distance of 400 yards with a moderate slope. The line of sight is the best if you use ballistic data, on a long-range distance and if there is a greater slope. It has a reflective range of 4000 yards.
Specifications:
horizontal component distance
line of sight
four modes of measurement
Best Golf Laser Rangefinder For Golf And Hunting
Callaway 300 Pro Rangefinder
Slope Feature
The Callaway rangefinder has an awesome slope feature. It can measure the angle of decline or incline if you play golf on uneven terrain. Also, you can use it to hunt. It has a very fast focus system, so it will quickly identify your target and displays the number of range distance. If you want to participate in a tournament, you can easily turn off this feature.
Under 1000 Yards
This combination of golf and hunting rangefinder has a maximal range of up to 1000 yards. The accuracy is pretty good, it is +/-1 yard. You can rely on this rangefinder and improve the results of your shots. If you want to increment your target and have a better view, you can use a magnification of 6x.
P.A.T Technology
The best laser rangefinder is advanced with pin acquisition technology. That means that this rangefinder has really fast identified your target and lock onto the target of more than 300 yards. That is a very useful feature even when you hunting or playing golf. The accuracy is stable at that distance.
Rangefinder Resistance
This rangefinder comes in one design. But there isn't just one color, but black, white and red, so it looks very attractive. It has 4.25 x 3 x 1.75 inches, so it is compact and practical for using and carrying. It is lightweight, about 8 ounces. Also, it is waterproof and fog proof, so no matter how bad weather is, this rangefinder will work.
"Birdie" Addition
There is one more interesting feature on this Callaway laser rangefinder. It uses "birdie" technology, and that means that you will hear a specific sound like a chirp when your rangefinder wants to confirm the distance. Because of that, you can be sure that your rangefinder is finished with measurement.
Specifications:
waterproof and fog proof
slope technology
up to 1000 yards
birdie feature
Conclusion: Which Are The Best Two Combination Golf & Hunting Rangefinders?
In my opinion, the best two combinations of golf and hunting rangefinders are the Vortex Optics HD 4000 and the TecTecTec Prowild rangefinder. The Vortex has four different modes for measurement, has horizontal component distance and line of sight mode, and has a reflective range of 4000 yards. The TecTecTec has a measuring range of up to 540 yards, great accuracy, three scanning modes, and a low price.
If you want to read more about top rangefinders, read this post. In this review, you can find more about golf GPS rangefinders. But if you are looking for a best golf laser rangefinder, read it here.