Are you looking for a rangefinder with angle compensation?
Then you should read my review and get all the necessary information!
Here you will find all about angle compensation and rangefinders which support it. I will describe 4 different archery rangefinder models. You can compare their characteristics and decide which one you like the most.
Things To Know About Archery Rangefinders
How Are They Different From Golf Rangefinders?
rangefinders with bowhunting angle compensation are a subgroup of hunting rangefinders. hunting rangefinders are made for hunting with bow or rifle. They are characteristic because they need more yardage distance than golf rangefinders. Also, they are made to withstand all kinds of weather conditions.
rangefinders with ARC compensation give you the exact distance to the target, so you can make a more accurate shot. The main difference is that archery rangefinders use distant target priority mode, and golf rangefinders use first target priority mode.
What is Arc Angle Compensation?
Arc Angle compensation is a technology that allows the rangefinder to calculate the distance to the target including angles. This means that the device calculates the angular measurements and adds them to the straight-line distance to the target. This technology means a lot if you are a hunter and want to make a precise shot.
What Features Should An Archery Rangefinder Have?
Your archery rangefinder must have angle compensation because it will facilitate your job. Also, the device should be waterproof, fog-proof, and resistant to dust. Its design should be compact and ergonomic. Precision and long-range are also important constituents of a good archery rangefinder.
Where To Buy Them
The best place to search for a rangefinder with ARC is Amazon.com. You will find various rangefinders and get good deals on them. The price range of such devices goes from 380$ to 1800$.
Best 4 Archery Rangefinders With (ARC) Angle Compensation
Best Long-Range Archery Rangefinder With Angle Compensation
Bushnell Elite Rangefinder 1 Mile 7×26 with CONX
Can Be Connected To Your Smartphone
Bushnell Elite Rangefinder allows magnification up to 7 times. It is connected to the Conx technology on your smartphone via Bluetooth. The device is 1/2-yard accurate and it has 1/10-yard display precision. This 1 Mile rangefinder comes with a built-in tripod mount, so you can have additional support while ranging.
Covers A Long Range
It has the Vivid Display Technology which produces a high-contrast display of measurements and other information. This is important because it gives you more visibility in poor light conditions. Bushnell Elite Rangefinder belongs to the 2nd Generation E.S.P. It covers a long-range from 5 to 1760 yards.
Compatible With Magnetic Attachment System
The diopter can be adjusted which means this device is completely suitable for users who wear glasses. Also, it is compatible with a magnetic attachment system which can come in handy when targeting. If you connect your device to the Conx, you can set up 3 different ballistic curves.
It Supports Rifle Mode
This Conx rangefinder supports a rifle mode. It gives you bullet-drop or holdover in centimeters, inches, MIL or MOA on the display or your phone. Bushnell Elite Rangefinder has a BullsEye Mode which calculates small target distances without measuring the background targets. Also, the device is fully waterproof and will withstand all weather conditions.
Has Brush And Scan Mode
Brush and Scan modes are also supported on this archery rangefinder. Brush mode brushes off front objects and focuses on the background objects only. Scan mode provides you with multiple targets at the same time to make your targeting simpler. Users are satisfied with the device and claim it is a great rangefinder for the price.
Features:
can be connected to Conx technology
covers a range 5 – 1760 yards
suitable for eyeglass users
it is waterproof
has Brush and Scan mode
Best Accurate Archery Rangefinder With Angle Compensation
Bushnell Scout DX 1000 ARC 6×21 Laser Rangefinder
Has A Built-In Inclinometer
Scout DX 1000 has a 6x magnification. It is a hunting laser rangefinder that has a built-in inclinometer that provides ARC. ARC calculates compensated distance based on the ground. It has two different modes: Bow and Rifle mode. The Bow mode gives you the true horizontal distance to 99 yards.
Supports The BullsEye Mode
This rangefinder has extreme speed precision and is 1/2-yard accurate. Its display precision is 1/10th yard. Scout 1000 measures distances of small targets without measuring the targets in the background with BullsEye mode. Also, it scans multiple targets at the same time with Scan mode, to provide you more precision.
Supports The Brush Mode
Scout 1000 ARC DX supports the Brush mode too. It helps you if you wish to focus on background objects and ignore the ones in the front. This rangefinder's range is from 5 to 1000 yards. It has fully waterproof housing which prevents any water from getting in the way.
Has An Adjustable Diopter
Since all eyes are different, Scout DX 1000 allows its diopter to be adjusted to your preference. This way you are guaranteed with a crystal-clear view of your target. It has a rifle mode which lets you set the holdover or bullet-drop information to have more accuracy when shooting.
Compatible With Magnetic Attachment System
This product has the Bushnell's Bulletproof 100% Money Back Guarantee. It is compatible with a magnetic attachment system which can give you more stability. Also, it has a Posi-Thread battery door for the 3-Volt CR2 battery. Its tree ranging performance is 650 yds, and its deer ranging performance is 325 yds.
Features:
has Bow and Rifle mode
supports Scan mode
its range is 5 – 1000 yards
the diopter is adjustable
Best Durable Archery Rangefinder With Angle Compensation
Vortex Optics Ranger 1500 Laser Rangefinder
Can Magnify Up To 6x
Vortex Optics Ranger 1500 has a 6x magnification through a 22 mm objective lens diameter. It has a long eye relief of 17 mm. The temperature range in which it can operate is from 14°F to 131°F. The reflective range it can cover consists of 9 to 1500 yards.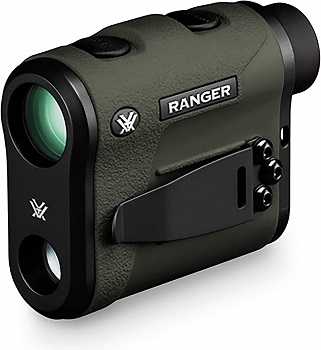 Its Linear And Angular Field Of View
The deer range it can cover goes from 9 to 750 yards. This rangefinder is +/- 3 yards accurate at the distance of 1000 yards. Its maximum angle reading is +/- 60 degrees. Its linear field of view is 315 feet at 1000 yards. That is 6 degrees in the angular field of view.
Shot Angle Correction Supported
Horizontal Component Distance is the horizontal component distance with shot angle correction. HCD mode can be used with rifle shots on level ground at any range. Also, you can use it for rifle shots to 400 yards with 15°-30°slopes or 800 yards with less than 15° slopes. It can be used for all archery shots too.
Line Of Sight Mode
If you are a rifle shooter, the LOS mode will be of great value to you. It displays the actual line of sight range with no slope correction. LOS mode will provide you with more accurate results than HCD mode when measuring bullet wind drifts in long-range conditions. Vortex Ranger 1500 has an O-ring seal which makes it waterproof.
Has The Scan Feature
The Scan feature can be used in either HCD or LOS mode. It will single out small targets from their background and help you range them. You will know this feature is activated because an S display will blink. Vortex Ranger has fully multicoated lenses that make high-contrast images.
Features:
operates at 14°F -131°F temperature range
supports HCD mode
supports LOS mode
it is waterproof
has the Scan feature
Best Binoculars Archery Rangefinder With Angle Compensation
Bushnell Fusion 1-Mile ARC 202308 Laser Rangefinder
Allows An 8x Magnification
Bushnell Fusion 1-Mile has Angle Range Compensation from -90° to +90°. The rangefinder allows an 8x magnification through a 32 mm objective lens diameter. The nearest distance it can focus on is 5 feet. The field of view it covers is 393 feet at 1000 yards.
Has High-Quality Optics
The size of the exit pupil is 4 mm. It has a long eye relief which is 16.5. The device weighs 30.8 ounces and it is +/- 1 yard accurate. The optics are high-quality, it uses BaK-4 prism type with PC-3 coating. The coating corrects all flaws and gives high-resolution clear images.
A Waterproof And Fog-Proof Device
The device has a RainGuard HD lens coating that repels water and makes it completely waterproof and fog-proof. It comes with a carrying case, neck strap, and battery. The battery door it uses is Posi-thread. The rangefinder can be adapted to a tripod for more stability.
Lenses With Full Multicoating
It has a Roof Prism System with a Center Focus System. The lenses are fully multi-coated, and the eyecups can be adjusted. This is convenient for eyeglass wearers since they can just twist up the eyecups. The Bow mode gives angle, bullet drop or holdover and line of sight up to 199 inches.
Has Different Distance Options
The display has Matrix Display Technology which gives a high-contrast image with maximum light transmission. The Variable Sight-In feature gives you different distance options. Bushnell Fusion 1-Mile's tree ranging performance is 1000 yards while the deer ranging performance is 500 yards.
Features:
has RainGuard HD lens coating
uses a Center Focus System
has Matrix Display Technology
Conclusion: Which Archery Rangefinder Is The Best Choice For You?
Bushnell Fusion 1-Mile ARC 202308 Laser Rangefinder has the Matrix Display Technology which allows you the maximum display visibility and quality. Vortex Optics Ranger 1500 Laser Rangefinder is a durable device that can operate in temperatures from 14°F to 131°F. Both rangefinders support angle compensation and will make your experience much easier and enjoyable.
If you are interested in rangefinders, read this article about top rangefinders. In case you want to learn more about golf distance finders, read this review. If you would like to read more about golf GPS rangefinders, click here.