Are you interested in buying the Boblov golf rangefinder?
Then you should definitely read my article!
Throughout this article, I will describe the Boblov brand and what it offers. I will also describe 2 best Boblov golf rangefinders and their specifications. Read this, compare the models and decide which one is the best for you.
Information About The Boblov Brand And Its Offer
Other Products Boblov Offers
Boblov brand offers a variety of outdoor goods. So besides selling golf equipment, they also offer hunting devices such as night vision monoculars and mounted rangefinders, body cameras and intercoms. Amongst golf equipment, you can find golf rangefinders, golf brushes, golf nets and cases for a rangefinder.
Where To Buy Boblov Products?
The Bozlov brand has an official website where you can find all of the previously mentioned products. In spite of that, I would recommend online retailers such as Amazon because of their benefits. There, you can find Bozlov products at reduced price or discounts. You can also read customer reviews and that way decide which product is the best for you.
Price Range Of Boblov Golf Rangefinder Models
According to other reviews on Boblov golf rangefinders, this is one of the cheapest models on the market. For this small price, you get a quality product with an eco-friendly character.
Warranty And Customer Service
Each product the Boblov brand offers has a one year warranty. Also, if something is wrong with a product or you just want to know more, they also offer a very nice and quick-responsive costumer service.
The Best 2 Boblov Rangefinder Reviews
Boblov 650Yards Golf Rangefinder with Pinsensor 6X Magnification
General Product Description
Boblov 650yds golf rangefinder is a small product that fits in your hand. The dimensions of this model are 4.6×3.0x1.6 inches. It has a pinesensor technology which means you can measure with it up to the accuracy of 1 yard. Pinesensor technology is also perfect for measuring golf flags. It also has a measuring system that can be switched between meters and yards.
On And Off Vibration Function
Another thing that this golf rangefinder offers is vibration with on and off function. It means that the machine will vibrate instantly when the flag distance is locked. Off function means you can disable this function if you do not need it.
Three Modes System
Boblov golf rangefinder offers three modes system. These are: ranging mode, flag locking mode, and speed mode.  The ranging mode is for accurately measuring distance range. The flag locking is used for locking the flag distance.  If you want to measure speed, you can do that with speed mode. Just simply press the power button shortly after targeting the moving object and the speed data will be shown on the screen.
Eco-friendly Battery System
With this rangefinder, you don't have to worry about replacing batteries and harming the environment. This model has a built-in lithium  3.7V/800mAh battery that can be recharged with a USB wire.
Packaging Included
When you order this model, the package that will be delivered to you will include one rangefinder, one USB charging wire, one carrying bag, one lens cloth and, of course, one operation manual.
Features:
on/off vibration system
three modes system
rechargeable battery
magnification: 6X
Boblov Golf-3 Rangefinder 600 Yards
General Technical Specifications
This Boblov golf rangefinder has a measurement range from 5 to 600 yards and it has 6X  magnification ability. Measurement unit can be switched between meters and yards. It has a replaceable battery (powered by CR2 lithium battery). However, Boblov offers a lifetime free battery exchanging services.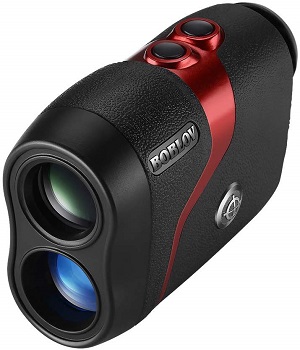 Layout Specifications
It is small and fits well in the hand. The surface of this rangefinder is a bit rugged, therefore you will not have to worry about dropping it – rubber housing makes it easier to hold it and to use it. The rugged surface is also a part of a waterproof design this model offers. This rangefinder is garnished with a nice combination of black and red colors. The red part on the device gives quite an appealing look. It comes equipped with a carrying case, a lanyard, a CR2 battery and a copy of the user manual.
G3 Golf Rangefinder
This model of Boblov golf rangefinder has 3 modes which are slope mode, range mode, and flag locking mode. The only difference between this and the previous model is slope mode. Slope mode supports slope compensation with angle. Golf slope compensation distance is an adjusted range that will compensate for uphill shots or downhill shots. It is calculated from the line-of-sight distance, incline or decline and it displays the adjusted range the golfer should play at. To turn off the slope mode, press the M button for 10 seconds.
Features:
slope mode
replaceable battery (lifetime free battery exchange)
magnification: 6X
Boblov Rangefinder Replacement Parts And Accessories
If you want original replacement parts and accessories, you should contact customer service on the official website of Boblov brand. However, replacement parts and accessories for Boblov rangefinders can also be found at online retailers such as Amazon. There, you can find much cheaper replacement parts or accessories.
Boblov Rangefinder Manual And Instructions For Boblov Brand
Each Boblov product you order will come with small operational manual that will show you how to manage the product you ordered. There are also manuals on the official Boblov website but only registered users can download them. Here is the link to the specified manuals. Each manual is for a particular product.
Conclusion: Why Should You Buy Boblov Golf Rangefinder?
Having read this article, it is still up to you to decide which rangefinder is the best for you.  Boblov 650Yards Golf Rangefinder with Pinsensor 6X Magnification is a really good choice. It has pinesensor technology and a rechargeable battery. On the other side, there is Boblov Golf-3 Rangefinder 600 Yards with slope mode and a lifelong warranty on batteries.
If you want to learn more about some other best rangefinders, you should read top-rated rangefinders. On the other side, if you are interested in rangefinders for hunting, you should definitely look up the best hunting rangefinder. In case you want to know something more about gps golf rangefinders, look into golf gps rangefinder. If you don't want to spend a lot of money on that, you should read budget rangefinder.