Do you want to buy a rangefinder, but you can't find an affordable one?
Then you need to read this review, where I describe to you the 5 best budget rangefinder on the market. So, you can find more about its price, design, functions and other characteristics. You can compare it and make a decision about which one is the best for you.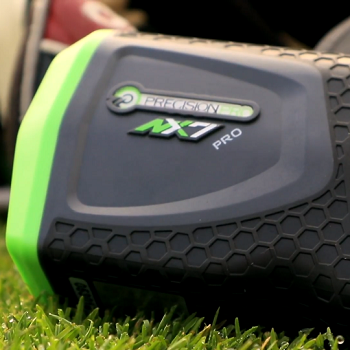 What Do You Need To Know About Best Budget Rangefinders?
What Is An Average Price For Rangefinder?
When that rangefinders thing was a new technology, they were very expensive. But now, you can find a good one for a very affordable price. Of course, price depends on rangefinder characteristics. If you want to buy advanced technology, you'll need to pay more for it. Some average price is about $200, but that varies.
Looking For A Good But Cheap Rangefinder?
You don't want to throw your money away, right? So, some standards and features need to be satisfied. It needs to have a good ability to spot the target, which means quality lenses. Then, it needs to have the ability to get a laser beam to the target, good size of the opening on the receiver optics, and it needs to have a smart analysis of results.
Difference Between Cheap And Expensive Rangefinders
First of all, the price. But as I said, now you can buy an affordable rangefinder and have all good features and long-lasting products. The expensive rangefinder has a quality optics, bigger objective lens, ballistic calculator, ranging of longer distance, day/night mode, angle range compensation, protection from water, dust and from the weather condition.
Types Of Rangefinders
There are a few types of rangefinders. You can find laser rangefinder, optical rangefinder, sonar, radar and rangefinder with lidar technology. Optical rangefinders are the cheapest and don't have good quality. At the moment, the best rangefinders are these with a laser. They are precise and have good quality.
Laser Rangefinders
That type of rangefinder is the most popular and has very good quality. It works in a very simple way, it sends a laser beam to the target, bounds off, returns to the unit and calculates the results. Then you can see the result on your display. This laser beam has a speed of light, so you will get your results very fast.
Best 5 Budget Rangefinder
Best Budget Golf Rangefinder
TecTecTec VPro500 Golf Rangefinder
Three Different Modes
This affordable golf rangefinder measures the distance to your target very quickly, so you don't have to wait more than a few seconds. You can pick one of three different scanning modes, depends on whether, distance or other situation. For example, you can choose continuous scan mode, which scans your target continuously for a few seconds. There is a pin sensor technology that is great for measuring overlapping targets and for woodes areas.
+/-1 Yard Accuracy
The TecTecTec golf rangefinder has a big lens that provides you a clear and sharp view. With that, you can easily see the target and measure its distance. It has a max range of up to 500 yards, so it isn't long-range rangefinder. Its accuracy at 300 yards is about +/-1 yard.
Pocket-sized Rangefinder
This best cheap golf rangefinder you can use in tournaments, it is legal, because it doesn't have a slope technology. Its design is compact and practical because of its dimensions. It has 1.6 x 2.8 x 4.1 inches, so it is very small. Also, its weight is acceptable, about 6 ounces. It is lightweight so you can carry it wherever you go.
All-In Package
If you decide to buy this cheap golf rangefinder, you will get in your package everything you need. It is low price golf rangefinder, but you will get; wrist strap, carrying pouch, cleaning cloth made from microfibre, quick start guide, warranty, and limitless customer support.
Best Rangefinder For The Money
This best budget golf rangefinder has a strong and durable body. Also, there is waterproof and dustproof protection. Regardless of all its features, its price is very affordable and you can find this inexpensive golf rangefinder for less than $200.
Features:
small size and lightweight
500+ range
accuracy of +/-1 yard
three scan modes
Best Budget Golf Rangefinder With Slope
Precision Pro Golf NX7 Golf Rangefinder
400 Yards Of Range
Precision Pro NX7 golf rangefinder with slope has a yard capacity of more than 400 yards. That is some average distance for one rangefinder. It can measure distance in yards or in meters, you just need to push the button and change it. Also, it has +/-1 yard accuracy, which is very good. If your target is far from you, you can use a magnification of 6x and provide a clear view.
Slope Technology
With this feature, your rangefinder can measure distance even if the terrain isn't flat, but uneven. So, you can play golf on downhill or uphill terrain, and you can be sure that your NX7 Pro rangefinder will display an accurate distance. If you want to play in the tournament, you need to turn off this option, because it is illegal and you can be disqualified.
Free Battery
If you decide to buy this cheapest golf rangefinder with slope, you will get the free battery from this company. If you want to have that opportunity, when you buy this NX7 golf rangefinder you need to register it. After that, when your battery is running low, send an email to the company. For a few days, it will respond to you and send you a new battery in the mail.
Pulse Vibration Technology
When your golf rangefinder with slope hits the target, it will send to you a short vibration. That means that it recognizes the target and shows you the accurate number of its distance. That doesn't last long, you need to wait for a few seconds.
Features:
vibration technology
slope technology
400+ range
Best Archery Rangefinder For The Money
Aofar Archery Rangefinder
4 Different Modes
This cheap archery rangefinder has four different modes for scanning. There is range, speed, fog and scan mode. You can choose one which is best suitable for your situation. If you have bad weather, you will use fog mode, which provides you a clear and sharp view. Scan mode will continuously scan your target for a few seconds. If you turn on the speed mode, you can follow your moving target, even if it's move faster than 185 mph.
Lightweight archery rangefinder
The Aofar archery rangefinder is a small device, it has 4.3 x 1.8 x 3.2 inches. You can carry it in your pocket if you want. It's so lightweight, that you won't notice if it's in your jacket. It weighs only 14 ounces. It comes in two different colors, so you can choose between the elegant black color and the adjusted camo color.
6x Magnification
This rangefinder for archery has very good accuracy. Its margin error is +/-1 yard. That is reliably accurate, and you will have better shots than before. But if your target is far from you, you can use one more great feature, and that is the power of magnification. You can magnify your target for 6x.
Pin Seeker Technology
With pin seeker on your cheap archery rangefinder, you can very fast and very precisely determine your target. If you turn on the range mode, you can easily range your target on distance from 700 to 1000 yards. That is a very far distance, so this archery rangefinder is best for long-range.
Rangefinder Under $100
This cheap archery rangefinder has waterproof and dustproof protection. If you use it in a proper way, it will last a long time. Also, it has the best price for all of these features, it costs under $100, and with that price, it is accessible to all.
Features:
under $100
over 700 yards
black and camo color
pin seeker technology
Best Hunting Rangefinder For The Money
Boblov Hunting Rangefinder
Five Modes
This cheap hunting rangefinder has five different modes. You can change it and choose in a different situation and it will relieve your hunt. So, there is speed mode, fog mode, range mode, horizontal mode, horizontal + fog mode. If you want to hunt a moving target, you just need to switch to speed mode.
Durable And Sturdy Body
The best budget hunting rangefinder is made from aluminum alloy metal and has a rugged surface. Because of that strong materials, it is very durable and sturdy. Also, because of its specific purpose, it has much protection. There is shock protection, waterproof and dustproof. So, it is adjusted to bad weather and heavy terrain, but with these protections, it is safe.
Small Sized hunting rangefinder
Because of its mounting option, it has a small body. So, the dimensions of this cheap hunting rangefinder are 3.9 x 5.9 x 3.4 inches. It is very small and doesn't distract you when you're hunting. The small weight is also important, so it has 10 ounces. When you mount this hunting rangefinder on your equipment, you won't notice its weight.
Up To 186 Mph
This best budget rangefinder is intended for hunting, so it has some options for better hunting. That is the speed mode. If you use this rangefinder for hunting animals, it won't disappoint you. When speed mode is turned on, it can catch the target speed of up to 186 mph. That is very fast and you will have a range of targets distance in a few seconds.
Mounting Feature
The Boblov cheap hunting rangefinder has clamp-on which is universal. So, you can mount it on a bow, crossbow or some other equipment. You just need to mount it on top of the scope, and that is very easy to do. With the push of a button, you activate it.
Features:
speed, fog, range, horizontal and horizontal +fog mode
clamp-on design
waterproof, dustproof and shockproof
Best Rangefinder Under $200
Bushnell 202208 Rangefinder
Range Of Up To 600 Yards
This cheap Bushnell rangefinder has a range of distance more than 600 yards. That is impressive yardage, and you can use that rangefinder for hunting. Also, it has very good accuracy. Its deviation is +/-1 yard, so you can be sure that you have an accurate range distance. It is very good for bow or shooting and for hunting but isn't very good for close-range hunting.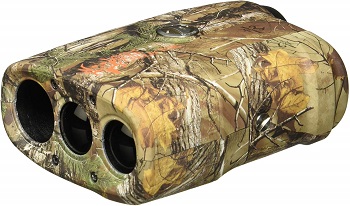 Clear Optics
This affordable rangefinder is made from quality materials, so it has quality optics and impressive HD clarity. You will be able to see very far targets, and you'll have a clear and sharp view. Also, you can magnify your target with a great magnification option of 4x.
Bushnell rangefinder Price
This company is very remarkable and their products are very respectable. So, you can find a very good and high-quality product at a very low price. This rangefinder is one of those. On the market, you can find it under $200. For all of these features, that is a very acceptable price for everyone.
Lightweight And Small Size
Because of its purpose, it needs to be small and compact. Its dimensions are 3 x 5 x 5.5 inches, as you can see, it is a small product, and you can even carry it in your pocket. Also, it is lightweight. It weighs only 7 ounces, so you won't notice it in your jacket.
Rugged Design
It comes in just one color, and it is a camo pattern. It is almost invisible when you are in the wood. Its surface is rugged, so it is a non-slip rangefinder. This Bushnell rangefinder is intended for any kind of weather conditions, so it has waterproof and shockproof protection.
Features:
7 ounces
camo pattern
max distance of 600 yards
4x magnification
Conclusion: Which Two Cheap Rangefinders Are The Best?
In my opinion, the best two affordable rangefinders are the Precision Pro Golf NX7 and the Bushnell Rangefinder. The NX7 has 400 yards of range, slope technology, pulse vibration technology and great accuracy. The Bushnell has an awesome price, ranging from 600 yards, magnification of 4x and very quality optics.
If you are interested in all of that, maybe you want more information about rangefinder for sale, read that in this post. But, if you want to know more about the best budget golf rangefinder, read this review. If you looking for a golf GPS rangefinder, read about it here.