Are you searching for the best Leica rangefinder for the money?
Read my article to find all about the top 5 Leica rangefinders!
This article deals with the company and their characteristics, as well as the rangefinders. Compare the models and find out which one is the perfect match.
A Worldwide High-Quality Company
Leica Camera AG is an international company manufacturing cameras and sport optics. Ernst Leitz founded Leica in 1869 in Germany. Since its founding, it has become an inevitable part of history thanks to the high-quality optical devices. The company is best known for its cameras, but their offer also consists of rangefinders, compact-rangefinders, binoculars, riflescopes, spotting scopes, and accessories.
The Company's Goals And Values
Leica's focus is on the lenses as they pay special attention to its design. Moreover, their goal is to capture natural expression and to satisfy the user. Making the products as less complicated as possible is what makes them special, according to the company. On the other hand, this does not mean the products are not innovative as they pay attention to user's reviews.
Products With Great Durability
They focus on making the products as durable and reliable as they can get. Products are made by the effort of experienced experts and users. They can withstand high temperatures and other tough conditions. To that end, the prices are a bit high and not affordable to everybody. The products can be purchased on Amazon or their official web page.
How Can You Contact Them?
Leica's official web page offers many details about the company's history and products. Also, there is a list of contacts you can reach out to if you have questions. The contacts are divided into two groups according to the product category you have. You can reach them over the phone, fax or via email.
Leica Sport Optics Branch
Sport Optics offers three categories of products: hunting, lifestyle & leisure and experience nature products. Throughout the years, Leica has received many awards for its outstanding performance cameras. All Leica products are covered by a warranty. However, each warranty is different for a different product.
Top 5 Leica Rangefinders
Leica Rangemaster CRF 1600-B
Device With A 7x Magnification
Leica Rangemaster 1600 has the following size: 4.5 x 1.25 x 2.25 inches and 8 ounces. The device uses a single CR2 battery. It is a laser rangefinder and its range field is from 10 to 1600 yards. Furthermore, it has a 7x magnification through a 24mm objective lens diameter.
You Can Change The Measurement Units
The diopter compensation is +/-3.5 and the objective angle of view is 6.6°. The measurement units can be changed to meters or yards. It has a built-in inclinometer and supports the scan feature. What's more, Leica 1600 rangefinder is waterproof and has a Class 1 laser.
It Has A Special Underwater Coating?
The AquaDura coating on the lenses allows it to go down to 3.2 feet underwater. The housing is made from carbon fiber-infused plastic. Leica 1600 rangefinder can be used both as a hunting or a golfing rangefinder. Only 0.3 seconds are needed for the target distance to be displayed on this device.
Comes With A Ballistics Program
A special ballistics program is integrated into the rangefinder to allow users better precision when shooting the target. Not only does it calculate the distance, but it measures the pressure, temperature, humidity, altitude, and angle. In other words, it provides you with all the necessary information.
A Small, Compact And Comfortable Device
Thanks to its ergonomic design the device fits comfortably in your hand. Also, its lightweight makes it quite compact. Leica Rangemaster 1600 is suitable for long-distance shots and can perform in tough conditions. The distance measurements are displayed on an LED display which is easy-to-read in all light conditions.
Features:
has a 7x magnification
supports the scan feature
comes with a built-in ballistics program
can go underwater
Leica Rangemaster CRF 2000-B Rangefinder
It Has Special Multicoated Lenses
Rangemaster CRF 2000-B's dimensions are 4.5 x 2.25 x 1.25 inches. Its weight is 6.4 ounces including the battery. The display is LCD with four digits and easy to read in all light conditions. It has a roof prism with a P40 phase correction coating. The lenses are coated with AquaDura and HDC Multicoating.
Can Go Under Water
Distance units can be changed to yards or meters. Leica 2000-B allows angle reading and can go 3.2 feet under the water. Leica 2000-B features the single and scan mode and a ballistic program. The program measures the equivalent horizontal range up to 1200 yards.
Light And Perfect For Hunting
Coupled with an integrated inclinometer, the temperature and air pressure sensors provide users with all the important information to take a shot. This laser rangefinder is used for hunting as it is compact and easy-to-carry. The package includes a carrying strap, battery, cover case and a manual.
High-Quality Optics With 7x Magnification
High-performance optics paired with a 7x magnification make it precise and reliable. The front lens diameter's size is 24mm. The eye relief is 0.6 inches and it has a +/-3.5 diopter compensation. The measuring range is 10 yards to 2000 yards while it is +/-1 yard to 500 yards accurate.
Features:
AquaDura and HDC lens Multicoating
can go 3.2 feet underwater
has an inclinometer and temperature and air pressure sensors
Leica Rangemaster CRF 2400-R
It Has 3,000-Measurements Battery life
Leica 2400-R's dimensions are 4.5 x 2.25 x 1.25 inches and 6.5 ounces with the battery. It uses a lithium-type CR2 battery. Its lifetime is approximately 3000 measurements if kept at a 68°F temperature. The rangefinder is waterproof and can go 3.2 feet underwater due to its carbon-fiber-reinforced plastic housing.
A Laser Completely Safe For Eyes
You can put a microSD card in the Leica 2400-R as it has an appropriate slot for it. Measuring time is approximately 0.3 seconds and it allows scanning and single measurement mode. The laser is safe for your eyes and it is invisible.
Allows Magnification Up To 7x
A 7x magnification is possible through the 24mm front lens diameter. The exit pupil's size is 3.4 mm and it has a twilight factor of 13. The field of view is 347 feet at 1000 yards. The eye relief is 15mm and the objective angle of view is 6.5°.
How Accurate Is It?
The diopter compensation can be enlarged or reduced for +/-3.5 diopters. It can cover a range from 10 to 2400 yards. The equivalent horizontal range is up to 874 yards. The device is +/- 1 yard accurate to 400 yards, to greater distance it is less accurate. For example, to 800 yards it is +/-2 yards accurate.
Functions In A Wide Temperature Range
The temperature range it can function in is from -4°F up to 131°F, which makes it quite durable. It has a clear and precise LED display. The display is easy-to-read in all kinds of light. The device comes with rubber eyecups that are suitable even for eyeglass wearers.
Features:
has the battery life of 3000 measurements
has a MicroSD slot
allows a 7x magnification
can endure temperatures from -4°F to 131°F
Leica 7×24 Rangemaster CRF 2700-B Laser Rangefinder
An Adjustable LED display
Leica 2700-B can measure the distance up to 2700 yards. It has an LED display that adjusts to different light conditions, making it ideal for hunters. The rangefinder is very light and compact. The optical magnification of 7 times, allows hunters a better view of the target.
The Advanced Ballistic Compensation Program
The device comes with a MicroSD slot and a ballistics program. The Advanced Ballistic Compensation gives more information about the conditions you are in. There are three ballistic outputs you can choose from. Also, an inclinometer and temperature and air pressure sensors are built into the device.
Has A Reliable Fast Scan Mode
The ballistics program displays results in less than a second. It is very precise and can be used to correct your aiming and shooting. The results can be displayed following your preferences. Leica 2700-B has a fast scan mode which scans the targets every 0.5 seconds.
Especially Suited For Bow Hunters
Bowhunters can use a special feature that provides decimal values up to a distance of 200 yards. All necessary variables are calculated under 0.3 seconds. The laser is Class 1 and completely safe for your eyes. The front lens diameter is 24mm and the exit pupil size is 3.4mm.
Is It Easy-To-Use?
The twilight factor is 13, and it has an eye relief of 15mm. Leica Rangemaster CRF 2700-B rangefinder's objective angle of view is 6.6 degrees. Although the device is of quality, some users found it too complicated to use.
Features:
has a 7x magnification
supports the ballistics program
has a Class 1 laser
Leica Rangemaster 1200 Rangefinder
Ideal For Wide Areas
Leica Rangemaster 1200's dimensions are: 6.1 x 5.7 x 3.1 inches. It can magnify up to 7 times. It has an option to display the measurements for two different targets at the same time. The range it covers is up to 1200 yards which makes it perfect for use in wide areas.
A Very Precise Device
The measuring accuracy is up to +/- 1 yard in the distance to 437 yards. The front lens diameter is 21 mm and the diopter can be adjusted by +/- 4 diopters. This rangefinder is a very precise monocular thanks to its high-quality optics.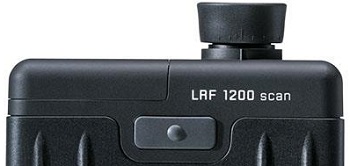 Designed For Golf Players
This device was specially designed for golf players. It has a button which, when pressed, tell the exact distance from the target. Leica Rangemaster 1200 is designed to endure tough conditions. Also, it has a primary target feature and a scan option. These features allow targeting of small objects even when there are larger ones beside it.
Features:
ranges up to 1200 yards
accurate up to +/- 1 yard in 437 yards
designed for golfing
supports primary target feature
Conclusion: Which Leica Rangefinder Is Best For You?
Leica Rangemaster CRF 1600-B has a special AquaDura coating on the lenses which allows it to go deep underwater. Leica Rangemaster CRF 2000-B Rangefinder is a laser rangefinder perfect for hunting due to its compact and lightweight design. Both devices allow magnification and have top-of-the-line optics.
If you are interested in rangefinders, read this article about top-rated rangefinders. In case you are searching for the best golf rangefinder, read this review. If you would like to know more about the best bow rangefinders, click here.