Are you interested in reading a Simmons rangefinder review?
Then you should read this article as it has all the necessary information about the brand and the products.
I will describe the company and their way of business and give 2 examples of Simmons rangefinders. You can compare the characteristics and decide which is best for you.
More About The Company
Hunting Or Sport Activities
Simmons is a company that produces optical devices. The company is in this market for a long time as it exists since 1983. Their offer consists of products such as riflescopes, binoculars, spotting scopes, and rangefinders. The optical products they produce can be used for various hunting or sports activities.
Ergonomic Design Paired With Multi-coated Optics
The brand claims to have high-quality innovative products. The products are made to last and withstand tough conditions. Their laser rangefinders offer flexibility in the field of range. Ergonomically designed products allow faster and more precise targeting. Simmons binoculars have multi-coated optics that give a clear view and sharp details in every image.
About The Customer Service
The customer service's location is in the Kansas City area where you can talk to them personally and find help. Their official web site has a Products FAQ section where you can read answers to the most frequently asked questions.
Where To Buy Or Repair A Product?
The best way to purchase a Simmons product is Amazon. It offers good deals and has many advantages for buyers. You can read other people's reviews and see the product's ratings. The prices are economical for quality products. For example, their rangefinders are very affordable in comparison to other brands. All Simmons products are repaired by Bushnell Outdoor Products.
Do They Offer A Warranty?
Lifetime limited warranty covers all Simmons binoculars, riflescopes and spotting scopes. All products will be repaired or replaced if the malfunction wasn't caused by misuse, improper handling or similar. However, laser rangefinders, red dot sights, trail cameras, and capture-view binoculars are covered by a one-year-limited warranty only.
Top 3 Simmons Optics Rangefinders
Simmons LRF 600 Laser Rangefinder
The Four Times Optical Magnification
This Simmons laser rangefinder weighs 9.6 ounces and its dimensions are 3 x 5 x 5.5 inches. You can magnify the image up to 4 times.  The image is sharp and can be viewed on an in-view Liquid Crystal Display. The LRF 600 can be easily operated with since it has one button.
Has A High-Level Accuracy
The yard capacity is from 10 to 600 yards, having a +/- 1-yard accuracy. A single 9-volt battery is needed to start the Simmons LRF 600 laser rangefinder. The battery needs to be replaced after 12 rounds which in some cases was not true if the rounds were not played in a single day.
Tilt Intelligence Technology Included
Tilt Technology is a different term for angular compensation. It gives users the real distance to the target, so their aim is more precise. The distance units on this Simmons rangefinder can be changed from meters to yards. All distance and angular readings are displayed on the LCD. The rangefinder has a Class 1 laser which has less than 1mW of power output. The optics are bright and clear.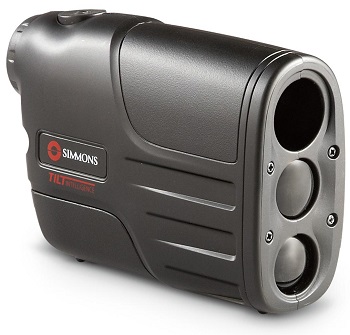 Light-weight And Simple To Use
The ergonomic style design makes it easy and comfortable to use. Also, it has a vertical design that is efficient and helpful. The device comes in black color and has weather-resistant housing. The package it comes with includes a protective cover case but does not include the 9-volt battery.
Features:
has Tilt intelligence technology
light-weight and comfortable to use
uses a 9-volt battery
has LCD and a Class 1 laser
Simmons Volt 600 laser rangefinder
Has A One-Yard Accuracy
The Simmons Volt 600 laser rangefinder's dimensions are the following: 7 x 5 x 3 inches and it weighs 9.6 ounces. The device allows magnification up to 4 times. The performance range is 10-600 yards, tree ranging performance is 400 yards and deer ranging performance is 200 yards. Its accuracy is +/- 1 yard.
The Camouflaging Power of Volt 600
It comes in a camouflage color making it more difficult to spot in nature. The package includes a protective cover case. The Volt 600 uses a 9-volt battery which is not included in the package. It is simple to use as it has a one operation button.
Water-resistant And Comfortable To Carry
The 20mm objective gives you a clear view. The device comes with a fixed focus which sharpens the image of your target. It can be used for hunting with a bow or a rifle, as well as target shooting. This is a water-resistant vertical laser rangefinder. Meaning that the Simmons Volt 600 tilt has a comfortable vertical design that makes a hunter's job a lot easier.
Are There Any Problems?
The device might not be as simple to use if you do not read the manual. But since there is a manual, that does not represent a big problem. However, some users reported having issues with the display. Their main concern is that the display is a bit too dark for non-clear weather conditions.
What About The Warranty?
Simmons Volt 600 laser rangefinder is covered by a one-year limited warranty. It will be valid only if the product wasn't repaired by an unauthorized technician. Also, the warranty does not cover damages caused by misuse, improper maintenance, installation or handling. You must pay for the postal charges and enclose a copy of the receipt.
Features:
has a 4x magnification
a 20mm objective and fixed focus
a water-resistant device with a vertical design
comes in camouflage color
Simmons Venture Laser Rangefinder
There Are Two Models
Venture laser rangefinders come in two models: SVL620B and SVL620BT. The SVL620B has a 6x magnification through a 20mm objective. It uses a CR2 battery. The weight is 4.7 ounces and the length is 4.05 inches. This model's ranging performance consists of 625 yards for reflective, 480 yards for tree and 250 yards for deer range. It does not support Tilt technology.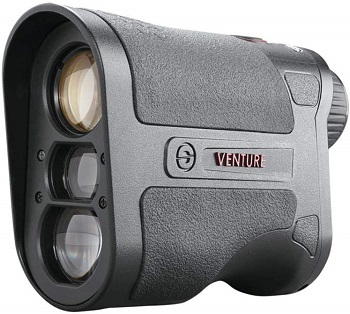 The SVL620B Venture laser rangefinder
There are not many differences between the two models. This model also has a 6x magnification and a 20mm objective. It uses a CR2 battery and its ranging performance values are the same as the previous model. Their weight and length are also the same. However, the difference is that this model supports Tilt technology.
More Information About Tilt Technology
Tilt intelligence technology is supported by the SVL620BT model. This means that the device can do true horizontal distance calculations for angled shots. Furthermore, your shooting accuracy is at a much higher level.
Easy Targeting With The Venture Models
The Venture laser rangefinders have an ergonomic design which makes targeting much easier and precise. They have an accurate ranging performance which is displayed in high-contrast images on the display. The display works well in poor light conditions.
Features:
a 6x magnification with a 20 mm objective
use a CR2 battery
make high-contrast images on a clear display
Simmons Pro Target 6×20 Rangefinder Manual
Unfortunately, the Pro Target 6×20 Rangefinder is currently not available online. However, if your product's manual is available you should read it. The manual contains useful information which are important to start the device properly. Also, you will get clear directions on how to use it which will help a lot.
Conclusion: Is Simmons The Right Rangefinder Brand For You?
The Simmons LRF 600 Laser Rangefinder has Tilt intelligence technology which helps you aim more precisely. The Simmons Volt 600 laser rangefinder is water-resistant and its 20mm objective provides you with a clear image. Both devices are light-weight, easy to handle with and will give you a better hunting experience.
If you are interested in this topic, read this review about yardage finders. If you would like to find out more about hunting rangefinders click here and read about bow hunting rangefinders. In case you are searching for the best rangefinder for hunting, read this article. Also, if you are looking for hunting binoculars with rangefinder read this review.