Are you maybe interested in buying some Garmin golf rangefinders?
Then read this article!
This article will provide you with all the specialties that the best model of Garmin rangefinders offers. You will find out everything you need to know about the Garmin Approach Z80 golf GPS rangefinder so, at the end, you will know if that is the right model for you.
The Garmin Brand And What It Offers
What Else Does Garmin Offer?
As a company, Garmin first started with the aviation industry with its GPS navigation products. Since then, they have been working on improving their business so today, they fully cover the aviation, automotive and marine industry as well as outdoor activities and fitness markets.  Basically, they have a very wide offer of gadgets and equipment. They offer things such as GPS yardage finders, GPS navigation products for cars and motorbikes, dash and backup cameras, waterproof watches, sonar modules and variety of other products.
Where Can I Buy Garmin Products?
The Garmin Brand has a very sophisticated website where you can find each product they offer. Another thing they have at their official website is shop locator – you choose the product category and the product you need and what you get is a list of all the shops where you can get that particular product. However, most Garmin products are available on Amazon so I would recommend that you check it out. On Amazon, you can find their products at a reduced price or discount. You can also read customer reviews on a product so you can easily decide.
Price Range Of Garmin Products
As Garmin has been working on improving their products, the quality of their products has increased. This is not the cheapest brand on the market, but they definitely have a good ratio of price and quality. You will get a high-tech gadget with excellent quality for a reasonable price.
Customer Service And Warranty Of Garmin Products
Garmin brand cares about its costumers as much as about its products. Therefore, they offer a very nice customer service which you can contact on their official website. They also offer a warranty on their products. Duration of the warranty depends on the product – whether its an aviation, marine, automotive product or a product for outdoor activities.
Best Garmin Golf Rangefinder Review
Garmin Approach Z80, Golf Laser Range Finder
General Information
Garmin approach Z80 golf rangefinder is a quite newly introduced product to Garmin's offer. It was released in April 2018. They presented it as the most advanced golf rangefinder on the market.  This Garmin golf rangefinder Z80 comes in a very nice combination of black and white colors. It has Garmin's logo pointed out on the left side of the rangefinder. It is designed to fit perfectly in the hand and to not slip away while you are using it. It has a small notch made especially for your thumb so you can feel comfortable when you are holding your Z80 GPS Garmin approach rangefinder.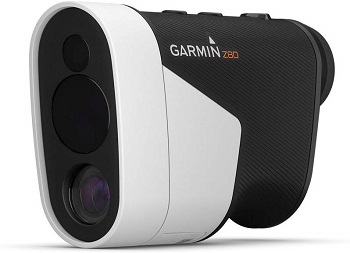 Technical Specifications
The Garmin Z80 golf distance finder has dimensions of 4.8 x 1.7 x 3.1 in. It weighs about 1 lb. It is the most accurate laser rangefinders with an accuracy of +/- 10 inches to the flag and up to 350 yards. It offers the PlaysLike distance feature which can adjust distances according to uphill or downhill slope so you can easily decide which club to use. It is powered by a rechargeable lithium-ion battery which can last up to 15 hours, based on how much you use it.  It comes in a package with a carry case, a micro USB cable, and all the necessary documentation.
Image Stabilization And GreenView Feature
Another great thing this Garmin golf GPS rangefinder offers is image stabilization and GreenView feature. The easiest way to lock the flag is when the image is still, that is why this is such a great combination. The image stabilization feature reduces shakiness so when the flag is locked, GreenView feature can show the hole at 6 times magnification.
2D CourseView Feature
This is just another in line with amazing features that this Garmin Z80 gold laser rangefinder offers. This feature offers more than 41 000 preloaded course maps from around the world. These maps are displayed in full color which makes it that much interesting. A thing that goes together with this feature is a laser range arc feature. This is a feature that will ensure you to see everything that is in the play at that distance as it draws an arc on the previously mentioned 2-D course view.
Features:
6x magnification camera
GPS and laser
GreenView feature
2D CourseView
Rechargeable
Conclusion: Why Should You Buy Garmin Z80 Golf Rangefinder?
To sum it up, the decision is up to you whether you should buy this model. The Garmin Z80 GPS Laser Golf Rangefinder has some very good features which can not be ignored for its reasonable price. It has a very good, 6X magnification camera, GreenView feature. PlaysLIke distance feature and the laser range Arc feature which all make it one of the most sophisticated golf rangefinders on the market.
If you want to know something more about some quality rangefinders, read top rated rangefinders. If you want to read about other rangefinders suitable for golf play, you should look into the best golf rangefinder. However, if you are maybe interested in binoculars for golf, you should also read golf binoculars. Then again, if you are into hunting, you should read the best hunting rangefinder for the money. If you don't want to spend a lot of money on these products, look up the best budget rangefinder.