Are you maybe interested in buying Wildgame Innovation rangefinders?
Then you should read this!
If you don't know which model to choose, read this article so you can easily decide. I will write about 2 best models of Wildgame Innovations rangefinders, about their specifications and other things they offer. If you are not sure, read this and decide at the end.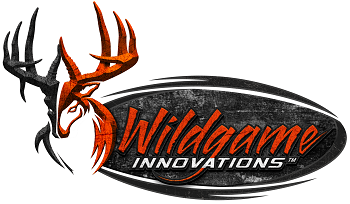 Wildgame Innovations – The Brand And Its Offer
What Kind Of Brand Is Wildgame Innovations?
Wildgame Innovations is a brand that was founded by brothers who were not satisfied with other brands selling the same things for hunting. Therefore, they created their own brand and they have been improving their products ever since. Today, they offer different kinds of products, mainly for hunting. So, they offer products like trail cameras, feeders, attractants for wild animals, scouting cameras and rangefinders.
Where Do I Get Wildgame Innovations Products?
If you are interested in buying any of their products, you should surely visit their official website. On their website, you can find their full offer and a little something about each product. However, online retailers such as Amazon are also selling their products so that would maybe be a better idea because of the lower prices or discounts on Amazon. There are also different customer reviews that you can read and get an even closer look at the product.
How Much Does It Cost?
Considering that the brothers who founded the brand wanted something new, it is only natural that they put a lot of effort and years of testing to get the quality products they offer today. According to that, the Wildgame is not the cheapest brand on the market, but it is also not the most expensive. They sure do know how to make a good combination of quality and price so everyone would be happy – the costumers and the sellers.
Do I Get Warranty On Wildgame Innovation Products?
When you buy a Wildgame Innovation product, you also get a limited one-year warranty which you can register at their official website. Should anything be wrong with the product, Wildgame Innovations will fix it. If you, however, have any other questions, you can contact them at their official website, Facebook, Twitter or Instagram.
The Best 2 Wildgame Innovations Rangefinder Reviews
Wildgame Innovations Halo XL450 Laser Rangefinder
One Button Operation Feature
This WIldgame Innovations Halo XL450 rangefinder is a device that is really easy to operate with. It comes in black color and it has notches all around the device so you can place your hand there.  When you place your hand there, you don't have to move it as you can do everything with a press on one button. Its dimensions are 6 x 5 x 3 inches and it weighs about one pound. If you want your device to start working, you will need a CR2 battery which is included in the package.
Angle Intelligence Technology
One of the greatest technical advantages this Halo xl450 offers for hunting, for sure must be the Angle intelligence technology. With a little help of scan mode, this feature helps you to range different targets at different distances, again with a little help from one-button operation feature. Alongside that, the Halo xl450 also offers a 6x magnification camera that will measure up to the distance of 450 yards with accuracy od +/- 1 yard. If you want, the distance can be switched between yards and meters.
Features:
One button operation feature
6x magnification camera
Angle Intelligence Technology
450 yards range
Other Version Of Wildgame Halo  Laser Rangefinder XL450
Wildgame Innovations Halo XL500 Laser Rangefinder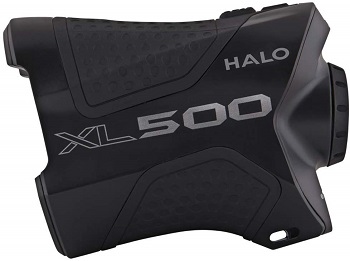 This is basically the same model as the Wildgame Innovations Halo XL450. It does have a tiny difference, though. This model has the ability to measure the distance up to 500 yards which is 50 yards more or further than the Halo XL450.
Wildgame Innovations Halo XRT7 6x Rangefinder
Perfect Design For Hunting
The XRT7 is a model of Wildgame Innovations rangefinders that is also operated with one button and it also has notches that will make sure your hand will fit perfectly to the rangefinder and that it will not slip away. However, the Halo XRT7 comes in a nice shade of brown that reminds a little bit of the camouflage color. This makes it perfect for hunting. Its dimensions of 8.5 x 6.5 x 2.5 inches make it a little bit bigger than the previous model but it is much lighter with only 10.4 ounces.
Dusk And Dawn Display Mode
This Wildgame Innovations XRT7 rangefinder also has a 6x magnification camera but this one measures up to 700 yards, also with accuracy of +/- 1 yard. One of the many great things this model offers is dusk and dawn display mode. It allows you to read the distances accurately even when the surrounding is not bright. To help with that, there is also scan mode which provides the service of constant ranging. In addition to all of that is, of course, the well known Angle intelligence technology.
Features:
6x magnification camera
700 yards distance range
Dusk and dawn display mode
Scan mode
Angle Intelligence Technology
Conclusion: Which Model Of Willdgame Innovation Rangefinders Should I Get?
There are many positive techniques and features each model offers. The Halo XL450 Laser Rangefinder offers a very effective one-button operation system but there is also the angle intelligence technology. However, there is the Wildgame Innovations Halo XRT7 6x Rangefinder which comes in a color that reminds a bit of the camouflage which means it is perfect for hunting. The XRT7 model also offers the dusk and dawn display mode which will also greatly help when hunting.
If you want to read more about other quality rangefinders for hunting, you should read the best hunting rangefinder. If you are maybe looking to get your hunting rangefinder on sale, you should look into hunting rangefinder sale. If you are, however, interested in rangefinders in general, you should look up the best rangefinder for the money. If you are looking for yardage devices for golf play, you should read golf yardage finder.