Are you looking for top-rated golf laser rangefinders?
Then you need to read this post. There you can find some information about 5 different models of golf laser rangefinders, their yard range, price, dimensions, design and other features. I hope that this review can help you with your decision.
What Do You Need To Know About Golf Laser Rangefinders?
What Is The Golf Laser Rangefinder?
For golf players, measuring distance is a very important part of this game. Before the golf laser rangefinder, there were markers and other things to determine the distance. So, you are wondering how it's work? Very simple. The laser golf rangefinder uses a light laser beam to read the distance of your target.
How You Can Use The Golf Laser Rangefinder?
You don't have to spend much time to learn how to use it. First, you need to find your target, then take a rangefinder and aim it to the target. When you clearly see the target, push the button, which will turn on the laser beam. On the display screen, you can read the distance.
Can You Buy Golf Rangefinder Without Laser?
Of course, you can. There are two different types of golf rangefinder. The one with laser, and the one with GPS. It works a little bit differently. Like all GPS, it needs satellite signals. You need to map courses on it, and without that map, it can't work. Also, it needs less time to show you the results than laser golf rangefinder.
How to Choose The Best Golf Laser Rangefinder?
You can find very different models on the market, but there are some features that you need to check before buying. First, you need to check its size and weight. It comes in some average size, which can be smaller or bigger. Also, they are almost always very lightweight. If you want a model with some advanced functionality, you need to ready to pay more for it.
Is It Legal?
The very important thing before buying is the range of distance. Depending on the game you want to play, you can choose a rangefinder with a range of more than 400 yards. Also, if your laser golf rangefinder has slope function, maybe you can't use it in the tournament, so check the rules.
Best 5 Golf Laser Rangefinder Reviews
Best 650 Yard Laser Golf Rangefinder
Boblov Golf Rangefinder
Lifetime Battery
Boblov company provides you a lifetime battery if you decide to buy its golf laser rangefinder. So, what you need to do is when your battery is running low, send an email to Boblov. They will send you a new battery, and they will do it whenever you need it.
650 Yard Distance
Its maximal measuring range is more than 600 yards, and that is a very far distance. Also, it has 200 yards flag locking range and its accuracy is about one yard within 400 yards. It is very precise and has a great distance range. Some average range of golf laser rangefinders is about 400 yards.
Lightweight And Compact
This the best 650 yards golf laser rangefinder has a very simple design. But it provides you a great feeling when it is in your hand, it is very practical and compact. It weighs only 5.6 ounces, so it doesn't distract you when you play any kind of game.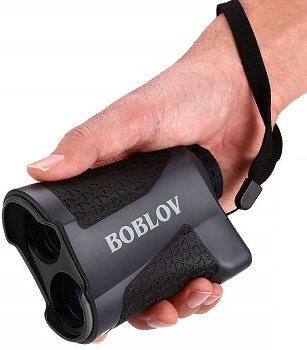 Yards Or Meters
If you buy this golf laser rangefinder, you don't need to use it only for that game. It has many other purposes, so you can use it when you hunting, for the survey, camping or other outdoor activity. Also, you don't have to use yards as the metric system, there is a button, and you can turn off yards and turn on meters.
Two Different Modes
You can magnify your object 6x, which is the most power of magnification on the market. Also, there are two different modes; scanning mode and continuous mode. In the first mode, you have a vibration system, and that means that it is locked onto the target and will show you the result. The second mode has the continuous measurement, so when you push the button, the rangefinder will measure until you release the button.
Specifications:
scanning and continuous modes
range of 650 yards
lightweight
lifetime battery
Best Golf GPS Laser Rangefinder
Garmin G7 Golf Course GPS
Different Design
Even if there is a golf rangefinder with GPS, you can't find it very easily. They look very different from golf rangefinder with the laser. These with laser looks like a little camera, and these with GPS looks like an MP3 player. But both are handheld.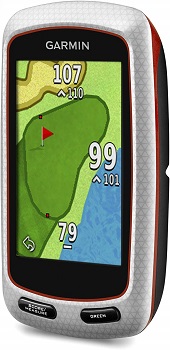 Big Display Screen
Its dimensions are 2.1 x 3.7 x 0.8 inches, so it is very small and tiny. It weighs only 3.37 ounces. The display screen is a big part of its body, not as a golf rangefinder with the laser. It is a 2.6 inches diagonal. The display has many colors and it is the touch screen.
Measure Options
With the Garmin golf laser rangefinder, you can measure flat distance, except if you have slope options. With this GPS rangefinder, you can measure the player distance to the target, then the distance to the center, back of the green, and even you can have angle compensated distance. But you need to know that is this device forbidden in a tournament.
Battery life
There is included battery in the package and it is lithium polymer battery. It is rechargeable and can last more than 14 hours, which is enough for every game. You can use it all the time, without turning off all the time, because you maybe want to save battery life. Also, that is much more than other GPS devices can offer.
Bluetooth Connectivity
If you have an Apple iPhone, this Garmin golf laser rangefinder will be compatible with Bluetooth. Also, you can preload more than 30,000 courses. You can use the smart notification for receive mail, and text. This GPS rangefinder can displays text on the screen so you can read it whenever you want to.
Specifications:
big colorful screen
pocket rangefinder
adjusted for downhill and uphill
Best Golf Distance Laser Rangefinder
Bushnell Golf Tour V4 Slope Laser Rangefinder
Pocket-sized
This golf laser rangefinder is one of the most popular rangefinders on the market. It comes in an interesting white/red design. It is ergonomic and compact for the handheld. Its dimensions are 6 x 8 x 4 inches, so it is a small device and fits in the pocket Also, it weighs only 12 ounces.
Legal In Tournament
It has a fast focus system, so you don't need to wait more than a few seconds to read a distance. But, I need to mention that since 2016 this kind of device is forbidden in a tournament. You can use Tour v4 laser rangefinder in local competitions, and for fun and practice. This one you can use in a tournament because you can turn off laser feature.
Pin Seeking And Jolt Technology
This Bushnell golf laser rangefinder has pin seeking and jolt technology. When you identify your target, you need to release the button and then the rangefinder will measure the distance. That doesn't last long, just a few seconds. You can easily find your target and when you feel a vibration in your hand that is the signal of measuring the flat, uphill or downhill distance.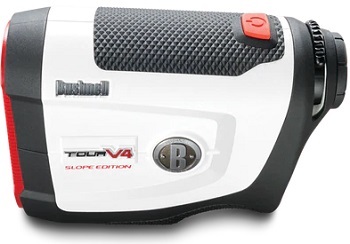 Accurately Ranges
It can measure accurately ranges from 5 to 1,000 yards. That is a very far distance. Also, it can cover more than 400 yards distance to a flag with the accuracy of minus, plus one yard. It has a powerful class 1 laser. When your target is far from you, you can magnify it more than 5 times. With a fast focus, you will clearly see your target.
Specifications:
more than 400 yards
slope technology
lightweight
improved technology
Best Golf Laser Rangefinder With Slope
Precision Pro Golf NX7 Rangefinder
Lightweight And Precise
It has 8 x 4 x 6 inches and it weighs only 8.8 ounces. So it is small, practical and lightweight. You can use it on flat or uneven surfaces, like uphill and downhill. It has great slope technology. But if you play in the tournament you need to turn off this feature. It has plus, minus 1/10 yard accuracy.
Vibration Technology
So you can precisely find your target with an accuracy of +/- 1 yard and on the range up to 400 yards. You can magnify your target 6x. When this best rangefinder with slope finds your target, it will vibrate, which means that it shows you the right distance, and you can read the result very quickly.
Resist on Weather Condition
If you want to play a game of golf, but there is no ideal weather, that isn't something you need to worry about. This Precision pro laser rangefinder with the laser has built-in protection. It is water-resistant, so it is doesn't matter if it.s raining outside. You just need to keep it away from torrential rain, because it's not waterproof.
Battery Services
This company provides you with a lifetime replacement of the battery. When you receive Precision pro laser rangefinder you need to register it and when your battery is low, write an email. The company will send you another battery in an mail. You can do this as long as the device lasts.
More Greens
With this Precision pro NX7 rangefinder with the laser, many players have a better play and two times more greens. Also, if you don't use the yard system, you can switch it with the metric system. Just push the button and change it.
Specifications:
great slope technology
6x magnification
the capacity of 400 yards range
Best Value Golf Laser Rangefinder
Nikon Coolshot Golf Laser Rangefinder
Rangefinder Performance
This popular rangefinder has very precision optics. It can lock onto a target for more than 550 yards. Its accuracy isn't bad because of that. It has an accuracy of plus, minus 1 yard when it measures under 100 yards. But when it measures over 100 yards, its accuracy is about 2 yards. Its maximal range is up to 800 yards.
Golf Rangefinder Dimensions
This Nikon Coolshot golf rangefinder with laser is one of the smallest devices in its category. It has 3.6 x 1.5 x 2.9 inches. Also, it is very lightweight. It weighs about 4.6 ounces. This best value rangefinder with laser is made from strong materials, it is durable and has long term battery.
Continuous Scanning
You can choose from two different modes, depends on your wishes. If you want continuous measurement you need to press the power button and hold it. Then the Nikon Coolshot golf rangefinder will continuously measure about 8 seconds. That feature is very useful when you want to know the distance of small or multiple objects. Its optics is 6x monocular and provides you a clear view and sharp focus.
First Thing First
On this Nikon golf laser rangefinder, you have first priority mode. That means that if there are multiple objects, this rangefinder will show the range of the nearest target on its display. But you don't have to worry about some other object in the background like trees or something. It always shows the range of one of the targets.
Specifications:
measure more than 500 yards
8-second continuous scanning
accuracy of plus, minus 1 yard
legal for tournament
Conclusion: Which Two Golf Laser Rangefinder Models Are The Best?
In my opinion, the best two golf laser rangefinders are the Boblov golf rangefinder and the Nikon Coolshot Rangefinder. The Bobov has a range of more than 600 yards, it is lightweight, has two different modes and magnification of 6x. The Nikon rangefinder has a range of 500 yards, it is legal for competitions, has great accuracy.
In this review, you can find more information about top-rated rangefinders. But if you are looking for something specific like the best rangefinder for hunting, you need to read this post. Here, you can find the best bowhunting rangefinder, just read this review.