You are engaged in crossbow, but you often miss the target?
Then you will be interested in crossbow mounted rangefinders. In this review, you can read about the best crossbow rangefinders, their features, price, design and functions. I will describe to you the best 5 crossbow rangefinder models which you can compare and decide which one suits you the most.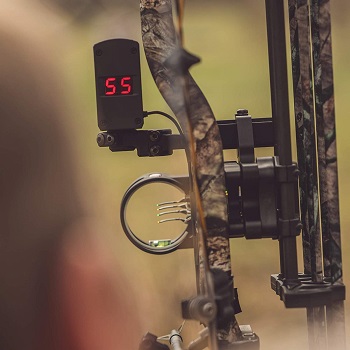 Things To Know When Buying Crossbow Mounted Rangefinder
What Is Crossbow Mounted Rangefinder?
The rangefinder is a device to measure the distance from the observer to its target. You can use this product for hunting, crossbow hunting, bow hunting, archery and even when you play golf. It comes with a laser, GPS, LED display, with a different range of measure. You can mount it on crossbows so you don't have to worry where the camera is during hunt.
How To Use The Rangefinder?
You can use it very simply. When you want to know the distance between you and your target, you just need to push the button and the rangefinder will shoot a laser beam to your target and the mechanism inside of rangefinder will tell you how much time laser beam needs to hit the target and come back.
What About Its Price?
Depends on its features, you can find very different prices. But the range of prices is wide. So, you can find rangefinder for less than $100 and you can pay for it more than $1000. It really depends on your requirements, from brands, rangefinder features, purpose and so on.
Do You Need Crossbow Rangefinder?
You can mount crossbow rangefinder on your crossbow very easily. Also, it is lightweight and hands-free, so it doesn't distract you when you focused, so you can move with it easily. It works isn't loud, so you can have silent conditions for your concentration. You can get the accurate distance of your target in a second.
Rangefinder Design
On the market, you can find very different designs. There is the small or big size of the rangefinder, many different colors, protection features like the waterproof or dust resistant, different range of distance, speed, adjusted angle and slope features, many range modes and more.
Best 5 Crossbow Rangefinder
Best Crossbow Scope With Rangefinder
ATN X-Sight II Crossbow Rangefinder
Crossbow Scope Dimensions
This crossbow scope is 11.4 x 3.4 x 3.5 inches. It weighs only 4.4 pounds, but if you need to move with it, then you need to know that this rangefinder isn't lightweight. Also, it has 5-20 x magnification. There is a ballistic calculator which is very useful because it shows you a chart with range, speed, weather conditions like wind drift and more. It is great for long-range and angle shots.
Day And Night Modes
This crossbow scope rangefinder uses HD resolution. It provides you a clear vision in any wheater conditions. Also, you don't have to use it only when you have daylight. You can have a clear vision even when it's night. Night vision is also available in HD resolution.
RAV feature
You can take photos and record videos in full HD of 1080p. The recoil activated video and Wi-Fi streaming ensure you record all of your interesting moments. You can save your pictures and videos on the micro SD card and show it to your friends. Also, you don't need to have any additional USB cables.
Built-in Rangefinder
This is a very practical feature because you don't have to carry any other add to range your target. With handheld additional accessories you can lose sight of your target. Because of this rangefinder and its possibility to calculate the distance of your point, you can have a great shot.
E-zoom And E-compass
There is a great zoom system that allows you to magnify your target with just one click. This crossbow scope with rangefinder has a range of view of about 240 feet. E-compass is also inside, and it will help you with your position, so you can navigate from your current direction.
Features:
smart rangefinder
HD resolution
day and night modes
ballistic calculator
Best Crossbow Rangefinder Under 1100 Yard
Uineye Mini Rangefinder
Three Ways To Mounting
This item is interesting because you don't have to mount it just on the top off your crossbow. There are two ways more. It can be installed on the left or on the right of your crossbow. That allows you a better shot if you are, for example under the tree or in the forest.
Different Modes to Measure
You can use this crossbow rangefinder when it's day or night and in different weather conditions, for example, when it's foggy. Also, you can use angle mode, horizontal distance, vertical, scan and speed mode. Before ranging, you just need to push switch. There is no obstacle to this rangefinder.
Aluminum Housing
The Uineye rangefinder is all made from aluminum. That material provides the durability of the product. There are free batteries included in the package. The body of this product is 3.6 x 2 x 1.7 inches, so as you can see, it's small. It is lightweight, weighs only 0.44 lbs.
Voice Function
This rangefinder for crossbow hunting has one very interesting feature. It has a voice reading function and also, you will get wire headphones in the package. It is very easy to activate, you just need to press the button of measurement of the button of earphone, then the rangefinder starts to measure and voice function is activated.
Night Time View
The rangefinder doesn't work only on daylight, you can use it even when it's completely dark outside. The OLED display is also visible at night. Maximal range of this rangefinder is ultra-long, about 1000 meters. It has an accuracy of +/- 0.1 meter.
Features:
voice reading function
night view
small dimensions
Best Camouflage Crossbow Rangefinder
Boblov Camouflage Rangefinder
Water-Resistant
This rangefinder is made from an alloy of metal and aluminum. These are very durable and rough materials that provide this product long-lasting life. It comes not in one color but in camouflage colors. It can be adjusted to almost every environment. Also, it's water-resistant and weather-resistant.
Five Different Modes
Boblov rangefinder supports five different modes, and you can choose one, depends on the condition, and other possible influences. You can use ranging mode, fog mode, horizontal distance mode, fog and horizontal mode, and speed mode. That means that you can use it when is a clear day or in difficult conditions.
Small And Lightweight
This product is one of the smallest in its category. Its dimensions are 3.3 x 1.5 x 2.1 inches. It weighs only 0.66 pounds. You can hunt or something else without even thinking about this rangefinder. Also, it is very easy to mount it on a rifle scope or on a crossbow. There is a universal clamp which suits almost every equipment.
Rangefinder Performance
It has a clear range of 700 meters, so it is the best for close and fast targets. Also, it has a max speed range of 186 miles per hour. Its accuracy is also impressive, and it's +/- 1 meter. So, you can use it for ver precisely hunting or to hit the target with your crossbow, for searching, alignment or something else.
Features:
small size and lightweight
five modes
camouflage
resistance to any kind of weather
Best Crossbow Scope With Laser Rangefinder
Mini Laser Rangefinder
Practical And Lightweight
Its dimensions are 32.7 x 15.4 x 15.4 inches, and that makes it a little bigger than other rangefinders. But it is incredibly lightweight, so weighs only 0.4 lbs. You don't even know that it's there, except if you need to use it. It has a battery of 3 V. If it's raining, you don't have to worry, it is waterproof.
LED Color Display
It has two colors on it, so you can use this OLED display when it's the day, night or when it's poorly visible. That display has a continuous scan of 60 seconds, so you won't miss anything. Also, it has very fast ranging feedback. You can very easy to use it and set it up.
Many Functions
Depends on what you need or what weather conditions are, you can pick up some of five different modes. There are basic ranging mode, mode intended for the interference of fog, fog and horizontal distance mode, then angle horizontal distance mode, which is the most used on the crossbow. Also, there is speed function, it can catch a speed of 186 miles per hour.
Class 1 Laser
This rangefinder has a very quality laser, and laser rangefinder comes with a bracket, which you can set up. You can adjust the laser base and set it up or down, left or right, whatever you need it. Also, the mount can be set to bottom, left or right, it's very practical if you are right or left-handed.
Features:
weighs 0.4 lbs
quality laser
weather resistant
adjustable mount
Best Rating Crossbow Rangefinder
Leupold Vendetta Rangefinder
This is the most popular crossbow rangefinder and most preferred. But its rating is not very high and people give it only three stars. But it is a very good quality-price ratio and that is the reason of high popularity. Its price is the average price of rangefinders, so it's acceptable for everyone. Its features will satisfy almost every customer.
Its dimensions are 4 x 7 x 4.5 inches, so as you can see, it's one of the small rangefinders. Its weight is also small, about 13 ounces. It comes in black color which is adjustable to any condition. The lights on the screen are intensive red, which is very easy to read.
Adjustable Mount
This rangefinder has a mounting system that is universal, and that means that it can be adjusted to a crossbow or any other equipment. It is made from strong aluminum materials, which provides a long term use. If you are left or right-handed, it is not a problem anymore, also you can adjust it horizontal or vertical.
Scan Mode
When you push the trigger pad, you provide the instant reading. But if you hold the trigger pad for a few seconds, you turn on a scan mode of 40 seconds, and then your crossbow rangefinder keeps eye on your target and adjust the angle, distance or elevation.
Protection From Unforeseen Circumstances
If something unforeseen happens to your crossbow rangefinder, you don't have to worry. It has almost every protection for those cases. So, it has shock protection, which means that rangefinder is sure from mechanical damages. Also, there are fog proof and waterproof features.
Features:
universal mount
shockproof
max range of 75 yard
Conclusion: Which Two Crossbow Rangefinders Are The Best?
In my opinion, the best two crossbow rangefinders are the ATN X-Sight II and the Leupold Vendetta. The ATN crossbow rangefinder has smart day and night modes, e-compass, e-zoom and RAV feature. The Leupold is very popular, has the best quality-price ratio, adjustable mount, quality LED display and laser alignment.
In case you want to find out more about the best rangefinder, read this post. If you are interested in the best golf rangefinder, check out this review. About GPS rangefinder, you can read in this review.