Are you maybe looking for some quality golf equipment? Do you want to buy some quality products for your golf play but you are not sure what you should get?
Then you need to read my article!
This article will give you all the necessary information on the best Callaway golf rangefinders so you will know why each model is special and which one is for you.
General Information About Callaway Brand
Which Products Does Callaway Offer?
As a brand, Callaway is specialized in golf and golfing equipment so their offer mainly consists of various things that are necessary for golf play. To be precise, they offer clubs, golf balls, golf rangefinders and some accessories such as golf bags, gloves, footwear and apparel, headcovers and so on.
Where Can I Buy Callaway Products?
Callaway's full offer can be found on their official website along with the prices and the possibility to buy them. They also offer free shipping. However, you would also make a good purchase on online retailers such as Amazon. They may have some pretty good offers like discounts or reduced prices. There are also many customer reviews which can help you a lot when deciding which product you should get.
How Much Does It Cost?
If you get yourself a Callaway product, you will not be disappointed. The prices of this brand vary from product to product, but in general, it is among the cheapest brands on the market. For a small price, you will get a quality gadget, no matter which model you choose.
Do Callaway Products Have Warranty?
Each product you get from Callaway or some of their authorized retailers or distributor has a 2-year warranty.  During this period, Callaway offers to either repair or replace the damaged products free of charge. However, they will not cover paint scratches or damages like that.
Best 3 Callaway Golf Rangefinders On The Market
Callaway 200 Laser Rangefindery
Water And Fog Proof
This model of Callaway laser rangefinder comes in a niche shade of blue color with a tiny Callaway logo attached to it. It is a very light device witch dimensions of 3.8 x 2.8 x 1.6 inches and a weight of  4 ounces. Your Callaway 200 laser rangefinder will not disappoint you due to its water and fog proof feature – it will perform well no matter the conditions. It also offers easy to read LCD display which makes it really convenient for golf play.  It is powered by a CR2 battery which is already included in the package.
Pin Acquisition Technology ( P.A.T. )
The main technical advantages that this model offers, for sure must be the 6x magnification camera with a range from 5 to 800 yards witch accuracy up to +/- 1 yard. To help with that, there is the LCD display which can switch from yards to meters. But, the most important feature that this Callaway 200 laser rangefinder offers is the Pin Acquisition Technology (P.A.T.) which makes sure that the pin is locked from up to 275 yards with, already mentioned, accuracy up to +/- 1 yard. So, basically, these specifications will provide the best way to know your distance.
Features:
Waterproof
Fog proof
6x magnification camera
Pin Acquisition Technology ( P.A.T. )
Callaway Laser Golf Rangefinder – Other Models Available
Callaway 250 Laser Golf Rangefinder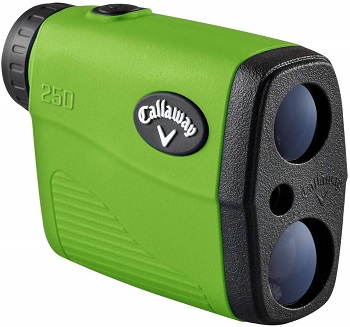 This Callaway 250 golf laser rangefinder has almost all of the same features as the Callaway 200 model. The only differences Callaway 250 rangefinder offers are color and distance range. Callaway 250 laser rangefinder comes in green color and it ranges up to 950 yards – which means it measures up to 300 yards for pin acquisition technology.
Callaway 300 Pro Golf Laser Rangefinder With Slope Measurement
It Will Not Slip Away
Callaway 300 pro laser rangefinder is a device with quite a difference in design. It comes in a combination of white and black colors with an effective red line in the middle. It is garnished with the brand logo as well as the model's name – 300 pro. It is designed not to slip away from your hands as it has a specially marked and rugged surface where to place your hands.  It is also very light and compact device with water and fog proof feature. Its dimensions are 4.2 x 1.8 x 3 inches and it weighs about 8 ounces. For starting the device, you will need a CR2 battery, but don't worry, it is included in the package.
Slope Mode And Pin Acquisition Technology
The same as the previous models, this model also offers pin acquisition technology that locks onto the pin from up to 300 yards away. Adding up to that, it also offers on and off-slope mode which will provide you with accurate distances to the flag. It is equipped with an LCD display that can change from meters to yard. All of the above is measured within 5 to 1000 yards with a 6x magnification camera.
Exclusive Birdie Feature
Basically, what it does is that it delivers an audible "chirp" when the pin is locked so you know you have the correct distance. Also, another useful feature is, the already mentioned, on and off-slope mode. It can be turned off or on by simply pressing the button – it is perfect for tournament play.
Features:
Water and fog proof
6x magnification camera
Designed for perfect grip
Slope mode – provides accurate distances
Pin Acquisition Technology
The birdie feature
Callaway Laser Golf Rangefinder Replacement Parts
If any of the Callaway laser golf rangefinders breaks down, it is recommended to use only original Callaway replacement parts. This is why Callaway offers to repair the product or replace the malfunctioned parts.  You can also get some replacement parts from Nikon as they are Callaway compatible – for example, battery chamber lid or chamber cover unit for Callaway 200 laser rangefinder and Callaway 300 pro laser rangefinder.
 Callaway Brand Manual And Instructions
With each model you order, you will get a small operational manual that will guide you through using your new device. However, if that is not enough, you can always visit their website where you can download user manuals for specific products. So, Callaway 200 laser rangefinder manual and Callaway 300 pro laser rangefinder manual are available on their official website.
Conclusion: Which Model Of Callaway Golf Laser Rangefinder Should I Buy?
Each model has its own benefits. For example, the Callaway 200 Golf Laser Rangefinder offers the incredible pin acquisition technology. However, there is the Callaway 300 Pro Golf Laser Rangefinder with Slope Measurement which also offers pin acquisition technology but it also offers some other features. For example, it offers the birdie feature and slope mode which makes it legal for tournament play.
If you want to read more about the best rangefinders for golf play, make sure you visit best golf rangefinder for the money. If you are maybe interested in some other yardage finder devices for golf, you should check out golf binoculars. If you are maybe interested in rangefinders for some other sports, you should read best hunting rangefinder for the money and best rangefinder for bow hunting.