Are you searching for a device to help your golfing and hunting skills?
Then you need a laser rangefinder!
This article deals with laser rangefinders and their characteristics. I explained the difference between golf and hunting rangefinders. You can learn more about certain products and their characteristics and based on that decide which one would be perfect for you.
Things To Know When Buying A Rangefinder
What Are Laser Rangefinders?
rangefinders are devices used to calculate the distance between yourself and your target. Laser rangefinders do the same thing using a laser beam. The beam is used to send pulses to the target and thus calculate the time needed. Laser rangefinders can be used in various sports activities such as golf or hunting.
Golf Laser Rangefinders Characteristics
There are some features characteristic specifically for one of those activities. For example, golf laser rangefinders tend to have more magnification since the targets are smaller. Also, they are equipped with better glass and longer battery life since you use it more. Moreover, golf rangefinders are more accurate and can cover a wider range.
Hunting Laser Rangefinders Characteristics
Hunting laser rangefinders are made to be waterproof since you mostly use them in all weather conditions. They have ballistic programs which give more information about the conditions you are in. Its constituent parts are of cheaper quality since you don't have to use it for a long time.
Golf And Hunting Laser Rangefinders
Some brands offer laser rangefinders specially made to be used for both golfing and hunting. Also, sometimes you can use a golf rangefinder for hunting and vice versa depending on your expectations. The best way to buy a laser rangefinder is Amazon.com since it gives you many purchasing advantages.
How To Choose The Best Laser Rangefinder?
When searching for a laser rangefinder you must pay attention to many things. Firstly, if you are searching for a golf rangefinder your device must be capable of scanning a wide range. Secondly, if you wish to improve your skills, look for the ones with slope technology.
If you are looking for a hunting laser rangefinder, then you should look for a compact and durable design. Also, the device should have a bright display with an intuitive and easy-to-operate menu.
Top 5 Golf & Hunting Laser Rangefinder Reviews
Best Golf Laser Rangefinder With Slope
Bushnell Pro X2 Golf Laser Rangefinder
Has Bright Adjustable Display
Bushnell Pro X2 is a golf rangefinder with the following dimensions 1.5 x 4 x 3 inches. It has multi-coated lenses with a 393 ft/1000 yds field of view. The display is bright and has two different options, one for day and one for nighttime conditions.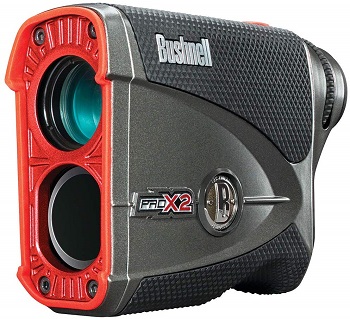 Jolt Technology Paired With A 6x Magnification
This golf laser rangefinder improves your statistics and precision with the Jolt technology. This technology provides vibrating pulses when the laser locks the target. Also, it can magnify the image up to 6 times, providing you with all the necessary detail to make your shot.
Special Slope Compensation Technology
There is another feature golfers will find quite useful. The slope compensation technology calculates the distance including the incline and decline measurements. In other words, it calculates the degree of the incline to make your shot more precise. There is a switch through which you can turn on or turn off this feature.
You Can Download The Manual
Bushnell Golf Pro x2 covers a wide range: 5 – 1300 yards. The ranging accuracy is 1/2 yard. The exit pupil has a size of 3.5 mm. and the objective lens diameter is 21 mm. The extra-long eye relief is 16 mm. Its manual can be downloaded from the official Bushnell web page.
Legal To Use In Tournaments
It uses 3-Volt Lithium batteries and supports Dual Display Technology. The rangefinder is complying with USGA rule 14-3/.05 which makes it legal to use in tournament plays. It has the IPX7 certificate making it waterproof and suitable for use even in the rain.
Features:
has Jolt technology
has Slope-switch technology
covers 5 – 1300 yards
it is waterproof
Best Golf Laser Rangefinder Without Jolt Technology
CaddyTek Golf Laser Rangefinder CaddyView V2+Slope
Can Magnify Up To 6 Times
CaddyTek golf laser rangefinder has the following dimensions 4.1 x 2.9 x 1.5 inches and it weighs less than 8 ounces. It has a 6x magnification and it covers 5 to 800 yards of range. The ranging accuracy is +/- 1 yard. The display type is LCD.
Resistant To Water And Tough Conditions
CaddyView V2 uses a CR2 3V battery which is included in the package. The IPX4 certificate makes it waterproof and protected. The rangefinder supports scan mode, meaning it scans the surroundings multiple times to get more readings. FlagSeeking technology focuses on the flagstick when targeting and ignores other objects.
Slope Technology Can Be Turned Off
The rangefinder supports slope technology. However, since that technology isn't legal in some golf tournaments there is a switch. The switch allows you to turn it off any time you like. When the slope compensation technology is turned off, the device conforms to USGA, R&A Rules of Golf, and USGA Handicap Guidelines.
Misses The Jolt Technology
The laser rangefinder for golf is compact and comfortably fits in one's hand. It is not at all complicated to use. Users are mostly satisfied with the product's quality considering its price. Even though the rangefinder misses some features like Jolt technology.
Features:
has an LCD type of display
has the IPX4 certificate for water resistance
supports Slope technology
misses Jolt technology
Best Expensive Hunting Laser Rangefinder
Nikon Laserforce Rangefinder Binocular
Special OLED With 4 Options
This Nikon laser rangefinder is used for hunting as it covers the range from 10 to 1900 yards. Also, it covers 1900 yards reflective target range, 1100 yards deer range, and 1400 yards tree range. The OLED type of display has 4 options from which you can choose from. It is bright and provides a clear view of the target.
Made To Withstand The Toughest Conditions
As it is a hunting rangefinder, Nikon laser rangefinder was made to withstand tough conditions. The device has a metal housing purged with nitrogen which makes it fog-resistant and water-resistant. Also, it is shock resistant thanks to its rubber armor. When you don't use it for some time, it will automatically shut down thanks to the auto-battery save option.
Supports Angular Measuring Technology
The image is clear because it has the Extra-Low Dispersion glass and a reflective mirror coating on the roof prism. The supported Incline/Decline Technology calculates the horizontal distance to the target along with the incline or decline angles.
Made To Be Comfortable
The ergonomic design gives extra comfort when targeting. These laser rangefinder binoculars have adjustable rubber eyecups and easy-to-locate function buttons. All this, along with the light-weight and rugged design make this rangefinder especially made for hunting. It can measure the angular distance to +/- 89°.
Additional Nikon Laserforce Advantages
It can be paired with a tripod adapter to get more stability when targeting. Nikon Laserforce comes with lens caps to protect the lenses when not being used. The device is eye-glasses friendly as it has a long eye relief design.
Best Golf Rangefinder According To Professionals
Bushnell Tour V4 Jolt Golf Laser Rangefinder
Can Be Paired With Bushnell Golf App
Bushnell Tour V4 Jolt is compact and perfect for one-hand operation. Its weight is 6.6 ounces and the dimensions are 1.57 x 4 x 3.11 inches. The display type is LCD and the device can be paired with the Bushnell Golf App to unlock information about hole layouts with distance.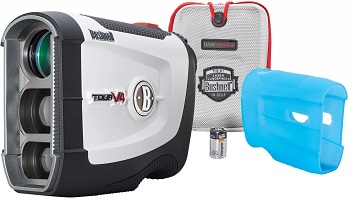 21mm Objective Lens Diameter With 5x Magnification
It is accurate up to 1 yard and it covers 5 – 1000 yards of range. The objective lens diameter is 21 mm and supports 5x magnification. The field of view is 368 feet/1000 yards. The power source is a 3-Volt Lithium battery. The device comes with a cover which is helpful when transporting it.
Supports Jolt Technology
The rangefinder supports jolt technology with a short vibrating confirmation. The Fast Focus System ensures you with optical clarity and targeting accuracy. More than 97% of PGA Tour golf professionals use Bushnell laser rangefinders. It also has the slope switch, so inclines and declines present no problem when playing golf.
Covered By A Warranty
The optics are good, it has a 4.8 mm exit pupil size and a 21 mm extra-long eye relief. The glass is multicoated, which gives it more clarity. Bushnell Tour V4 Jolt golf laser rangefinder is covered by a two-year Limited Warranty. This means that all repairs or replacements will be carried through in that period.
Ergonomic And Comfortable Design
The device is fast and accurate. It has an ergonomic design making it very comfortable and compact to handle. The Stabi-Grip technology gives you extra stability when targeting. Bushnell has a customer service, but some users claim they aren't too reliable as they do not answer to their inquiries.
Features:
supports Jolt technology and has the Slope-switch
has the Fast Focus System
has ergonomic design
Best Affordable Hunting Laser Rangefinder
Simmons Volt 600 Laser Rangefinder
A Laser Rangefinder Used For Hunting
Simmons Volt 600 is a laser rangefinder used for hunting. Its dimensions are 7 x 5 x 3 inches and it weighs 9.6 ounces. As it is a hunting rangefinder it comes in camouflage color which makes it perfect to blend in the environment.
Covers A Wide Range
hunting rangefinders allow smaller magnification, so this device can magnify up to 4x. The objective lens diameter is 20 mm. This Simmons laser rangefinder covers 400 yards of tree range and 200 yards of deer range. As for the performance range, it goes from 10 to 600 yards. The ranging accuracy is +/- 1 yard.
Durable And Waterproof Housing
Its power source is a 9-volt battery. It has a water resistance certificate and its design make it durable and strong. Also, to make a hunter's job easier Simmons made this a rangefinder with a vertical design. The optics are clear, and it has a fixed focus which gives you a better view of the target.
Can Be Used By One Hand
This Simmons laser rangefinder has a Class 1 laser with <1mW power output which sets on the target and gives you fast distance readings. It supports one-button operation and can be used by one hand only.  The display is in-view liquid crystal but sometimes it is hard to read if in poor light conditions.
Has Some Display Problems
Simmons Volt 600 can endure different temperature ranges. It does have some problems with reading in the shadow. The display works well in clear weather, but if it is cloudy or dark you might experience some troubles with seeing what it says.
Features:
a hunting laser rangefinder
has vertical design
has fixed focus
in-view liquid crystal display
Conclusion: Which Golf & Hunting Rangefinder Is The Best Choice?
In my opinion, the water, fog and shock resistant Nikon Laserforce Rangefinder Binocular is a perfect companion for hunting. If you are a golfer, then you should consider Bushnell Pro X2 Golf Laser Rangefinder. It has slope technology and is legal to use in golf tournaments which makes your entire experience better. Both rangefinders will help you improve either your hunting or golfing skills.
In case you wish to learn more about top-rated rangefinders, read this review about it. If you are interested in finding the best budget golf rangefinder, click here and read all about it. If you like archery, read this article about the best archery rangefinder.