Are you looking for the best device for your golfing?
Then you need to read this review about golf and GPS rangefinders. Here you can find information about their features, like price, range, weight, size, optics, battery and about different measuring modes. I will describe to you 5 different rangefinders, so you can compare it and find which one suits you the most.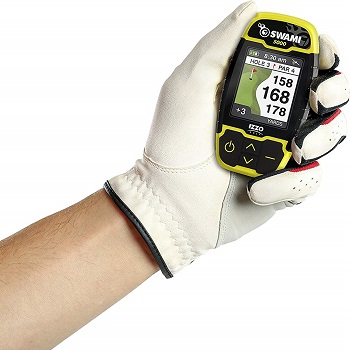 Things You Need To Know About Golf GPS Rangefinder
Types Of Rangefinders
You can a few different types of rangefinders. There are laser rangefinder, optical rangefinder, sonar, radar and rangefinder with lidar technology. The optical rangefinders are the cheapest and aren't' very quality. They use different technology for the work, so before buying, check their accuracy, features, and principle of work.
How GPS Rangefinder Works?
As all GPS devices, a rangefinder with GPS uses satellite signals for work. It needs less time than a laser rangefinder to measure the distance. Before using, you need to map the terrain, if you don't do that, your GPS won't work. Also, you can choose between two options, handheld rangefinders or wearables rangefinders. Depends on your requirements, you can choose between those two.
Use On Tournament
If you like to participate in tournaments, you need to check tournaments rules. If you have a rangefinder and you want to use it in the tournament, no matter laser or GPS, there is one simple catch. If your rangefinders use slope technology, you can be disqualified from the tournament. But you don't have to buy two different rangefinders, just turn off the slope feature, and then you can use it.
What About Price?
You can find different prices on the market from different brands. Also, if you want to buy a rangefinder with advanced technology, you need to be ready to pay more for it. Because of improved technology, prices vary all the time. Also, there are different types of GPS rangefinders. They can be handheld or watches.
Best 5 Golf GPS Rangefinders
Best Wearable Golf GPS Rangefinder
GoGolf GPS Rangefinder
Clip-On Rangefinder
This GoGolf rangefinder is the best wearable GPS rangefinder. You don't have to worry about where you put it, just hooked it on something, and you can play your game. You can hook it on your sunglasses, your hat, shirt or something else. When you hooked it on, it is safe from fall.
Lightweight Device
It is very small and lightweight. This wearable rangefinder has 3.2 ounces, so it won't distract you when you play your favorite game. So, how to use it? You just need to push the button and you will hear the device audibly. Then you can be sure that it is turned on and works.
Enable App
The GoGolf rangefinder works on almost every smartphone. You need to download the app on your mobile phone and you can easily use it. It is available for iOS and Android, and it is free. You need to connect this GPS rangefinder with your smartphone via Bluetooth. With your mobile phone, you can control the volume of the speaker.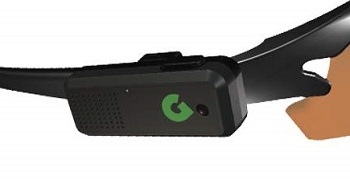 8-ohm Micro Speaker
This GPS rangefinder has a very quality 8-ohm speaker, so you don't worry about the sound. If you want to hear your ball distance, push the button, you don't even need to look on the rangefinder, you will hear it. On the practical housing, there are two buttons and one speaker. One button is for determining tee and the other is multifunction.
35 Languages
This little device supports 35 different languages and allows you access for over 30.000 global courses. Also, it will always show the result via the speaker and on the screen. It is water-resistant and has a durable battery. You can use the battery for five rounds of golf game before recharging.
Features:
micro speaker
wearable device
support 35 languages
enable app
Best Golf GPS Rangefinder Watch
Golf Buddy WTX GPS Rangefinder Watch
8 Ounces
There is one more design of GPS rangefinder for golfing. It is made in the form of a watch. It is very practical, just put it on your hand and you can play your favorite game without thinking of it, except when you want to check your results. It is lightweight, about 8 ounces and has 240 x 204 pixels of the display, so you can clearly see the number of distance.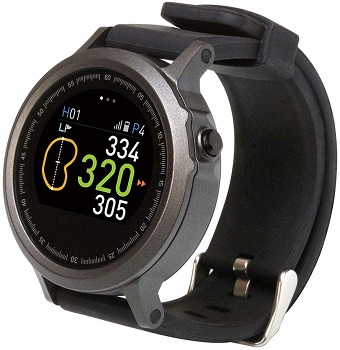 Fee Free
When you use a device with GPS, sometimes, or depends on a place, you need to pay a fee for it. But if you decide to buy this watch for measuring your accuracy of golfing, you don't have to pay the fee. It is free for use. All products of GolfBuddy are fee-free. That watch can measure the distance to the front, back, center and also hazards.
Bluetooth Capabilities
You can download GolfBuddy app on your smartphone and connect with your watch via Bluetooth. This best golf rangefinder watch comes preloaded with more than 35,000 golf courses, but you can update it all the time. It is doesn't matter what kind of mobile phone you have, it supports Apple and Android smartphones.
Legal For Tournament
This small device has many great features. You can change the outer screen, so if you have some kind of accident and break your screen, there is a solution. The very important thing is its legality in the tournament. It is allowed to use this watch from USGA & RGA, so you can participate without worry about that.
Features:
easy to use
more than 35.000 courses
fee-free
Best Handheld Golf GPS Rangefinder
Izzo Golf Swami 5000 Golf GPS Rangefinder
Small And Practical
It is a really small device for measuring distance. It has only 3.7 x 2. 1 x 0.8 inches. It weighs about 3 ounces. When you have that lightweight device, you can put it wherever you want, in your pocket, jacket, or somewhere else. It comes in an attractive design, it has a black and yellow surface. There is a 2" colorful screen for a better view.
Front, Back And Center
The battery is included in the package and it can last over 12 hours before you need to recharge it. The Izzo Golf Swami can measure the distance to the front, back, and center of the green. Also, it can measure the distance from the hazard, like sand or water.
New Shot Measurement
This little handheld rangefinder has one more feature. Except for accurate determining, it can accurately measure which player of your group got the long drive. The speed of measuring is one of the fastest on the market. Also, this rangefinder can save your results, so you can later check your progress.
More Than 35.000 Golf Courses
The Izzo Golf rangefinder is preloaded with more than 35.000 global golf course maps, and you can update it whenever you want. There isn't any kind of download fees, you can download it for free. Also, there is advance feature of auto course recognition.
Scorecard Feature
You can use one more great option. This device provides you to keep the track of your score. It can save your last 10 rounds of golfing. If you want to see your total score, you don't have to turn on some special option, you can see it on the bottom of your handheld rangefinder.
Features:
colorful display
show distance from the hazard
free download
12+ hours battery
Best Value Golf GPS Rangefinder
Garmin Golf GPS Rangefinder
Up To 14 Hours
If you want to buy this GPS rangefinder, there is included battery in the package. That is a lithium polymer battery and it is rechargeable. Also, it can last more than 14 hours, so this is enough for a couple of rounds of golf. You can use it for all the time of playing, which means you don't have to save battery life.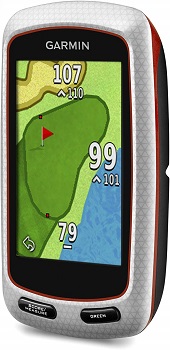 Angle Compensation
With this Garmin golf with GPS, you can measure different distances. You can measure player distance to the golf ball, distance to the center, back of the green. You can even measure angle compensated distance. But if you want to participate in some tournaments, you need to know that the slope feature isn't allowed to use.
For Apple Only
If you have an Android smartphone, you can't connect to this GPS rangefinder. Maybe some new versions are able to do that. At the moment it is enabled only to Apple smartphones. Then you can connect your mobile phone and rangefinder via Bluetooth. This rangefinder can displays text on the screen. Also, you can use smart notification and receive a mail and text back. It comes with preloaded 35.000+ golf courses.
Big Screen
This Garmin rangefinder with GPS is a small device, as you can see on its dimensions: 2.1 x 3.7 x 0.8 inches. It is lightweight, about 3 ounces. The screen is the biggest part of it, so it has 2.6 inches diagonal. The display is colorful and it is a touch screen.
Features:
2.6 inches of display
the battery life of 14 hours
enable for Apple
Best Cheap Golf GPS Rangefinder
Bushnell Golf Neo Ghost GPS Rangefinder
Bushnell GPS Rangefinder Price
This Bushnell rangefinder with GPS is very practical for its purpose. It has a good price, so this is one cheap, but the good rangefinder. The price varies all the time, but if you choose this one, you wouldn't complain about it. Also, on the Amazon site, you can buy a holder for this rangefinder and device for pick-up the ball, all that in one package and for a great price.
Golf GPS Design
This is a small, square shape rangefinder, and it is handheld. It has 2.2 x 2.2 x 0.7 inches, so this is the smallest rangefinder with GPS on this list. Also, it has about 3 ounces, so it is lightweight. It comes in just one color, and that is black color. There is an easy-to-read screen with black colors of numbers. You have five buttons on them, one is for power, then for menu, shot, select, and up/down buttons.
Hazard Distance
It measures the front, back and center distance, also, it measures hazard distances, up to four per hole. The Bushnell has an advance auto hole and auto curse recognition. So, it is very simple to learn how to use this GPS rangefinder for golf.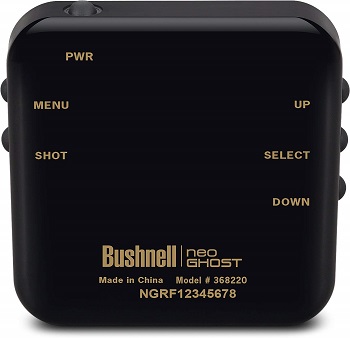 No Fees
You don't have to ever pay any fees or membership if you buy this golf GPS rangefinder. It comes with more than 30.000 golf courses. There is included multifunctional clip and USB cable for charging. The battery is also in the package, and it has a long life, you can play about three golf rounds before you need to recharge it.
Features:
low price
the smallest rangefinder with GPS
no pay for fees
measure distance of hazard
Conclusion: Which Are The Best Two Golf And GPS Rangefinders?
After all that research, I think that the best two golf GPS rangefinders are the Izzo Golf Swami GPS Rangefinder and the Golf Buddy WTX GPS Rangefinder Watch. The Izzo has auto course recognition, over 35.000 golf courses, measure center, front and back of the green and distance of hazards. It is handheld and has a colorful display. The GolfBuddy watch is very practical, you can download the app and connect via Bluetooth, it is very accurate and shows you the layout of holes.
If you want to find more about yardage finder, read this review. In this post, you can find information about the best budget Golf rangefinder. You can find a lot of interesting information about the best golf rangefinder under $200 in this review.