Are you interested in buying a Golf & GPS rangefinder watch?
Read my review and get the details about the best rangefinder watches. Here you will find all about rangefinder watches in general. I listed the 5 best Golf & GPS rangefinder watches and described their characteristics and how to use them.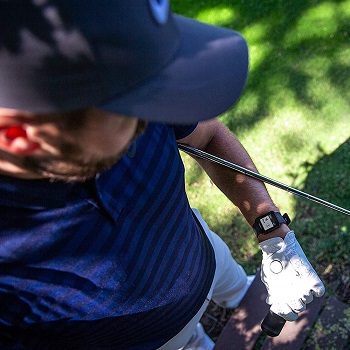 Things To Know About Golf & GPS Rangefinder Watches
How Are They Different From Regular Watches?
A regular watch gives the time and date, and maybe some other additional features. However, a golf GPS watch is designed especially for golf players to track their statistics. This watch can calculate the distances to the greens and hazards. Also, it often has additional features such as a pedometer or other fitness tracking tools.
How Do Rangefinder Watches Work?
Golf yardage watches exist to help golfers improve their experience and correct their errors. The watch measures the distance to the target and your shot distance. This saves you time and helps you plan out your shots. They are convenient because of their small size and fast performance.
What Are Their Most Common Features?
Firstly, they show the time and date which is obvious since it is a watch. Secondly, most of them have in-built thousands of golf courses and holes from all around the world. This makes your golfing experience a lot easier and more fun. The GPS technology tells you your exact distance from the pin.
Things To Have In Mind When Buying It
Golf GPS rangefinder Watches are used to track your skills. They provide a useful base of statistical data from which you can get all the information you need. It is important that you choose a watch that fits comfortably on your wrist and has an ergonomic design. Moreover, the display should be clear and easy-to-use.
Rangefinder Watch Price Range
It is also important that the yardage watch can be connected to your smartphone, so you have fast access to all the information. There are many brands to chose from and many different types of watches. If you want to purchase one, the best way is Amazon.com. The prices go from 130$ to 300$.
Top 5 Golf & GPS Rangefinder Watches
Best Durable Golf GPS Watch
Bushnell Golf Excel GPS Rangefinder Watch
Basic Watch Dimensions Information
This Bushnell Golf rangefinder watch has a built-in accessory mount. The display area measures are 25 x 25 mm. Its dimensions are 13.75 x 45 x 54 mm and it weighs 1.6 ounces. The battery life lasts up to 14 hours which is approximately 3 rounds.
Can Operate In Extremely Low Temperatures
The Excel GPS rangefinder watch can still operate in temperatures as low as -10°C and as high as +60°C. The storage temperature range is from 0°C to +45°C. The watch complies with USGA rule 14-3/.05. It is not waterproof, but it is water-resistant. The typical TTFF average is less than 120 seconds.
Over 35,000 Courses Already Uploaded
Bushnell Golf Excel GPS rangefinder watch can be paired with your smartphone via Bluetooth. That way you can receive constant course updates. It does already have over 35,000 courses in more than 30 countries uploaded. Its color display has an automatic brightness adjustment.
Easy-To-Read Display And Other Features
The display is easy-to-read, and it shows the front, back and center distances. Also, it allows up to 4 hazard distances per hole. All courses are recognized automatically. As it is a watch, of course, it has features like an alarm, a stopwatch, and a timer.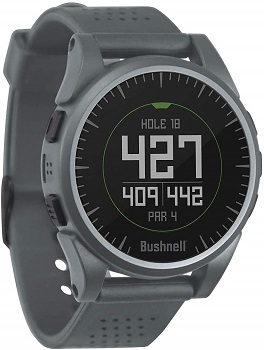 Keep Track Of Your Steps
If you want to keep track of your steps, the watch comes with an integrated Fitness Step Counter. Also, features like weather and swing tempo can be monitored through the device. A USB charging cord is included. The Bushnell Excel watch comes with an integrated App, 3D flyovers with distances and full aerial views of hole layouts.
Complaints About The Watch
There is some criticism toward this Bushnell product. Some users reported low display visibility and issues with charging it. Sometimes it has trouble recognizing the course and to start.
Features:
battery life up to 14 hours
operation temperature range -10°C – +60°C
can be paired with your smartphone
integrated Fitness Step Counter
Best Graphics Golf GPS Watch
Golf Buddy WTX GPS Rangefinder Watch
Connected Via Bluetooth To The App
Golf Buddy WTX is a small and compact rangefinder watch. It has features like GPS which help you determine the distance measurements. Bluetooth is supported and used to update over 38,000 golf courses on the watch. The software also gets updated via Bluetooth from the GolfBuddy App.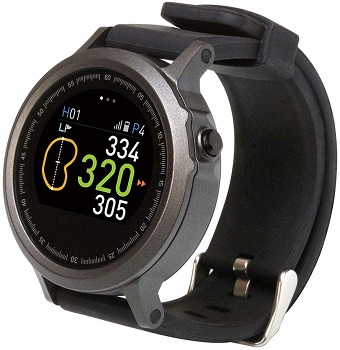 Automatically Recognizes Courses And Holes
The display is simple and easy-to-use. All courses and holes are automatically recognized by the watch which spears your time. It can measure distances to the front, center, and back, as well as hazards. In order to help you keep track of your statistics, it measures your shot distances.
Designed To Improve Your Skills
This rangefinder watch has all the features used to improve your golfing skills. You get all the necessary information about the target, such as its distance. GolfBuddy WTX GPS offers the Dynamic Green View from your position and Pin Placement feature. You get insight into the distance readings.
You Can Keep Track Of Your Steps
The watch has an in-built pedometer that keeps tracks of your steps and a sedentary timer. GolfBuddy WTX synchronizes with your smartphone and transfers all the information back and forth. It is legal for both handicap and tournament play, so you can use it carefree.
Covered By A One-Year-Limited Warranty
However, there have been some complaints about the device made by users. Some claim the battery doesn't last as much as it should. The watch is covered by a one-year limited warranty, so if you have any problems in that period you can use it.
Features:
uploads courses from the GolfBuddy App
has the Dynamic Green View feature
built-in pedometer and sedentary timer
covered by a warranty
Best Expensive Golf GPS Watch
Bushnell Neo Ion GPS Rangefinder Watch
Automatically Recognized Courses And Holes
Neo Ion GPS rangefinder watch weighs 4.8 ounces and has the following dimensions 10.2 x 2 x 0.6 inches. The watch has a long battery life which can last up to 16 hours. It has more than 35,000 golf courses in more than 30 countries already loaded. All courses and holes are automatically recognized.
Small And Comfortable Device
The device needs 2.5 hours to recharge its battery. It charges through a USB cable. Bushnell Neo Ion was designed to be small and fit comfortably on your wrist. It has a double injected silicone sports band. Besides golf, the watch can be used to track your running, walking or cycling results.
Has An Easy-To-Read Image
The display type is a 21 mm LCD which gives a clear and easy-to-read image. Tee Time function can be turned on in advance. Also, there is an automatic setting that turns off the GPS when you set it. This is a useful way to save your battery power.
Shows Up to Four Hazards
Neo Ion shows front, center and back distances to the greens. The hazard distances are shown up to 4 hazards per hole. The odometer is round, and it has a shot distance calculator. Users reported being satisfied with the watch as its quality and precision meet its price.
Features:
the battery lasts up to 16 hours
can be used to track your steps
has an LCD
GPS can be automatically disabled
Best Accuracy Golf GPS Watch
Garmin Approach S10 – Lightweight GPS Golf Watch
Lightweight Watch With An Easy-To-Read Display
Garmin Approach S10's dimensions are 1.6 x 0.4 x 1.4 inches and it weighs 1.28 ounces. That makes it a very small and lightweight device comfortable to use. The display is bright and easy-to-read in bright light conditions. It gives you information about the total distance and time spent playing.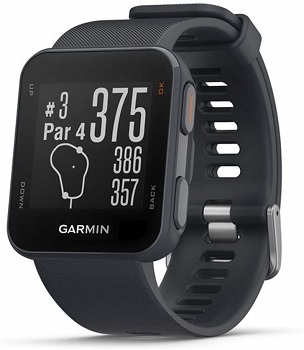 Has Preloaded Worldwide Courses
Garmin rangefinder watch has more than 41,000 preloaded courses all over the world. You can see the distance to the front, back and middle of the field. Also, it displays hazards of the course you're playing on. Your score will be uploaded to Garmin Express, so you can have a better insight into your skills.
Battery Has A Long Life
The battery can last up to 12 hours if you keep the device in GPS golf mode. Garmin Golf rangefinder watch also displays time, date, and sunrise and sunset times. It can go 50 meters underwater since it is waterproof. If you upload your scores to the Garmin Express, you can use the app to check your leaderboard position.
Automatically Selects The Golf Course
This Garmin yardage watch uses a CR2 battery which is included in the package. The course you are playing on is automatically selected. You get an unlimited number of course updates. Also, when you finish a hole it will automatically pass on the next one.
Does It Have Any Problems?
The watch comes in three colors: black, granite blue, and powder gray. Most users like this watch and find it useful and simple to use. However, some users reported the band breaking or the watch not working properly for them.
Features:
has a bright and easy-to-read display
it is waterproof
automatically recognizes the course you're playing on
Best Affordable Golf GPS Watch With Long Battery Life
Callaway GPSy Golf GPS Rangefinder Watch
Gives Fast And Accurate Distances
Callaway Rangefinder GPSy Golf watch has the following dimensions: 0.5 x 1.2 x 1.7 inches and weighs 2.08 ounces. It serves as a good substitution for a rangefinder as it gives fast and accurate distances. It is very lightweight and fits comfortably on your wrist.
Used To Track Your Scores
The watch has more than 30,000 golf courses from all over the world already uploaded. It automatically recognizes the course you are on, as well as the hazards and doglegs. You can use it to track your score, shot distance, and time statistics.
Has The Time-Only Mode
Callaway Rangefinder watch has a mode in which you can see only the time and date. Time and date can be set in analog or digital form as they are automatically set by satellite. The device uses a lithium-ion battery which can be recharged. When charged it can last up to 90 days if it is set in time mode. If the watch is set in GPS mode, then it can last up to 10 hours.
Water-Resistant But Not Waterproof
The device is available in two colors: white and black. It gives information about the front, center, and back distances to the course. Callaway Rangefinder GPS Golf watch is water-resistant but not waterproof, meaning it can get wet but not submerged.
Covered By A Warranty
Warranty coverage lasts up to one year. Some people had certain issues with the battery charger as it wouldn't work properly. Also, some of them reported that the watch does not pick up the satellite fast enough.
Features:
a small and lightweight watch
has the time-only mode
the battery lasts up to 10 hours in GPS mode
Conclusion: Which Golf & GPS Rangefinder Watch Should You Buy?
Golf Buddy WTX GPS Rangefinder Watch has the Dynamic Green View and Pin Placement features which give a better demonstration of your surroundings. Bushnell Neo Ion GPS Rangefinder Watch is a small device with an easy-to-use display. Both devices help you keep track of your skills and automatically recognize the course and holes.
If you are interested in rangefinders, read this article about good rangefinders and find all the necessary information. In case you want to know more about cheap rangefinders, read this review about the best cheap rangefinder. In case you want to learn more about laser rangefinders, click here and read about the best laser rangefinders.