Are you interested in buying Bozily Golf Rangefinders?
Then you should read my article!
In this article, I will describe the best 3 Bozily rangefinders as well as their technical specifications and some other features. Read about these models, compare them and decide which one is the best.
The Bozily Brand, Its Products And Benefits
What Else Does Bozily Offer?
Even though Bozily is most known for Golf Rangefinders, it also offers other gadgets such as grow lights for indoor plants, LED lights for aquariums, Himalayan salt lamps with Bluetooth speaker, etc.  Most of these products are used around the house.
Where To Buy Bozily Golf Rangefinders?
Bozily has an official site and all of the Golf Rangefinders can be found there,  but I would also like to recommend online retailers, such as Amazon. On Amazon, you can find more models at lower prices and discounts. There are also customer reviews on the product so you can read it, compare it to other brands and models and decide for yourself.
The Price Range Of Bozily Golf Rangefinders
According to other golf rangefinder reviews, this is one of the cheapest brands on the market. For this low price, you will get a small, but precise gadget with strong optics and long battery life.
Best 3 Bozily Golf Rangefinder Reviews
Bozily Golf Rangefinder, 6X Laser Range Finder 1000 Yards
General System Description
This Bozily golf rangefinder has a high-definition camera with 6X magnification and a 7-degree field angle. It goes up to the distance from 5 to 1300yds.  It has a class 1,905nm laser type.  The structure of the 905 series offers high reliability and temperature stability; it also achieves the best beam characteristics. This rangefinder also has 4 scan modes, an LCD Digital display, and accurate reading.
4 Scan Modes
This model of Bozily rangefinder offers 4 modes in between which you can choose. General (first) mode is designed for actual space distance. The second mode (Slope mode) will show you the angle and slope-adjusted distance between a golfer and the flag. The third mode (Vertical mode) is for vertical and horizontal distance measurements. The last mode is Speed mode. It measures speed in a range from 12- 186 miles per hour. This laser rangefinder adopts advanced, accurate and fast distance, angle and speed measuring technology suitable for hunting, racing, bird watching, shooting, climbing, engineering measurement.
Design And Packaging
This Bozily golf rangefinder has a dimension of 4*2,95*1,65in. It's ergonomic and water-resistant. It measures in yards and meters – a simple long press of the mode button changes it. It comes in a package that contains one rangefinder, one carrying case, a pair of CR2 battery, one commemorative coin, one carabiner, one lanyard, one cleaning cloth and a manual.
Features:
ergonomic, fits well in hand
accurate to 1500 yards
high-definition camera
Other Versions Of Bozily Golf Rangefinder
Bozily Golf Rangefinder, 6X Rechargeable Laser Range Finder 1200 Yards
This is also a Bozily golf rangefinder with almost the same characteristics as the previous model but with a slight difference. This one is a tiny bit smaller as it has dimensions of 4,21*2,91*1,65in. This golf rangefinder also has a smaller distance range – 1200 yards. The only thing that makes this golf rangefinder special is that it is USB rechargeable.
Bozily Golf Rangefinder, 6X Laser Range Finder 1000 Yards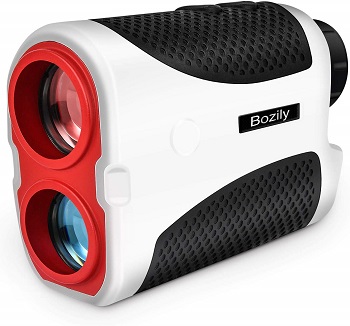 This is a Bozily golf rangefinder as well, with the same specifications as the previous two with only 2 differences. The distance range of this rangefinder is 1000 yards and it is the smallest of the three. It has dimensions of 4.05*2.83*1.53in.
Bozily Golf rangefinder Replacement Parts And Accessories
Replacement parts and accessories for Golf Rangefinders and other products Bozily offers can be found on Amazon but in case of any malfunction, you can contact them on the official Bozily site. Each product has a 2-year warranty but you can also register at their website to extend your warranty by 12 months.
Conclusion: Why You Should Buy These Bozily Golf Rangefinder Models?
Bozily Golf Rangefinder With 1000 Yards has the longest distance range and it is ergonomic. It fits perfectly in the hand and it is accurate. Blue Bozily Golf Rangefinder also fits perfectly in the hand but this one will also make sure you don't have to worry about changing batteries – it is rechargeable.
If you want to learn about best rangefinders in the previous year, read best golf rangefinder . If you are interested in a quality rangefinder, but you don't want to spend a lot of money, look into the best budget golf rangefinder. If you are looking for GPS rangefinders, you should read golf gps rangefinder. If you are maybe looking for rangefinders for hunting, then look up best rangefinder for hunting.