Do you enjoy outdoor activities and are searching for a Zeiss rangefinder?
Read my article and get all the information about it!
This article's topic is the Carl Zeiss brand and its offer. You will find out more about their brand history and services, as well as the products and their characteristics.
Basic Information About The Brand
A Worldwide Optics Manufacturer
Zeiss is an international optics and optoelectronics manufacturing company. The company produces and develops medical technology, various types of lenses, measuring devices, microscopes, and binoculars. It was founded as a precision mechanics and optical instruments workshop in 1846 in Germany. Its founder was Carl Zeiss.
Company's Four Different Segments
Since its beginning, Zeiss Group came a long way. The company is split into four categories: Medical Technology, Consumer Markets, Semiconductor Manufacturing Technology, and Quality & Research.  The main production sites in Germany are Göttingen and Wetzlat, in the US are Minneapolis and Dublin, and in China it is Shanghai.
Zeiss' Goals And Aspirations
The company shares its service across 50 countries worldwide. Their goal is to perfect their products and provide a better life quality. Zeiss has a special project in Tanzania where they provide medical examinations to children with albinism. Furthermore, the children get specially made eyeglasses to ease protect their eyes and improve their lives.
The Carl Zeiss Foundation
Even though no longer alive, Carl Zeiss represents a major part of the company. There is a Carl Zeiss Foundation whose goal is to get society and science into the future. The company values teamwork and expert knowledge. The official web page is quite informative, and you can find their contacts there, as well as all other product-related information.
Information About Prices And Warranty
Zeiss promises top-notch products so, no wonder they are very expensive in comparison to other brands. If you wish to make a purchase, I recommend doing so on Amazon because it offers many purchase advantages. All Zeiss products are covered by a warranty which is valid only in the region where you bought it.
Top 5 Zeiss Rangefinder Binoculars For Sale
Zeiss Victory RF 10×42 Rangefinder Binoculars
Lightweight Binoculars With A 10x Magnification
Zeiss 10×42 RF is 6.54 inches long and 4.76 inches wide. It weighs 32.28 ounces and it allows a 10x magnification. The effective lens diameter is 42 mm and the exit pupil diameter is 4.2 mm. It has the field of view of 345 feet/ 1000 yards.
Has An Adjustable Diopter
The twilight factor is 20.5 which makes it perfect for twilight conditions. The apparent field of view is a wide-angle of 66°. Zeiss RF 10×42 has a close focus of 8.2 feet. The diopter can be modified for +/- 3 diopters. Zeiss Victory 10×42 RF's eye relief is 17 mm. Some users are dissatisfied with customer service.
It Is Fog And Water Resistant
The interpupillary distance is from 53.5 to 76 mm. The device is coated with LotuTec coating and it has FL lens glass. Thanks to the nitrogen purged filling, it is fog proof. Also, it can take up to 100 mbar of water pressure. The rangefinder's lowest operating temperature is -13°F and the highest is +145.4°F.
Measuring Time Under One Second
The range it covers is from 16 to 2500 yards. This Carl Zeiss rangefinder is accurate by +/-1 – 600/ +/-0.5% over 600 yards. The time in which it measures is under 0.3 seconds. Its laser has a 905 nm wavelength. It uses a CR2 battery whose life at 68°F is more than 2500 times.
Nine Profile Ballistic Program
The prism system is Abbe-König which gives a maximum optical performance. The device has a ballistic program that has nine different profiles. Variables such as distance, air pressure, angle, and temperature can be calculated through the program. The ergonomic design and automatic LED brightness adjustment make it practical to use.
Features:
allows a 10x magnification
coated with LotuTec coating
operating temperature -13°F – +145.4°F
has Abbe- König prism system
Zeiss Victory RF 10×54 Rangefinder Binocular
Best In Twilight Conditions
Zeiss Victory RF 10×54 is a laser rangefinder best suited for twilight situations. That is thanks to the 23.2 twilight factor. It has a 10x magnification through a 54 mm effective lens diameter. The exit pupil diameter is 5.4 mm. The field of view is 330 ft at 1000 yards.
Has Nitrogen Filled Housing
The apparent angular field of view is a 63° wide angle. It can focus at 11.5 feet. The diopter can be adjusted for +/- 3 diopters. The eye relief size is 14 mm while the interpupillary distance of 58.5 – 76 mm. Zeiss RF 10X54 has a nitrogen-purged housing which makes it fog proof.
Resistant To Both Water And Temperature
The special LotuTec lens coating gives the clearest image. The rangefinder is waterproof and can endure up to 100 mbar of pressure. It is very durable as it can operate on the minimum temperature of -13°F. The maximum operating temperature is +145.4°F. The range it can cover is 16 – 2500 yards.
Has A Long Battery Life
Zeiss Victory RF 10×54 is 7.68 inches long and 5.35 inches wide. The weight is 39.33 ounces. The measuring time is less than 0.3 seconds. The laser wavelength is 905 nm and its beam divergence is 1.6 x 0.5 nm. It uses a CR2 battery which has a lifetime of more than 2500x at 68°F.
This device has the Abbe-Köenig prism system. It can be connected to a Zeiss Hunting App. The App can transfer data from your computer to the rangefinder.
Features:
has nitrogen purged housing
can operate in -13°F – +145.4°F temperature range
uses a CR2 battery
can be connected to the Zeiss Hunting App
Zeiss Victory RF 8×42 Rangefinder
Best For Daylight Use
Zeiss Victory RF 8×42 has an 8x magnification through a 42 mm effective lens diameter. The exit pupil diameter counts 5.3 mm. It is primarily made for daylight users as its twilight factor is 18.3. The field of view at 1000 yards is 405 feet. The apparent angular field of view is 62°wide angle.
Has LotuTec Coated Lenses
The lenses are FL type covered with LotuTec coating which makes the image sharp and bright. The prism system is Abbe- Köenig and it has a nitrogen-purged housing. The housing prevents water drops from getting in and thus fogging the lenses. Also, Zeiss RF 8×42 is waterproof as it has 100 mbar tolerance.
Covers A Wide Range
The dimensions are 6.54 inches x 4.76 inches and 31.57 ounces. It can cover the range from 16 to 2500 yards. Victory RF 8X42's laser wavelength is 905 nm and the beam divergence is 1.6 x 0.5 nm. It is powered by a CR2 battery with a lifetime of more than 2500 x.
Light And Comfortable In Hand
The distance between the pupils is 53.5 – 76 mm. This rangefinder can focus on an object as close as 8.2 ft. It is light and fits comfortably in hand thanks to its ergonomic design. Scan and Target modes are both supported to help you get the target.
Bluetooth And Ballistic Program Supported
The device supports Bluetooth and ballistic program which can be inserted through a smartphone. It has a ballistic calculator with angle, temperature and air pressure sensors. Also, it has a one-hand operation system, so it is easier to use. The LED brightness can be adjusted as it has 11 different options.
Features:
primarily used for daytime use
fog-proof due to nitrogen-infused housing
supports Scan and Target mode
adjustable LED brightness
Zeiss Victory 8X56 RF Rangefinder
Waterproof Binoculars With A Nitrogen Filling
Zeiss Victory 8X56 RF binoculars are waterproof due to the nitrogen-filled housing. They have an illuminated reticle that can target objects as far as 1300 yards. The objective lens diameter is 56 mm and the exit pupil diameter is 7 mm.
Designed To Provide Comfort
This rangefinder was designed to fit comfortably in your hands and give you maximum performance quality. The dimensions are 11 x 10.5 x 4 inches and it weighs 40.6 ounces. It has an intuitive operating system which makes it easier to use. On Zeiss Victory RF 8X56 you can magnify up to 8 times.
Great For Low-Light Conditions
This binocular's lenses have a coating that allows high light transmission. So, the image is very clear, and the details are sharp. The twilight factor is 21.2. This makes it perfect for use in twilight or other poor light conditions.
Features:
it is waterproof
has an intuitive operation system
2 twilight factor
Zeiss Victory PRF 8×26 Laser Rangefinder
Rangefinder With An 8x Magnification
Zeiss 8X26 PRF has the following dimensions 6.8 x 4.9 x 4.1 inches. It can magnify up to 8x through 26 mm objective lens diameter. The exit pupil size is 3.25 mm and the twilight factor is 14.4. The diopter can be adjusted for +/- 3.5 diopters.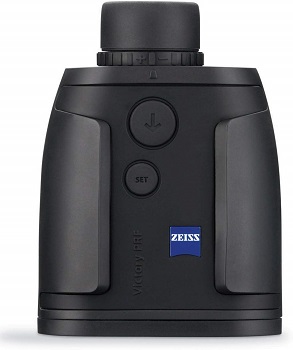 Sealed And Waterproof Housing
Zeiss PRF 8×26 has a Class 1 laser and sealed housing. Therefore, it is waterproof. The optical eye relief is 17.5 mm. This monocular is capable of target ranging up to 1300 yards. It uses a CR123A lithium battery which can last up to 2000 hours.
Made For Outdoor Activities
This Zeiss PRF monocular has a special non-slip grip with anti-reflective coating. Users' reports show they are satisfied with the device. However, sometimes there are certain issues with the distance it can range. It is used for professional wildlife monitoring, golf or nature observation. Its lightweight design makes it pocket-size.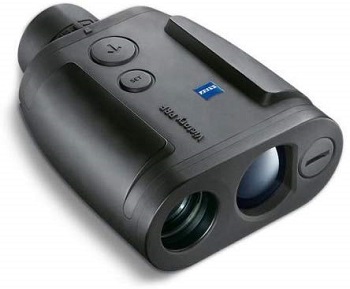 Ranging With A Push Of A Button
You can start ranging by a press on the one-touch button on the Zeiss victory 8×26. The device is very precise even when it measures small objects. Works fine in poor light conditions too. The coating the lenses are covered to provide you with the maximum light.
Stabile And Protected Device
The rubber armor gives more stability and protection to the device. That allows it to endure even the toughest conditions. There are three display types you can choose from. The measurement units can be changed to meters or yards. Also, the device is good for hunting as it has an integrated ballistic program.
Features:
has Class 1 laser
water and dustproof
lightweight and pocket-sized
Conclusion: Which Zeiss Rangefinder Is The Best Choice?
Zeiss Victory RF 10×42 Rangefinder Binoculars has a ballistic program with nine different profiles to help you improve your performance. Zeiss Victory RF 10×54 Rangefinder Binocular is best suited for use in twilight light conditions. Both devices have waterproof housing and can endure even the toughest conditions, such as high and low temperatures.
If you liked this topic and are looking for top-rated rangefinders, read this article. If you would like to find out more about best golf rangefinders read this review. If you are interested in reading about a golf distance finder, click here.