Are you searching for the best rangefinder for long-range shooting?
Then you should read my article about the best long-range rangefinders for the money.
Here you will learn all about long range finders and more about the 5 models I described. You can read about their features and advantages and choose the one you think suits you the best.
Things To Know About Long-Range Rangefinders
What Are Long-Range Rangefinders Used For?
Long-range rangefinders are mostly used for hunting. This is because hunters need a longer range covered by a rangefinder than, for example, golfers. Long-range rangefinders can be also used for military purposes and bird or nature observations.
Which Features Should A Long-Range Rangefinder Have?
If are looking for the best long-range rangefinder this means you require an accurate device. It would be preferable that your rangefinder has a ballistic system integrated. This technology will help you to calculate the best likelihood to make a successful shot. Also, your rangefinder should be waterproof, have the Scan mode, high-quality optics, and easy-to-read display.
What Does A Ballistic Program Do?
The ballistic program is a special type of technology used to count different variables into your shooting plan. It measures variables such as temperature, winds, air pressure or your device's ballistics. All these measurements are important to take into consideration in order to make a successful shot.
Why Is Scan Mode Important?
To choose the best rangefinder for long-range shooting, the Scan mode is important because it gives you a better track of your target. Since you are covering a wide range, you need a feature that will let you keep an eye on your surroundings. As well as to keep an eye on the moving target. The multiple scans will allow you to do so.
Where Can I Buy A Long-Range Rangefinder?
The price range of long-range rangefinders goes from around 300$ to 500$. Within this price range, you will get the best price-to-quality ratio. The best place to look for the best rangefinder for long-range shooting is Amazon.com. There you get a wide offer of products and good deals on them.
Top 5 Long-Range Rangefinders For The Money
Best Long-Range Hunting Rangefinder Binoculars
Bushnell Elite Rangefinder 1 Mile 7×26
The Range It Covers
Bushnell Elite 1 Mile Rangefinder covers a range from 5 to 1760 yards which are quite long. The rangefinder is used for hunting which involves bowhunting and rifle hunting. It is 1/2-yard accurate and its display precision is 1/10-yard. Its display uses Vivid Display Technology which provides you with a bright and high-contrast image.
3 Ballistic Curves Can Be Set Up
The magnification on this rangefinder can go up to 7 times. It has the certificate for water resistance so it can be used carefree in all weather conditions. This long-range hunting rangefinder uses a ballistic program to give you additional information about your target's distance. It can be connected to the Conx technology on your smartphone, and you can set 3 types of ballistic curves.
Eliminates Targets From The Front
It supports the Brush mode which eliminates all objects from the front and focuses the ones in the back. This will help you acquire a successful shot. Also, it supports the BullsEye feature which will make a calculation of small target distances. It does so without having to measure the targets in the background too.
Supports The Scan Mode
Scan mode is also supported on Bushnell Elite 1 Mile rangefinder. When you activate this mode, the device will scan all the possible targets in your view. The rangefinder has adjustable diopters which is useful if you wear glasses for your sight. It belongs to the 2nd Generation E.S.P.
Great Rangefinder For The Price
If you are looking for a long-range rangefinder, Bushnell Elite 1 Mile would be a good choice. Users reported it being a good rangefinder for the price. You can even pair it with a tripod while ranging to add more stability and have better chances for a precise calculation.
Features:
used for hunting
can magnify up to 7 times
uses a ballistic program
supports the Brush mode
it is waterproof
Best Long-Range Laser Rangefinder
Sig Sauer Kilo2200BDX Rangefinder
A Long-Range hunting rangefinder
Sig Sauer Kilo 2200 BDX is a hunting rangefinder that can measure deer range up to 1300 yards. Its range on trees goes up to 1600 yards. This rangefinder maximum reflective goes up to 3400 yards. If you are looking for the best long-range rangefinder this will certainly please your needs.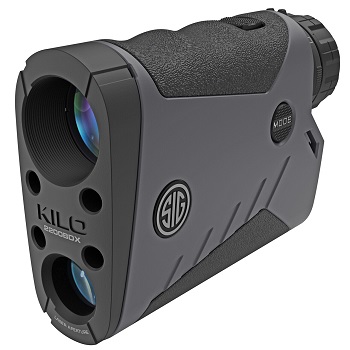 Small And Compact Monocular Design
The device is a monocular with the following dimensions 4 x 3 x 1.3 inches which makes it quite small and compact. Its weight is 7.5 ounces. The objective lens diameter is 25 mm and it allows a 7x magnification. This long-distance laser rangefinder uses a 1.4 MRAD laser.
Can Scan Up To 4 Ranges
The field of view it can cover is 6.78' and its eye relief is 15 mm. It supports HyperScan technology which allows up to 4 range scans in one second. Kilo 2200 BDX uses a CR2 battery as its power source. The run time of the battery is 4000 ranges.
Waterproof And Suitable For Eyeglass Wearers
This rangefinder has the IPX-4 certificate for water resistance which allows it to be used in rainy weather too. If you are an eyeglass wearer, you will find useful that the diopter can be changed for +/- 3 diopters. The display type is OLED which produces a bright and clear image.
Automatically Adapts The Brightness
It supports the Lumatic Display feature which automatically adapts the brightness to the light you are in. You can see your last ranging result thanks to the RangeLock technology. Kilo 2200 BDX supports the use of a ballistic program which will give you more to work with. The windage results can be displayed in MOA or MIL.
Features:
uses a 1.4 MRAD laser
uses a CR2 battery
supports Lumatic Display
Best Accurate Long-Range Rangefinder
Nikon Prostaff 7i Laser RangeFinder
Supports A 6x Magnification
Nikon Prostaff 7i laser rangefinder's effective range is from 8 to 1300 yards. The device supports a 6x magnification. It has the advanced ID technology which calculates the distance to the target including the inclines and declines. This technology can range up to +/- 89 degrees.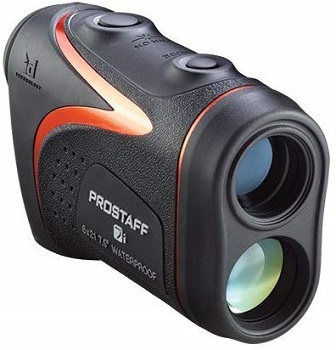 Measurements Displayed In Meters Or Yards
The device's increment reading is 0.1 yards. Its measurement units can be displayed in meters or yards. Prostaff 7i works on a single button operation which is simple and easy to use. The device shuts down automatically if it is not used for 8 or more seconds. This way your battery life will be saved.
Supports Angle Compensation Technology
The battery power source it uses is a single CR2 Lithium battery. The device's weight is 6.2 ounces without the battery. It supports angle compensation which will allow you to take more precise shots. The display is easy-to-use and shows all the necessary information, including the battery charge.
It Supports Ballistic Technology
Nikon ProStaff has a 21 mm objective lens diameter which supports magnification up to 6 times. The device is fast and precise thanks to Ballistic Technology it supports. The optics are high-quality and fully multi-coated. Its design is small and waterproof.
Rugged But Comfortable Design
The rangefinder supports Tru-Target Priority System which singles out the target you wish to shoot. It is rugged and comfortable enough to use it all day long. Its accuracy is .1-yard intervals out to 1000 yards, and it has 1-yard increments over 1000 yards.
Features:
supports the ID technology
works on a single button operation
supports angle compensation technology
it is waterproof
Best Monocular Long-Range Rangefinder
Zeiss Carl Optical Inc Victory PRF Monocular
Allows Magnification Up To 8x
Carl Zeiss monocular uses an 8x magnification through a 26 mm objective lens diameter. The device uses a one-touch measuring button which activates the ranging process. This saves your time and allows you to concentrate on the target rather than on the device.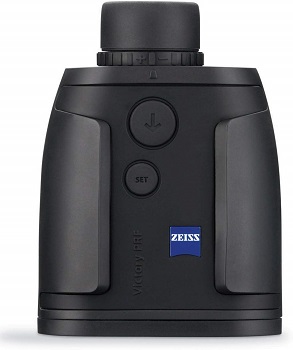 Used For Hunting Purposes
The range it can measure is up to 1200 meters which is approximately 1312 yards. This gives you a wide area to work with and find your target. Zeiss 8×26 is made to be a hunting rangefinding monocular. It works well in poor light conditions too. It weighs only 310 g which makes it quite small and light.
Supports A Ballistic Program
It supports the Ballistic Information System that finds all the information you need to correct the holdover point. The rangefinder uses the caliber, the distance measurement, and the ballistics curve to help you make a more precise shot.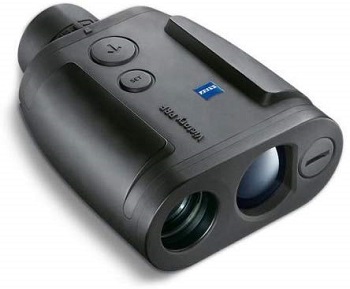 Has High-Performance Optics
The optics are high-performance with layers of multicoating. The multicoated lenses transmit high amounts of light to make the image as credible as it gets. The rangefinder works well in twilight light too. Poor light conditions will not matter as the device uses high ends optics to better the image.
Protected By A Rubber Armor
The Ballistic Information System can be activated by the 'Set' button. This monocular was designed to withstand all kinds of rough transport. It has a rubber armor that gives a firm grip but also protects the device from harm. LotuTec coating protects the lens from snow or rain.
Features:
has an 8x magnification
the objective lens diameter is 26 mm
used for hunting
small and compact design
has high-performance optics with multicoating
Best Small Long-Range Rangefinder
Leupold RX-1600i TBR Rangefinder
True Ballistic Range Technology Supported
Leupold RX-1600i TBR can range up to 1600 yards. This 7.8-ounce rangefinder allows a 6x magnification. It supports True Ballistic Range Technology which includes the rifle's ballistics and the angle of your shot. That way you are guaranteed to get the most precise calculation for a successful shot.
Has The Red OLED Display Type
The display type is a red OLED which provides you with clear and bright images even if the target is darker. Leupold RX-1600i is +/- 1 yard accurate on reflective targets up to 1600 yards. This also applies to 1000 yards on the big game, and 1400 yards on trees.
Supports Bow And Rifle Mode
The ballistic program gives you the extra information you will need to make a perfect shot. This information includes the incline, wind, your ballistic information, and target range. The rangefinder supports two modes: bow and rifle. This means it will adapt to the weapon of your choice.
Has Angle Compensation Technology
Angle compensation is supported on Leupold RX, it will give you more accuracy when making the shot. Also, the device has the Scan mode which scans multiple targets at the same time. This mode will help you track a target's movement. The rangefinder was subdued to various extreme conditions and has proved to be 100% waterproof.
Allows You To Measure The Target's Size
The Trophy Scale feature allows you to measure the size of an animal when ranging. This will assure you that you have the right weapon by your hand. The housing is made from aluminum which makes it quite durable and suitable for all situations.
Features:
supports the TBR technology
has the Scan mode
has a durable and waterproof design
Conclusion: Which Long-Rangefinder Should You Choose?
Bushnell Elite Rangefinder 1 Mile 7×26 allows you to set 3 types of ballistic curves. This is a hunting binocular rangefinder and can be connected to the Conx technology on your smartphone. Sig Sauer Kilo2200BDX Rangefinder is a monocular with the maximum reflective up to 3400 yards. Both devices are waterproof and help you make accurate shots.
If you liked this review and would like to learn more about rangefinders, read this article about the best golf rangefinders for the money. In case you are interested in archery, read this review about archery rangefinders. If you would like to know more about the best rangefinder for hunting, click here