Are you searching for a Nikon Golf & Laser rangefinder but don't have enough information?
Read this article and you will find out everything you need to know.
This article offers information about Nikon, their characteristics and Nikon rangefinders. Read about the rangefinder models and compare them to find your perfect match.
A Worldwide Known Company
Nikon is a company most famous for their cameras and binoculars. The company was established in 1917 in Japan. Their long tradition in optical devices made the company a worldwide photography promoter. Besides cameras and binoculars, they offer other outdoor activities products such as riflescopes, rangefinders, spotting scopes, and Field scopes. The best ways to buy their products are the Nikon official site and Amazon.
Theoretical Maximum Of Light Transmission
Nikon is famous for their multi-coated lens which brings the light transmission to the fullest. Quality glass is used for all its products to provide high-quality images in sharp detail. They perfected the utilization of lens multicoating to the maximum. Their riflescopes have a theoretical maximum of light transmission which is 95%.
Wide Range Of Products
Nikon optical devices can be divided into the following categories: hunting and shooting, outdoor adventures, fishing and marine, golf and accessories. The hunting and shooting category includes riflescopes, binoculars, rangefinders, field scopes, riflescope mounts, and accessories. The outdoor adventures products offer binoculars and field scopes. Golf optics consist of golf laser rangefinders.
Manuals And Software Available Online
Nikon has a special list of products whose manuals you can download. Software and firmware for digital cameras and other devices are also available on their official site. Repairs can be scheduled online and include estimated shipping and repair costs. The company can be contacted by phone, via email or on social networks.
Possibility Of Extended Warranty Coverage
A one-year limited warranty covers all Nikon cameras, lenses, Speedlights and accessories and the repair is free of cost. Nikon also offers a two-year extended warranty for most D-SLR, Nikon 1 and COOLPIX cameras. A four-year extended warranty includes NIKKOR and 1 NIKKOR lenses. Refurbished products have a 90-day limited warranty. Product prices are a bit pricey and not affordable to everyone.
Top 5 Nikon Golf Laser Rangefinders
Nikon LaserForce Rangefinder Binocular
The Hunting Rangefinder With A Wide Range
LaserForce is Nikon's 10×42 rangefinder binocular. The device is used for hunting. The Nikon LaserForce rangefinder covers a range within 10-1900 yards. It has a 1900 yards coverage for the reflective target, 1400 yards for tree and 1100 yards for deer. It supports incline and decline technology and shows the real target distance on the display.
Has The Special Extra-Low Dispersion Glass
The supported ID (incline/decline) technology gives the users the horizontal distance to the target, taking into consideration the incline and decline angles. The angular distance can be measured up to +/-89°. The special ED (extra-low dispersion) glass helps provide the sharpest image by correcting any color defects or aberrations.
Adjustable Display And Battery Saving Mode
The device has a clear and bright display which is easily readable in all conditions. Its intensity can be adjusted to your preference in 4 different steps. The single or continuous measurement is up to 8 seconds. LaserForce has an auto-battery save setting which shuts down the device if it is not used for 8 seconds.
Adjustable Eyecups Perfect For Eyeglass Wearers
The roof prism has a reflective mirror coating that gives bright and high-contrast images. The long eye relief design includes rubber eyecups which can be adjusted to your preference. Making it perfect for users who wear eyeglasses. The lenses are protected with lens caps to always keep them clean.
Water, Fog, And Shock-proof
The rangefinder is equipped to endure tough conditions due to its metal die-cast body.  Thus, it is waterproof and fog proof as the nitrogen-purged body prevents water drops into the optical system. Also, it is shock resistant and has a rubber armor which makes it comfortable to hold. The device can also be paired with a tripod.
Features:
has the ID technology
special extra-long dispersion glass
waterproof and fog proof
Nikon Black RANGEX 4K Laser rangefinder
Has A Wide Target Range
Nikon Black RANGEX 4K Laser rangefinder's size is 4.3 x 1.6 x 2.9 inches. Its weight without the battery is 6.3 ounces. The battery it uses is a CR2 Lithium battery. It has a 6x magnification and it is waterproof. The range it covers is from 10 to 4000 yards.
Adjustable Diopter And Angle Compensation
The real angular field of view it sees is 7.5°. Diopter can be adjusted for +/-4°. Measurements displayed on the display can be in meters or yards. The eye relief is 18.3mm and the exit pupil size is 3.5mm. Angle compensation is supported, and the device is used for extreme long-distance shooting.
Combination Of The OLED And ID Technology
The Black RangeX 4K has an OLED with high-contrast visibility in red. The display offers 5 different options to change the brightness. This helps you to spot the target in all kinds of light conditions. Also, it comes with the perfect helper for determining your shot – the ID technology.
The Fast Hyper Read Feature
A special Nikon feature called Hyper Read is available on this device. This feature is used to get your measurements as quickly as 0.3 seconds no matter the target's distance. Nikon Black RangeX 4K has a special waterproof and fog proof design and can endure all sorts of weather conditions.
Tru-Target Technology With Two Options
It also has the Tru-Target technology which gives you two ranging options to choose from. With the first target priority option, you can range very small objects. Whereas with the distant target priority the furthest target is ranged among all the other. The device is covered by a 5-year warranty.
Features:
has five different brightness options
the ID technology is supported
waterproof and fog proof
has Tru-Target technology
Nikon Coolshot 20i GII Golf Laser Slope Rangefinder
A Small And Compact Device
Nikon Coolshot 20i has the measurement range from 6 to 800 yards. Its increment reading is 1 yard and the magnification is 6x. The distance can be displayed in yards or meters. The device uses one CR2 Lithium battery. Its dimensions are the following: 3.6 x 1.5 x 2.9 inches. The weight is 4.6 ounces without the batteries.
Gives Golfers Extra Information
The size of the eye relief is 16.7mm and the diopter can be adjusted for +/- 4°. Nikon Coolshot 20i GII has a waterproof design and is used for golf. The ID technology gives the golfer all the necessary slope information to make a shot. The technology obeys the USGA Local Rule 14-13 tournament play.
The First Target Priority Advantage
In a situation with multiple targets, the First Target Priority chooses the one nearest to you and displays its measurements. The high-quality Nikon glass and their multicoated lenses make your golfing experience easier. The device is completely suitable for eyeglass wearers due to its long eye relief.
Repeatedly Measures Your Range Field
The 8-second continuous measurement is also supported on this device. This feature is activated by holding down the Power button. The device then repeatedly measures the range for 8 seconds and helps you choose a target from a huge surface. A 5-year limited warranty covers this rangefinder and offers repairs and replacements free of charge.
Are There Any Issues With It?
Even though the Coolshot 2i GII has a lot of good features, there are also some issues with it. Some users had trouble with targeting the primary target from the first try. Also, the number of the display can be too bright and hard to see in certain conditions.
Features:
distance display in yards or meters
used for golf
supports the ID technology and the First Target Priority
Nikon Coolshot Pro Stabilized Golf Rangefinder
Perfectly Comfortable For Eye Glass Wearers
Nikon Coolshot Pro is 3.8 inches long, 1.7 inches wide and 2.9 inches high. Its weight without the batteries is 6 ounces. The rangefinder has an objective diameter of 21mm. Eye relief is 18mm, making it perfectly comfortable for your eyes even if you wear glasses. The exit pupil's size is 3.5mm.
Resistance To Water And Fog
Coolshot Pro can magnify the image up to 6 times. Its distances can be measured in yards or meters. You can adjust the dioptre by +/-4 degrees. This light and ergonomically designed rangefinder's power source is one CR2 Lithium battery. The device is waterproof and fog proof, and its use is for golf.
The Special Image Stabilization Technology
Coolshot Pro image-stabilized technology gives you a steadier image and provides you with more accurate shots. This technology stabilizes any possible movements while your device is ranging. The result is a stabilized image through which you can see all the details of your wanted target. The accuracy is 3/4 of a yard within 700 yards.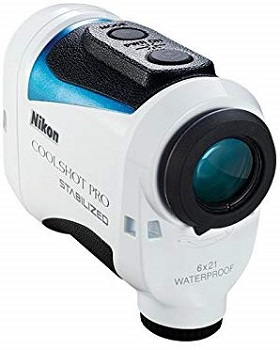 Useful For Those With Club Problems
Hyper Read measures your distances and displays the results in 0.3 seconds. If you have trouble with choosing the right club, The ID technology will help you with that. It shows the distance to the target by considering the horizontal distance and height of each slope. This feature can be turned off.
Has Many Helpful Features
The Actual Distance Indicator warns golfers that the ID technology is turned off. You can see if it is on by a green LED light. Locked On technology assures you that the distance displayed is locked on your target and not some other background objects. The rangefinder also has an 8-second continuous measurement feature.
Features:
ergonomically designed and light
has image stabilization
supports Hyper Read and ID technology
has the Actual Distance Indicator
Nikon Monarch 3000 Stabilized Black
It Supports Angle Compensation
Nikon Monarch 3000 has the following size: 3.8 x 1.7 x 2.9 inches. It weighs 6.9 ounces without the batteries. The magnification is 6x and it supports angle compensation. The rangefinder uses one CR2 lithium battery and can measure from 8 to 3000 yards.
Adjustable Brightness Levels On The OLED
The increment reading is .1 yard. The size of the objective diameter is 21mm while the exit pupil is 3.5mm. The device has a red OLED display which can display measurements in yards or meters. The brightness levels can be changed since it offers five different options to provide you with the best contrast image.
Incline And Decline Shots Are No Problem
Shooting at inclines and declines represents no problems thanks to the ID technology. The device has optic stabilization which decreases all vibrations caused by unintentional hand movement or wind. Thanks to this technology, all images will be sharp and clear. At the same time, the Hyper Read function is activated to give you fast measurements.
Made To Withstand Tough Weather
Tru-Target technology gives you two options to choose from when targeting. You can lock on a small target or the furthest target within a group. The Monarch 3000 is designed to endure the toughest weather conditions, so it is water and fog-resistant. It comes with a 5-year limited warranty.
The Range Field Is Smaller Than Said?
Although the name itself points out that the range field is up to 3000 yards, that seems to not be the truth in some cases. Certain users claim the rangefinder can't range a distance so far as it is advertised. Also, some dislike the image stabilization feature as it did not always work.
Features:
has a red OLED display
measurements can be displayed in yards or meters
has the Tru-Target technology
water and fog-resistant
Conclusion: Are Nikon Golf And Laser Rangefinders A Good Investment?
Nikon LaserForce Rangefinder Binocular is used for hunting and has adjustable eyecups that are perfect for eyeglass wearers. Nikon Coolshot Pro Stabilized Golf Rangefinder facilitates your effort while golfing with the ID technology. Both devices are water and fog-resistant and are quite helpful whether you are hunting or golfing.
If you liked this article and are interested in laser rangefinders, read this review about the best rangefinders. In case you are searching for a cheap rangefinder, look at this article about cheap hunting rangefinders. If you are searching for a binocular harness with a rangefinder, read this article.